Ice Skating is the winter National Sport of the Netherlands.
Ice skating club 'Gewest Fryslân' use two rinks – Thialf and Elfstedenhal – where they run a successful training programme which finds and nurtures talent, and is constantly elevating skaters to the world stage.
Fast and furious skating events cover distances of 500m, 1000m, 1500m 3000m and 5000m – with classes for both women, and for men (who also have a 10,000m event) – together with team relay events, and chaotic mass starts where up to 24 athletes complete 16 laps of the rink.
It's an exciting sport and we at Victron Energy are proud to sponsor the very successful Skaters of the club Gewest Fryslân.
The season is off to a successful start with eyes on the World Cup Cycle.
Let's hear what it was like to attend the event: Sytse Prins – a well-known broadcaster, and competition ice skating promoter – had a ringside seat.
"The excitement in the speed skating centre at Thialf was unprecedented a week ago. For each distance a remarkable 5 skaters secured spots for the World Cup Cycle which kicks off on November 10 in Obihiro, Japan.
"With at least ten top skaters vying for a coveted ticket on each distance, the suspense rivaled that of an Olympic qualification tournament.
"Gewest Fryslân had a strong representation offering 30 skaters for the event, making it the primary provider of participants for the tournament. While the renowned Dutch training institute for skating talents is not the usual source of skaters for the World Cup or World Championships, there are occasional standout performances, as seen this weekend.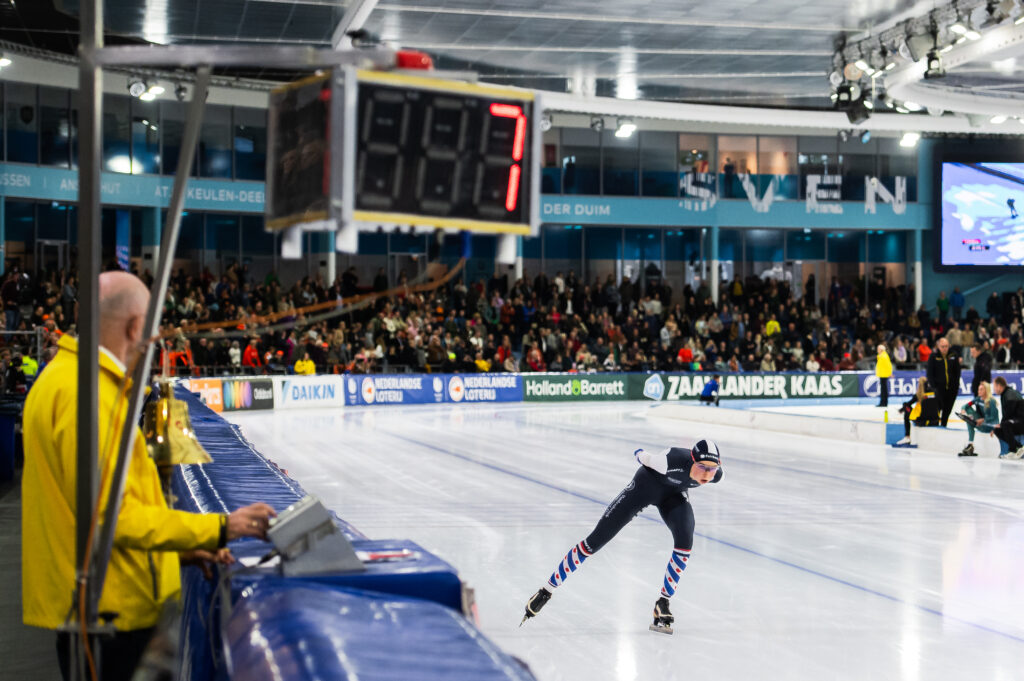 "Sanne in 't Hof may already be considered a fixture in the world elite, but skater Helga Drost certainly wasn't …until now; she managed to secure a coveted ticket for the 1000 meters. This truly comes as a big surprise. For years, I've been trying to establish myself among the national elite, but I always fell just short. While others from my team could make the leap to a professional team, I seemed to be stuck. And just as I was considering stopping altogether, this happens to me; expressed an astonished Helga just after crossing the finish line. I was in the midst of planning a solo trip to Asia and Nepal to take some distance from skating. And now, suddenly, I'm going to Asia as a skater. It's not only a big surprise but also a tremendous boost to continue.
"Sanne in 't Hof has been a member of the top team of Gewest Fryslân for several years, previously combining it with training sessions with the Norwegian national team. Sanne excels in the 5000 meter in the Netherlands, seeking international competition to further improve. Since this year, she is a dual member of Region Fryslân and the international Team for Gold, consisting of top athletes from Japan and China. Despite feeling at home in the training institute in Friesland, a lack of training partners prompted her to cross the seas to faraway Asia.
"This past weekend, she was briefly back at her home base. With success. Sanne effortlessly qualified for the upcoming World Cup circuit on the 3000 and 5000 meters and was happy to be 'home' in Friesland again. I've become a true globetrotter, but I'm always delighted to be with my own team at Thialf. The atmosphere and team spirit give me a warm feeling, and I perform well in that environment.
"And that was evident with her qualification on the 3000 and 5000 meters.
"Sanne and Helga will depart for Obihiro, Japan, next week. The cycle then continues with competitions in Beijing (China), Stavanger (Norway) and concludes the first series in Tomaszów Mazowiecki, Poland, on December 8th to 10th. After that, the skaters will return to the team to prepare for the National Championships – a qualifying event for the next series of World Cups and the ISU European Championships in Thialf Heerenveen."
At the time of writing Helga and Sanne have traveled to Obihiro, to attend the International Skating Union World Cup heats this coming weekend.
We wish them continued success and will keep you informed of their progress.