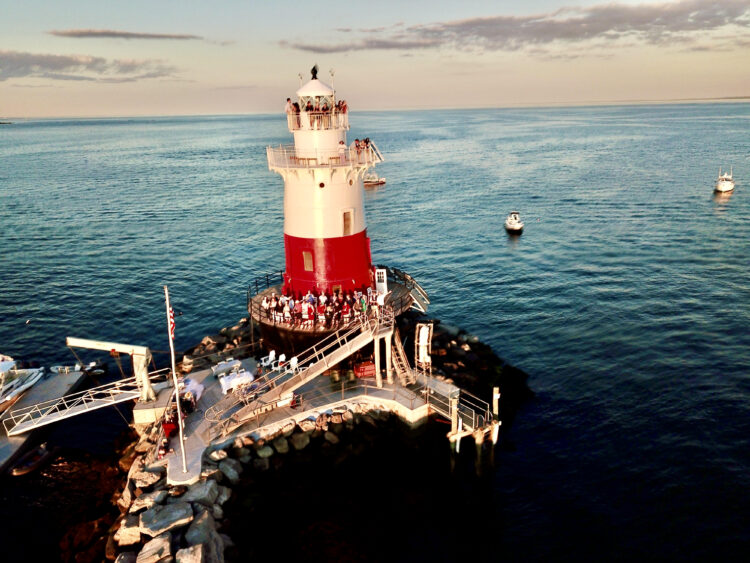 The Greens Ledge Lighthouse off the coast of Rowayton and Darien, in Long Island Sound, Connecticut USA was proposed as a navigation aid in 1889 to help mariners through the west entrance to Norwalk Harbor, in the maritime approaches to New York City.
It was constructed at the western end of a long and dangerous shoal extending from Sheffield Island and first lit in 1902. In 1933, more than 30,000 tons of sea defence was added to the 'riprap' foundation using rocks excavated from the foundations of Radio City Music Hall – under construction at that time.
Eventually the lighthouse fell into disuse and in a deteriorated condition was bought by the Pettee family for $150,000 at auction in 2016. They donated it to the Greens Ledge Light Preservation Society – a nonprofit organisation established to bring the lighthouse back into operation.
Today, more than one hundred years after its inauguration, Greens Ledge Light – 41° 02′ 30″ N / 73° 26′ 38″ W Characteristic: Al WR 12s – beams out once again as an aid to navigation.
Having restored and stabilised the tilting structure which stands 100 feet above the sea, the lighthouse has been repainted. The accommodation, storage and machinery room is immaculate, and a desalination and water treatment plant have been installed, powered by an off-grid solar and wind energy installation.
Posting on the Victron Energy user-forum Victron Community pages in March, Alex Pettee said:
Having used these forums for the research/planning, I wanted to share our successful experience with adding a 400W Wind Turbine (Primus Air Silent X) to our Victron-based solar power system and enabling remote monitoring capabilities via the Cerbo GX  (the Victron communication and control device) and the internet based remote management platform VRM.
We installed this on Greens Ledge Lighthouse which is about 1 mile off the coast of Norwalk, Connecticut.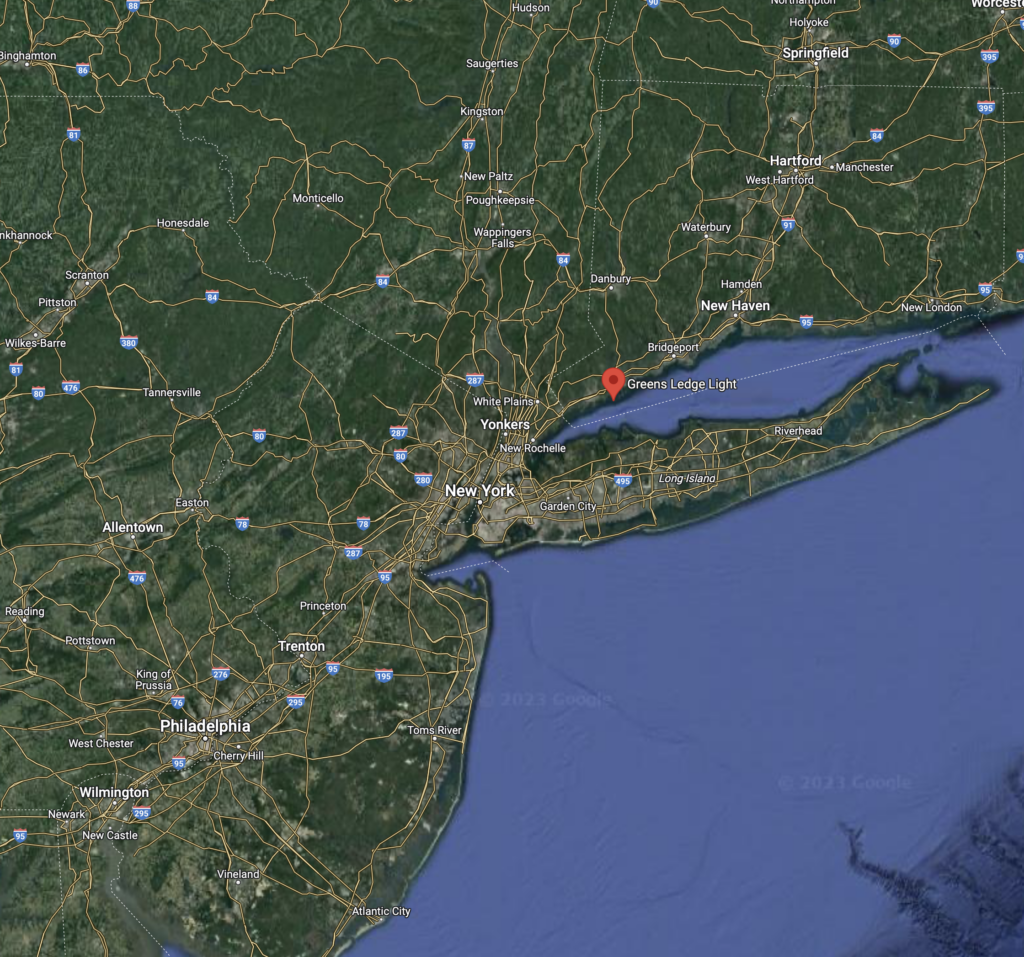 We have about 3kWh of solar capacity and wanted to add a wind turbine to help provide supplemental power in the winter months, given our abundance of wind resource.
To enable remote monitoring, we used a SmartShunt configured as a DC Energy Meter. We initially set it to "Wind Turbine" but this did not show up on VRM (it was only accessible via the VictronConnect app and Remote Console).
When changed to "PV Charger" it showed up on VRM alongside the solar panels, and this has been a good setup for us. We're able to see real-time production in VRM, see historical production via a device widget in VRM, and track the cumulative output via the VictronConnect app.
Production-wise – we've been monitoring it for about 2-3 weeks and are on pace to produce about 20kWh for the month. It has a steep power curve, so the vast majority of production comes when winds are in the 20-30mph range. We produced about 3-4kWh in a 24-hour period when we had ideal conditions.
The Greens Ledge Light off grid system comprises the following components:
System Monitoring: Cerbo GX, 2 x SmartShunt (Connection via Verizon LTE)
Charge Controller: 6 x SmartSolar MPPT 150|85-Tr Solar Charge Controller
Inverter: Phoenix Inverter 3000VA
Solar Panels: 10 x 300W Renogy Solar Panels
Wind Turbine: Primus Air X Marine 400W 24V Wind Turbine
Backup Battery Generator: Fischer Panda AGT- 6000 24V DC Generator regulated by Victron Orion-Tr Smart DC-DC Charger
AC Backup Charger: Centaur 24-Volt 60 amp charger
Battery: 12x 2V MasterVolt MSV 1650Ah Gel Battery
Watermaker: Spectra Watermaker 24V Newport 700 Series
Heater: Webasto Thermo 230 24V 80k Btu Hydronic Heater w/ REAL Heat Fan Heaters (1 Per Floor)
Water Heater: Webasto Waterheater 20 gal
Siting a wind turbine on a lighthouse?
You might think that a wind turbine on a lighthouse a mile out to sea couldn't fail to find the wind – but there are difficulties. Lighthouses need to be easily identifiable by eye, from a distance – and especially in conditions of poor visibility – so you can't clutter all your utilities: turbine, satellite dishes, solar panels 'on the roof'.
The 'land' around the lighthouse is limited and exposed to stormy seas – which only leaves the curtilage at the base of the lighthouse tower.  Alex says:
When wind speeds are below 20mph or above 30mph – the output of the turbine is generally minimal. However – the unit is not optimally positioned (about 20-30% of the wind is blocked by the lighthouse), so others may have better experience in lower and/or less turbulent wind conditions.
We're happy with the production and are considering adding a second and perhaps a third unit. We'll attempt to optimize over the coming season and report back any significant findings.
We post updates about the restoration work and the off-grid systems on our Instagram and Facebook if folks would like to follow us and/or ask any questions.
United States Coast Guard
The light and fog horn are managed by the US Coast Guard through a separate solar power system with their own batteries and solar panels. They upgraded their light to LED at the time of the interior restoration. Significantly downsizing their equipment liberated an entire room (which is now used as a kitchen) so that their installation is on Level 6, one level below the light. The old light was a VRB-25 with incandescent bulbs and needed to be serviced at least quarterly, whilst the new LED model is a VBL-44 which uses bulbs with a 10-year life. The new LED beacon has a range of approx 20 nautical miles.
Lighthouse Tours open to all
With the structural restoration work now complete, Alex tells us that they're launching their first full season of public tours beginning in late May. You can check dates using their social media links, above.
Alex says:
We're in the process of furnishing the restored lighthouse with exhibits and had the idea of utilizing the Victron Remote Management (VRM) portal to "show and tell" our completely off-grid renewable energy systems, powered by solar and wind energy. We had already set up all of our systems to be physical "exhibits" that are visually accessible – but the VRM interface takes this exhibitry to the next level.
We're going to be setting up several iPad kiosks with the VRM interface running which we've realized are amazing interactive exhibits, showing the real-time energy production, energy usage across AC and DC, tank levels, temperate, and overall system status. Having that visual dashboard to reference will make telling a very technical story much easier, and we've found that it becomes a very immersive experience.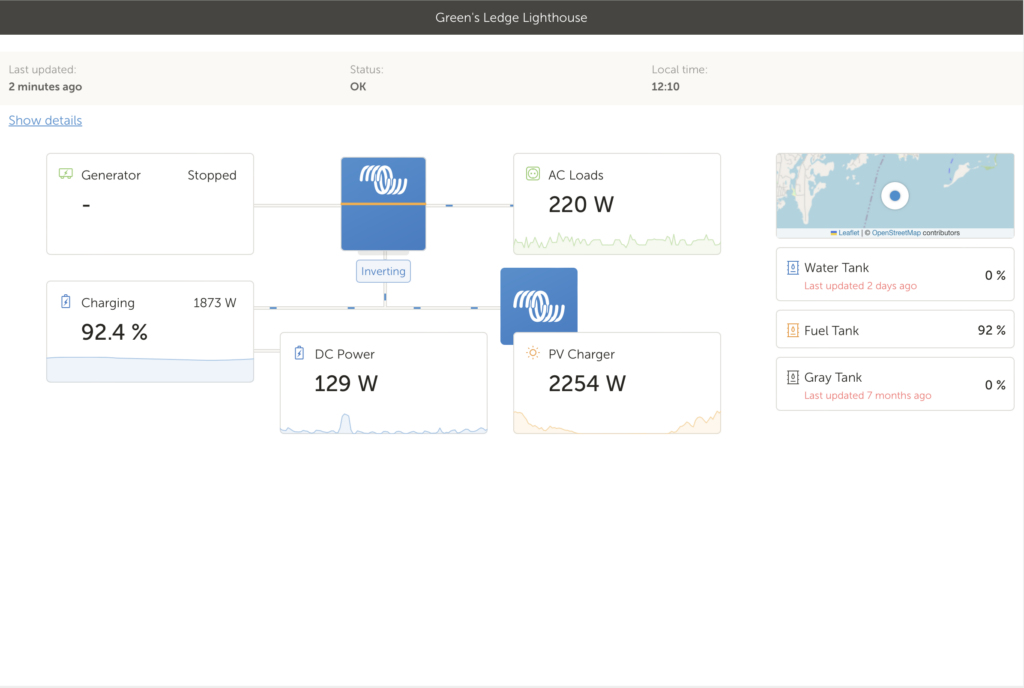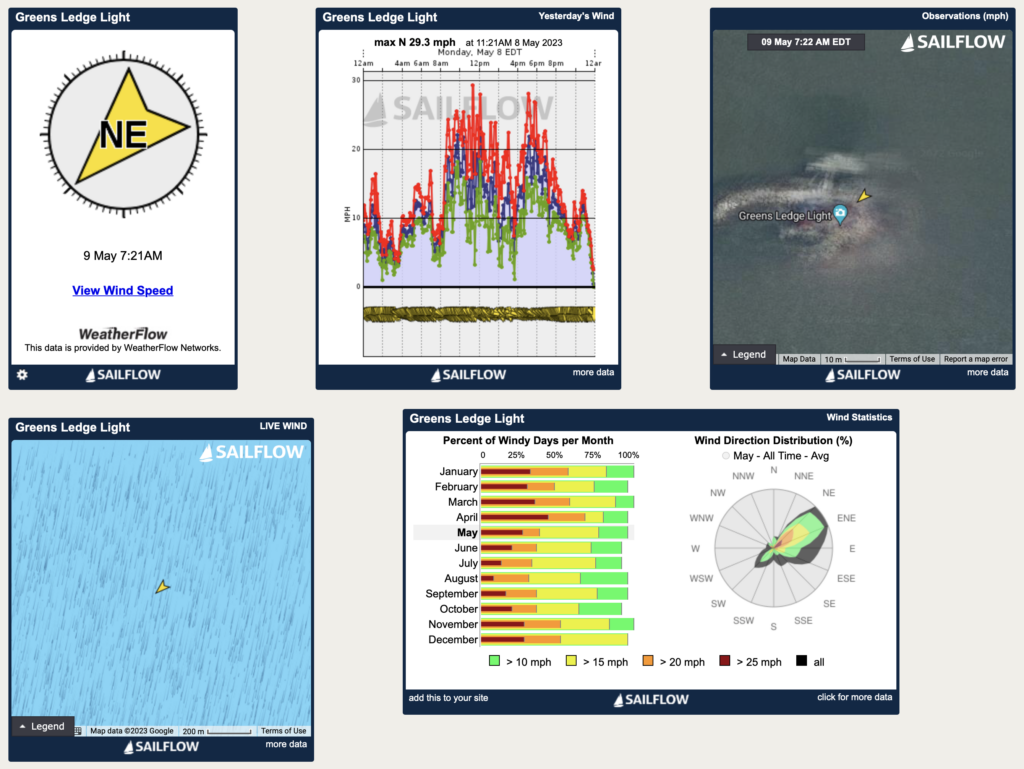 As a not-for-profit organisation dedicated to preserving this piece of maritime history fund raising is an essential part of Greens Ledge Lighthouse Preservation Society's activity. In addition to accepting donations they've developed a unique and exciting range of
hospitality events
and opportunities where everyone gains. Can you imagine yourself waking up to this view?