The latest project in a UNICEF funded programme to provide reliable power to Health Centres across the southern hemisphere has delivered energy security for twenty hospitals and medical centres in Malawi.
With a lack of grid infrastructure in remote areas, and frequent generator failure, child birth and minor procedures were often carried out by candle light.
The chilled storage of Covid or Polio vaccines and other medication was either difficult or impossible.
Against this background of uncertainty surrounding the quality of care which will be received by clients, some had even given up seeking medical help.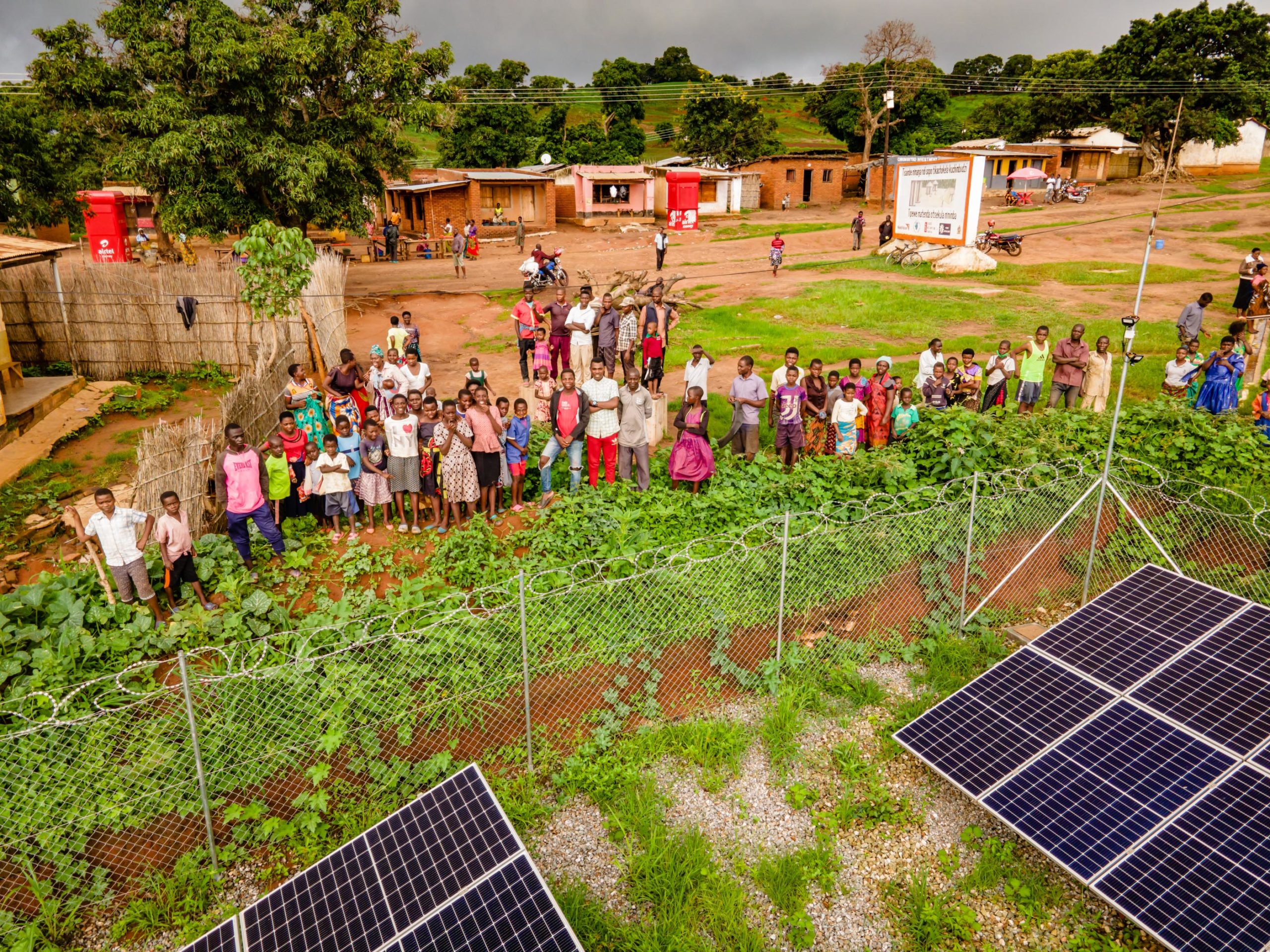 It's difficult to overstate the life-changing difference made by these ultra-reliable solar-based energy systems for the 300,000 people who live in their rural catchment area …and for the staff who run them.
The main contractor for this programme, Differ Community Power, have an expertise in delivering sustainable power in remote locations of emerging market countries – for which they work in consultation with governments, NGOs and local companies.
Apart from ensuring that there will be power 24 hours a day, Differ Community Power provide additional capacity to ensure that off duty medical staff can socialise, watch television and charge their phones – a work-benefit which experience shows will help in the retention of these highly trained and motivated staff.
Some installations provided nearby schools with energy
The solar installations – sized according to the health utility they serve – are based around Balance of Storage Systems (BOS AG) stand-alone energy cabinets, using Pylontech lithium batteries, using MultiPlus or Quattro Inverter/Chargers.
These are ultra reliable sine wave inverters which can power sensitive medical electronics. When connected to the grid, or to a generator, they guarantee uninterrupted power supply in the case of external power failure. The Quattro Inverter/Chargers have two AC inputs – which will automatically switch to the live power source – and two AC outputs, one of which will be disabled if the incoming AC power fails. This feature allows non-essential power devices – such as Air conditioning – to run as long as there is an outside power source, but instantly shut-down in case of external power failure – thus ensuring that the battery storage will not become unnecessarily depleted – and that all essential site equipment will continue to run using battery-stored energy.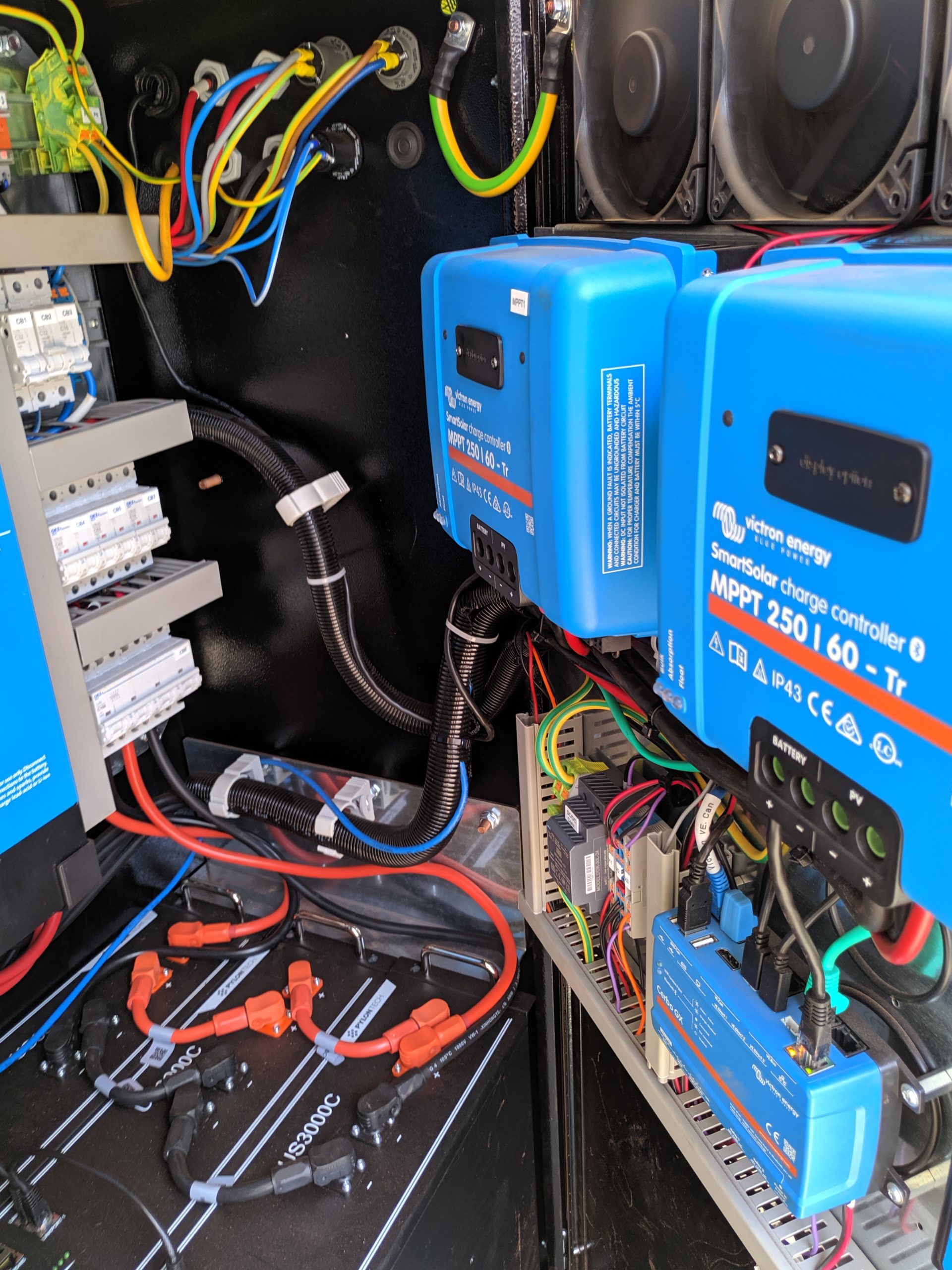 Smart Solar MPPT 250/100 Solar Charge controllers are typically used to harvest power from the PV array; a Cerbo GX sits at the heart of the installation provides whole-system communication and control, both for Victron Energy and third party manufactured system components. The Cerbo GX communicated status data, and also allows the system to be monitored and managed remotely by engineers – globally – using the Victron Remote Management platform VRM which is free to use. Where critical power systems are installed in remote locations – such as these medical centres in Malawi – 24 hour system data access by support companies who may be located anywhere in the world is invaluable.
A happy coincidence of timing for these installations is that they will significantly benefit the Polio vaccination campaign and routine immunization for children under five years old – which is just getting underway.
UNICEF Deputy Representative Gerrit Maritz, speaking in Chiwoza, said: Improved health service delivery lies the core of ensuring a healthy and productive population so that they can contribute to the development of Malawi. Many health facilities in the country are experiencing obstacles in providing quality healthcare due to a lack of electricity.
"What we are seeing at Chiwoza Health Centre is the commendable commitment from UNICEF and the Government to boost access to reliable electricity at health facilities in rural areas. This year, we all saw Tropical Storm Ana's impact on healthcare delivery. Many facilities had no electricity for several days. These new solar power energy systems will help prevent such scenarios being repeated, and allow continuous functioning of services at the health facilities even during natural calamities, such as floods.
UNICEF is also focusing on capacity-building by carrying out training exercises for the health facility staff, staff house members, and district technicians on how use the systems effectively, and for carrying out basic preventive maintenance.
Kjetil Roine, CEO at Differ Community Power (DCP) says that to ensure sustainable power supply to the health facilities robust and reliable components are needed as well as a proper integration of these components. Distributed, stand-alone energy system is not stronger than the weakest link, and through remote monitoring and operation we are able to prevent failures from happening. During the storm Ana our systems worked perfectly, and we currently see an average uptime of 99.8%.
The health facilities which have so far benefited from these installations, and training, are based in Mzimba, Kasungu, Ntchisi, Lilongwe, Mchinji Balaka, Blantyre, Chikhwawa Machinga and Nsanje.
Modular solar energy systems were installed across 29 healthcare facilities in Malawi.