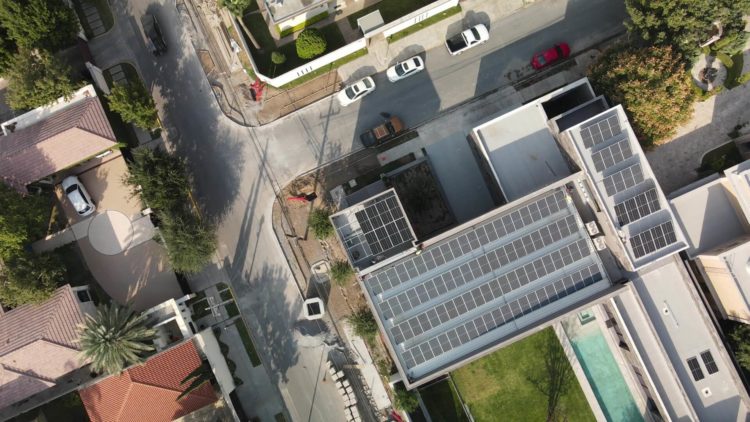 The owner of a large house in San Pedro Garza Garcia, Mexico, always regretted that the 40kWp grid-feed solar array he had installed at his property was not able to provide power to his home when the grid failed.
That limitation almost proved catastrophic.
He uses his basement to park two Teslas …and as a workshop; there's a TV room; it's used for general storage – and it's also the location of his consumer unit and circuit breakers. The problem is that during extreme weather events the basement is prone to flooding – for which he has extraction pumps ready for use.
One evening, during a rainstorm, the grid power also failed – so he wasn't able to operate his pumps. He and his caretaker rushed out to buy a petrol generator to begin pumping out the flood water before it accumulated to the height of the electric mains. It was a race against time – and their constant fear was that the sockets would become submerged, and that the grid-power would be restored whilst they were still in the basement.
It was time to make a new arrangement.
Seeing advertisements from Victron Installer 
Evotech
 he got in touch with them to learn about Energy Storage Systems (
ESS
), together with some of the advanced features of the Quattro Inverter/Charger.  Most useful to him was the ability to prioritise power supply to essential devices during blackouts; the ability to add power to the existing supply in cases of high demand;
and
 the fact that the system will only sell surplus power to the grid when no self-consumption or further energy storage is possible.
Deciding to retain all elements of the existing Solar Edge 30kW PV Inverter system, Evotech's MD Ricardo Rodriguez designed an ESS which could be added to the existing installation – but also offer battery back up for 8 hours charged by its own 11kWp solar array. A new Pylontech battery storage of 20.2kWh is maintained at 100% for emergency use.
The main components of the system are:
3  Quattro 5kVA Inverter/Chargers
20 Solar Panels of 550 watts
2 MPPT RS 450/100 Solar Charge Controllers
6  Pylontech Lithium Batteries with a capacity of 20.2kWh
GX Touch 50 for local live data and monitoring
A manual switch was installed to select between the backup system or public energy network, this is very useful when performing maintenance.
Grid supply is becoming less reliable as demand increases, and weather phenomena become more common.
And – like elsewhere in the world – Mexico has been facing steep rises in energy prices, with high-user tariffs (DAC rate) up to four times the price of economy units – the higher tariff being imposed by Mexico's national grid utility provider CFE to households whose energy use exceeds 4800kWh/annum.
This client's domestic loads include charging for 2 Tesla EV's; there's an elevator; several air conditioning units; a swimming pool; 8 or 10 pumps; space heaters; an industrial type 3-phase oven; plus lighting and wall sockets.
To design the optimum system for this house, Evotech first carried an energy analysis out to find out the consumption of the house over time. It helped a lot that their client was already monitoring his consumption with an energy meter.
From that information Evotech were able to size the appropriate battery capacity, Inverter/Chargers and  solar power harvest required.
The knowledge that the basements pumps will operated come-what-may next time there is a flood is reassuring. Included in the critical load circuits are all of the lights and wall sockets,  6 drain pumps up to 1 hp, several water pressure pumps, kitchen appliances – (including a smart fridge which has a lock-out device when the power fails).
Finally, functional tests were carried out, it was tagged, the monitoring was reviewed and a thermal imaging inspection was carried out to confirm that everything was operating as expected.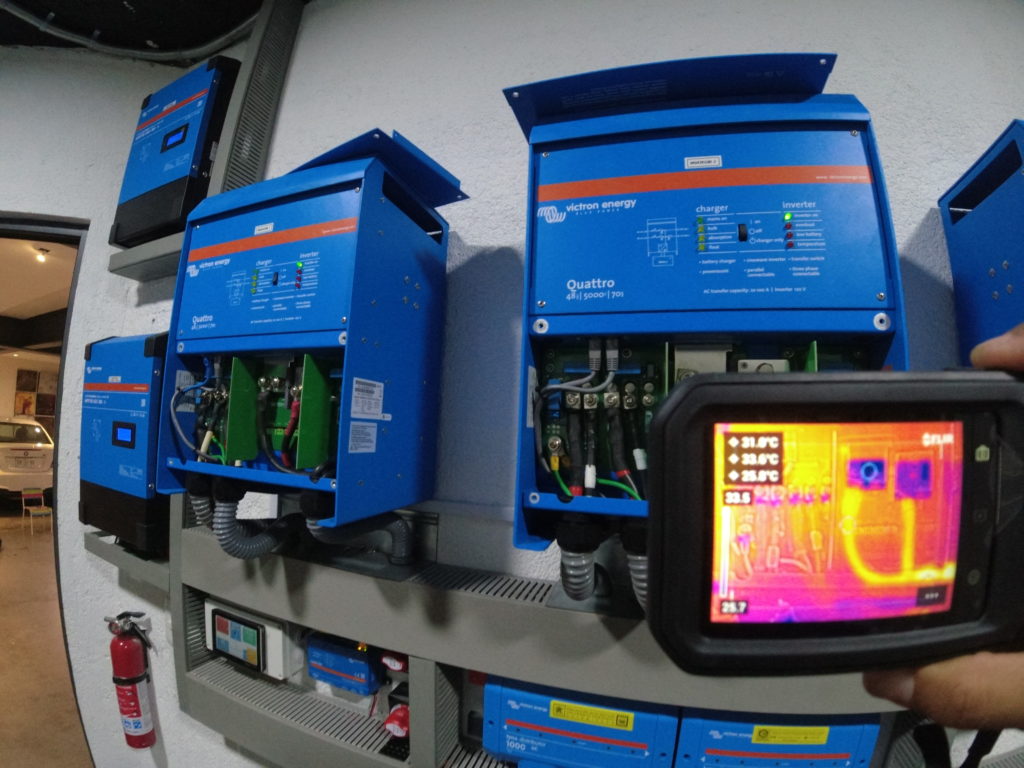 Ricardo Rodriguez says: EVOTECH has taken on the task of offering Energy Storage Systems that allow customers to store energy, and for the solar panels to continue working when there is no CFE (grid) energy, we achieved this by installing multimode inverters with lithium batteries together with solar panels for electric power 24/7/365.
Evotech have made a video promotional video based on this installation: