Gijsels BV are a prominent Generator Hire company in Belgium who have built their business over twenty years by supplying reliable gensets – usually in the 20kVA – 600kVA range – immediately from stock.
Part of their success is a rigorous testing regime – before supply, and on return – during which the units are run under load for an hour to ensure they are performing satisfactorily.
Until recently all the electricity generated during load-testing was dissipated as heat by a 'resistance' bank.  Elias Gijsels – the son of the company's owner – happened to be working on a sustainability project at school and suggested the test-energy was stored and used to run the workshop and offices. He helped design and install a system – which includes a PV array – which allows the company to be power self-sufficient.
Depending on the season there will be up to 12 people working at Gijsels – both office and workshop staff – which places a number of demands on their energy supply and results in a typical power consumption of 90/100kWh per day. They manage their schedule with the aim of testing one unit per day – thus spreading the energy production over time and allowing maximum consumption of surplus energy, which is stored in a battery bank of 76.8k kWh.
Off Grid
In order to comply with the National Grid power regulations in Belgium, Electrical Engineers Ysebaert.be – who advised and supplied the system components – incorporated a Break before Make transfer switch as seen on the system schematic below. This ensures that the private power system will not become grid-connected.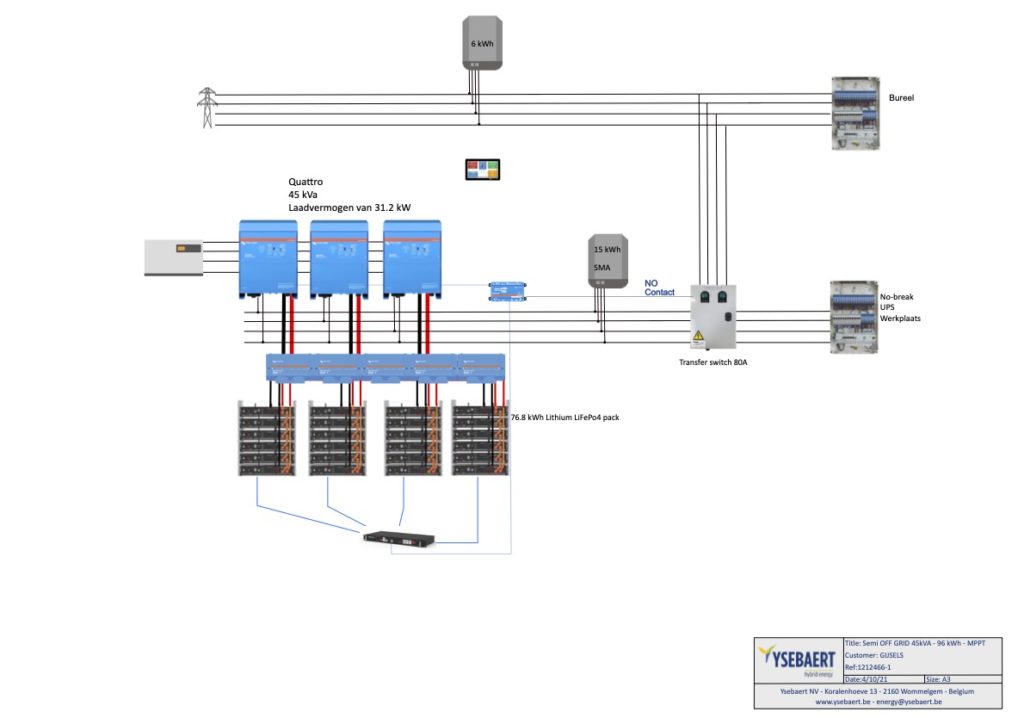 The system benefits from a solar array with PV Inverters maximising daytime consumption, and it is the company's expectation to be energy self sufficient even when they have installed an EV charger for staff use.
The three phase system employs 3 x Quattro 15kVA Inverter Chargers together with Pylontech storage and is controlled by a Cerbo GX. Also in the build:
US2000 Pylontech batteries 32 modules + 1 communication hub
PV active on the public grid (AC 6 kW)
PV active on the energy system ( AC SMA 15 kW)
Transfer switch 80A
Ysebaert Product Manager Luc Baeyens explains that 'energy transition and the innovative use of energy' is the key interest in his division of the company. Ysebaert works with clients to develop systems that will find the right match between investment and energy transition. 
He continues: At Gijsels the main business is generator rental – but they do want to make the switch/transition to use energy in an innovative system. The combination of a generator and their energy system provides extra value for the user – less use of fossil fuel, and less pollution.
The supply of mobile energy is an area in which Ysebaert themselves are working as they develop mobile temporary energy systems, incorporating generator back-up, for use on construction sites.