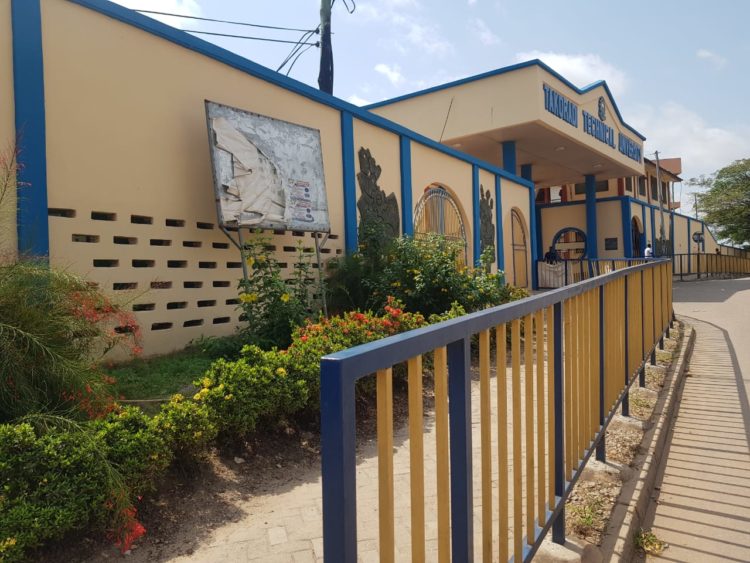 A  new Solar Training facility based at Takoradi Technical University in Ghana has been established and is now recruiting students.
Offering a solid grounding in solar education plus guaranteed internship with a Solar Installer on graduation, students can get real work-experience – greatly increasing their chances of future employment.
Everyone gains with this arrangement: Students who attend the course are more likely to secure work; it helps solve the country's unemployment problem; and it benefits commercial Solar Installers by creating a pool of knowledgeable students already having industry experience.
Lecturers and technicians installed the inverters during the setup phase.
The initiative was a collaboration between a number of organisations. Training providers  
GREEN Solar Academy
and PV design software developers 
Valentin Software
 have made their services available with support from sustainable development investors 
develoPPP
 – the German Federal Ministry for Economic Cooperation and Development. The facility was equipped with donations from leading solar brands such as Victron Energy, Jinko Solar, and Fronius.
The internship training is provided by Tino Solutions, the Ghanaian installer and distributor of solar equipment about whom we recently heard in connection with a programme to install solar energy on Puma fuel forecourts.
The  newSolar Training Centre is a dedicated space at the campus which will be the home of practical and application-focused photovoltaic training. Hands-on education is based on the courses at the successful GREEN SuperSolarSchool and – combined with the internship which follows – is geared towards the needs of the local renewable energy industry in Ghana …ensuring that students enter the job market with the skills they need.
B-Tech graduates and final year students interested in a career in solar energy will spend three weeks focusing on PV basics, planning (using Valentin Software PV*SOL), installation, operation, maintenance and economics.
University lecturers have themselves already spent a year undergoing technical and teacher-training with GREEN Solar Academy which qualifies them to teach the syllabus to students. 
Following the 3-week training period an internship programme will be implemented to actively support the employment of these graduates. Interns will be accommodated by companies who are members of the Solar Hub West Africa – a loose network of African and European solar companies cooperating to promote renewable energy in West Africa ….and those who demonstrate the right aptitude will be offered permanent employment.
GREEN Solar Academy Director Antje Klauss-Vorreiter explains the significance of this centre: Our practical, hands-on trainings will increase the employment rate of young university students in the solar industry by involving them in the industry at an early stage to shape their skills and knowledge in a way the industry needs. 
Dr. Maame Afua Nkrumah, the Dean of International Programmes and External Linkages Office at Takoradi Technical University, said: I realised we had found in GREEN Solar Academy the partner we needed to train our students.
Postino Dugle, the owner of Tino Solutions, says: We came on board from the start as we believe this project is what the solar industry in Ghana has been waiting for. It opens doors for those who would otherwise be leaving university as theoretical engineers alone. The project aims to setting certain standards for the solar industry: preparing young graduates for the practical situation of installing renewable energy systems, exposing them to the use of quality products in installations, and connecting them with the solar companies seeking staff.
We are also excited about receiving interns from the first crop of graduates because we know that they will have a solid basis in the realities of the design and installation of solar power – we don't have to train them from the ground up because they're already at the first level. And those who are deemed to be assets will be absorbed into our core team as full-time employees.
The Solar Training Centre at TTU will hold its international inauguration on February 15th 2022, when representatives from the global partners involved in its creation will travel to Ghana to attend the festivities, and will start to operate officially on a full-time basis shortly after that.
Students are welcome to enquire about the first 3-week pilot training held at TTU next year and can send requests to Stephen Afonaa-Mensah at safonaamensah@yahoo.com. 
Solar companies who are interested in participating in the internship programme and contributing to upskilling youth in the PV industry are asked to contact Dennis Wiredu-Asare at ghana@solar-training.org.