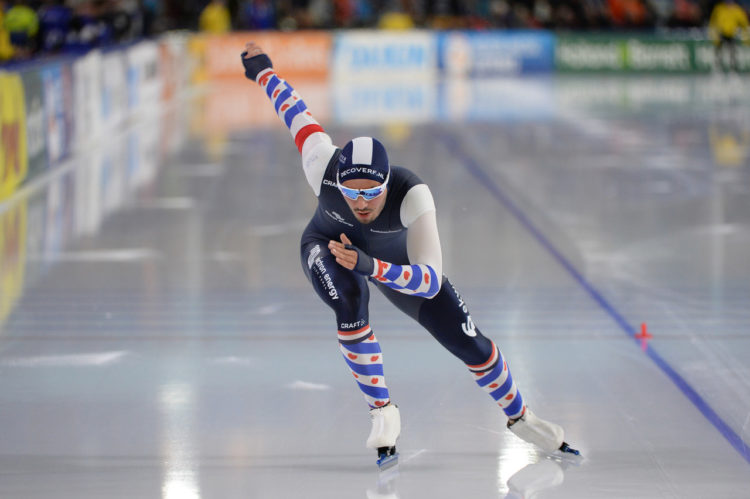 There was a lot of excitement last weekend when 23 year-old Dutch Speed Skater Sanne in 't Hof competing for Gewest Fryslân surprised everyone – including herself – by achieving her personal best time in the 5000m event to take Silver!
She completed the distance in a time of 6m. 57.63s – a result which catapults her into the big names in skating and qualifies her for the World Cup line up!
Speaking after her surprise win after years of hard training which haven't always been a smooth ride, In 't Hof says: I'm someone who wants it all, and doesn't set boundaries. I always went a bit too crazy and in hindsight I may have trained too hard. But I have a hard head. I set a goal and keep going until I reach it. I don't care how long it takes and how it happens, I don't give up!
The win comes now she is in the Development Team at Fryslân under the leadership of Arjen Wolters. In her new environment she has expanded her outlook – taken time to explore her mind, and added some work experience away from the sport: in restaurants, grocery distribution, and vaccine roll-out. This new life-diversity seems to be paying dividends in more ways than one!
Skating club Gewest Fryslân put forward a record number of participants for the Region at NKA Thialf fielding no fewer than 26 participants. This resource of young talent firmly establishes Fryslân as a skating stronghold.
Their success is no surprise to coaches Henk Hospes and Peter Kolder. "At the moment we are very fortunate to have a large group of very talented drivers in our teams. This is the result of years of investing in facilities and our own vision of talent development. Our multi-disciplinary approach makes our athletes, but also the trainers better, and therefore leads to such results." says Peter Kolder, who, in addition to the national coach for the juniors, is also on the ice with the Talent team drivers every day.
"Thanks to our new status, we are even better able to train talents for the big work. From training to a good coaching team and having full facilities, our talents move closer to the top teams. Thanks to this development, we can also deliver them better to the top, so that the athlete and the top teams can benefit from our efforts." says Henk Hospes.
Victron Energy are proud to sponsor Gewest Fryslân. With such a great start to the season we wish all Fryslân skaters every success, and look forward to following the action!
The headline image is of Kai in 't Veld.
Even those of us who don't speak Dutch will be swept along by Sanne's delight at her Silver win in this video: