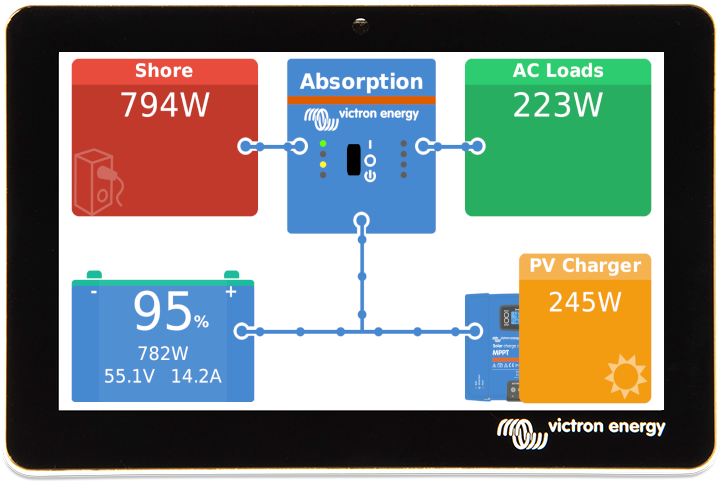 Good afternoon!
Today, after quite a long development & field testing cycle, we are releasing Venus OS version v2.60. Which marks a milestone. Unlike the minor updates of the previous months, ie. v2.51 up to and including v2.58, this new version adds a whole list of major improvements and new features.
Besides the major changes it contains many smaller ones, more so than any previous release. In this blog post I'll focus on the highlights. Let's start with a somewhat complex one.
1) Fully featured NMEA2000-out function
NMEA2000 (also known as N2K) is the Can-BUS protocol commonly used on yachts and vessels which allows devices to exchange information. In the Victron context, it is mainly used to transmit information from the energy system to the Multi Functional Displays on a ship. The NMEA2000-out function makes the GX Device act as a "bridge": it makes information from all connected battery monitors, inverter/chargers and other devices available on the NMEA2000 network.
The related changes in v2.60 include the addition of PGNs for Solar chargers & Tank levels. For the tank levels, the data instances are now numbered by default, rather than all set to 0; which simplifies configuration for Raymarine MFDs – it now works straight out of the box.
Also, a page to configure N2K Device Instances has been added; the rest of the menu structure has been cleaned up to make it more intuitive; and the ability to read GPS (location, height, speed) from the N2K network has been added.
For full details, read the NMEA2000-out chapter in the CCGX manual, which has been updated to the new version (1).
2) Marine MFD HTML5 App improvements
Various layout improvements have been made, including the use of pagination rather than hiding metrics when there is insufficient screen size to fit all available information.
Support for Fischer Panda generators has been added, showing all information. And it has buttons to manually start and stop the generator – as well as to enable the GX Auto start/stop feature. Here is a screenshot showing the element: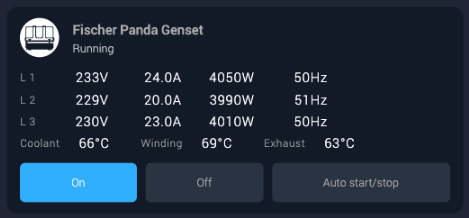 Similarly, also other generators can now be started-, stopped as well as configured to Auto start/stop control from within the App.
More details regarding Fischer Panda integration can be found in the GX Fischer Panda manual.
3) ESS: new feed-in limiter and Ethernet connected Energy Meter
Three significant changes, and many in the complete change log:
addition of the much anticipated installer configurable Feed-in limit setting (Power / Watts). It works both for AC-Coupled PV (Fronius & ABB) and DC-Coupled PV – as well as a combination of both. For limiting feed-in of DC-Coupled PV, VE.Bus firmware 469 or newer is required.
menu structure has been improved. It's much easier to navigate, and better worded now.
a new type of energy meter has been added: the Carlo Gavazzi EM24 with Ethernet connection. Already in stock and available through E-Order. More information, including when to choose which meter, is here in the Energy Meter manual.
There are more changes, also to the DVCC features. Details are in the change log.
4) Tank level monitoring
The tank level monitoring, available on the Venus GX and the Cerbo GX models (each having 4 analog tank level inputs) has been improved:
Each tank can now be assigned its own name; helpful on larger yachts that, for example, may have starboard and port tanks.
The 'tank empty' and 'tank full' resistance levels can be customised.
The measurement can now be calibrated to any tank shape by configuring up to ten calibration points.
And more changes, including an improvement whereby the 'filtered' as well as the raw and 'unfiltered' sensor readout has been added to the menu – helpful during installation or while troubleshooting.
Screenshot showing the updated menu, including sensor readout: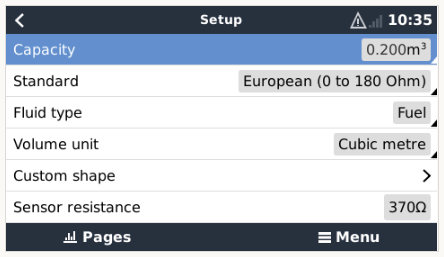 Screenshot showing the custom shape. In this case it would be tank which is wide at the bottom (10% of sensor reading equals to 20% of full capacity, 20% of sensor reading to 40%); and more narrow towards the top.
5) Adding the GX LTE 4G modem
With 2G and 3G networks being phased out, and thereby the existing GX GSM becoming slowly outdated, a new version was required.
This is now available.
It is identical to its predecessor – including its enclosure, mounting and related menu structures. The only difference is on the inside: it has a 4G capable modem.
Details on the GX LTE 4G product page is on our website. There are different models for different regions, and at the time of writing all are in stock.
How to update and conclusion
You can find information about how to install the new version of Venus OS here. For the full change log, including previous releases, login to Victron Professional and select Firmware.
All developers as well as myself are very happy with v2.60 and that it's now been released. And, while monitoring this release, we're already working on combining the major changes that have been implemented but put aside pending the v2.60 release.
I look forward to showing those, but that will be a while :-).
All the best,
Matthijs Vader
Footnote:
The manual in the link has been updated. Updates to the other versions of GX manuals, as well as their translations, are still in progress and expected to be completed in the coming weeks.