One of the contracts serviced by the UK company Jackson Civil Engineering is to provide twenty-four hour maintenance for the M11 Motorway which connects the East Midlands to London.
A team of 20 work around the clock from a base near the motorway which consists of offices, workshops, bedrooms, showers, and a canteen – but which cannot be connected to the national grid without huge expense because the power line is routed on the other side of the road!
Their solution has been to keep a 70kVA generator running, permanently. It supplies three-phase power to the site – even when demand is limited to a few laptops, on standby.
The generator was on hire at a cost, with fuel, of £30k per annum. As their only power source, whenever the generator failed it left the workforce without power, unable to perform their work; and with no heating or other 'home' comforts.
An intern, looking for inefficiencies at the site, spotted this anomaly and contacted Ian Hewson from Off Grid Engineering to design and cost an alternative power supply.
The solar based system Ian proposed had to overcome a few hurdles itself: the site comprises of container-style units whose 0.6mm roofs were not strong enough to support the ballast for flat roof solar-panel mounting – necessitating a bespoke design which would transfer the load to the sides of the containers.
As for the electricity supply, the other challenge was keeping the 3 separate phases balanced whilst having the ability to boost the supply if there was a spike in short-term demand. Ian resolved this by choosing Victron Quattro 8kVA Inverter Chargers which have a peak power capability of up to 15kVA for short bursts of time and can be configured for three-phase supply.
This is the system that Ian designed:
The installation was completed in under 2 weeks. Analysed after eleven months of operation they found they had made savings of £25k; placing the project break-even point at 2½ years. Generator run-time has been reduced from 24hrs/day to 3½hrs/day …using a much smaller generator. Using a smaller generator near its peak output extends the life of the generator and is more fuel-efficient. The Quattro has a power-assist feature – if there is a spike in demand which would exceed the generator's maximum output, the Quattro immediately supplies that demand from the batteries.
Jackson were awarded a ten year contract which has seven years to run. Savings by end-of-contract are projected to be over £130k.
If there had been more roof-space, Ian would have recommended installing twice the amount of PV – taking the total solar generation capability to 20kW instead of just under 10kW. This would have decreased their reliance on the generator still further.
One of the features of the system that Jackson Civil Engineering are particularly excited about is that it can provide detailed information regarding energy usage. They were in the habit of simply filling up their diesel tank every week with no information about when and where energy was being used. Thanks to the Color Control GX – which controls the installation's power harvest, storage and supply – system data can be viewed both locally and remotely via the Victron Remote Management platform VRM. This provides Off Grid Engineering with the ability to observe and make alterations to the system programming.
A 'History' function stores comprehensive energy-use profiles. Acting on information they found there Jackson chose to replace their convection heaters with infrared heaters – which require far less energy. They can also maximise their use of 'free' energy by running optional loads when the demand is low, and the batteries are at 100%. These switch-ins can be programmed to occur automatically.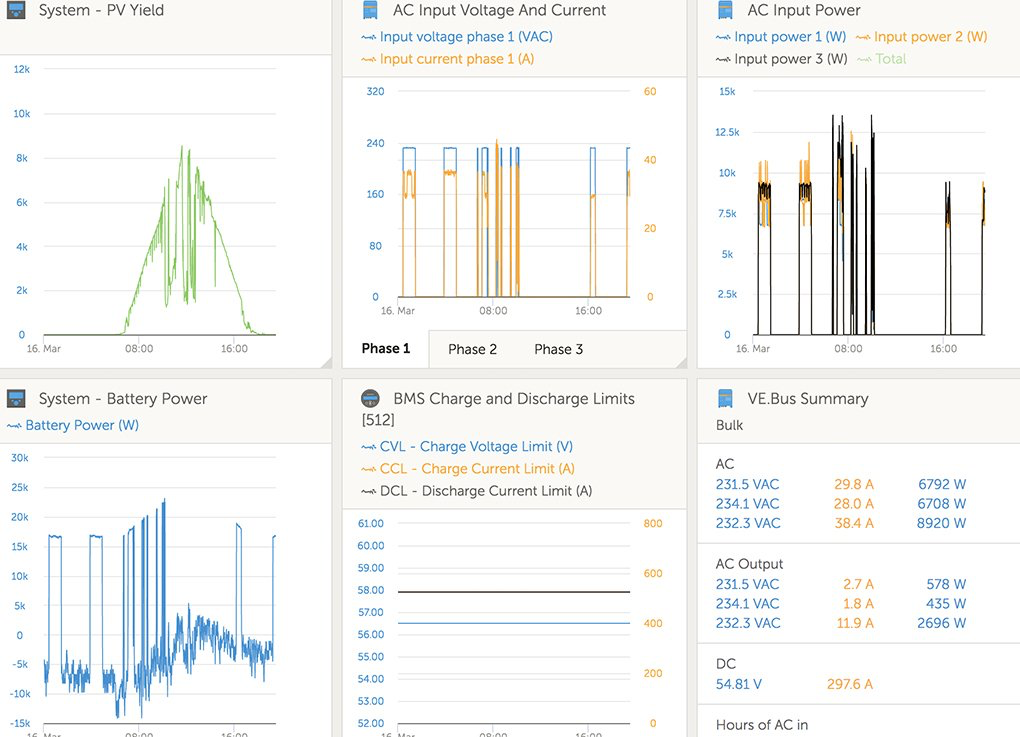 Jackson Civil Engineering is pleased to be part of the green revolution having drastically reduced its emissions by 26.5 tonnes of CO2 per year – equivalent to planting 133 trees a year, they say. Jackson's have become strong advocates of green energy production, regularly promoting the benefits of green energy use to other businesses they work with.
Off Grid Engineering specialise in off-grid energy systems of any size, both on land and at sea.
Headline image is by Lynda Poulter.