The first photovoltaic installation in Spain with the new generation of BYD batteries is up and running.
The installer Efigalia, in collaboration with Krannich Solar, carried out the installation of the BYD Battery-Box Premium LVL batteries.
Early in 2020, the battery manufacturer BYD launched its new Battery Box Premium models, whose strength lies in high energy density, allowing a reduction in volume of more than 50% compared to its earlier models. Not only that but the batteries are scalable – 64 units can be connected in parallel, making a storage capacity of 983kWh attainable.
Efigalia's installation is a remote off grid pig farm in the province of Lugo, using two Battery-Box Premium LVL 15.4 batteries to store a total of 30.72kWh of capacity.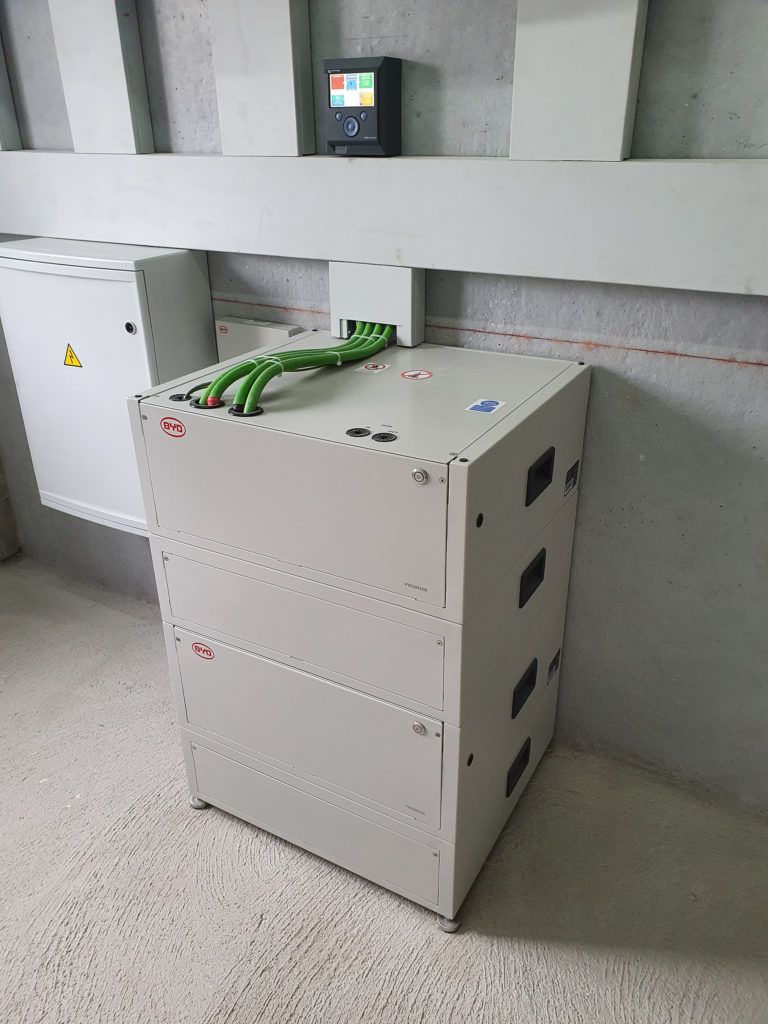 Krannich Solar supplied the materials for this installation including fifty STP330-24 / Vfw photovoltaic panels from Suntech; together Fronius and Victron inverters. Victron inverters are fully compatible with these batteries – and indeed many more battery technologies.
50 x Solar Panels with 16.5kWp output
1 x Fronius Symo 15.0 Inverter
3 x Quattro 48/8000 Inverter/Charger
2 x BYD LVL 15.4 lithium batteries
1 x Victron Color Control GX.
This system employs a Color Control GX at the heart of the installation and harmonises all devices – which you notice are from a variety of manufacturers. Victron GX devices are compatible with a long list of Battery technologies including the new BYD LVL.
A new feature of the BYD LVL in tandem with a Victron GX product is the ability to see detailed cell level diagnostics – such as maximum and minimum cell voltages and temperatures.
We can see the number of connected battery modules, if whether any of them are preventing a charge or discharge. The total available capacity in Ah is also displayed. Using Victron's Remote Management platform VRM, an authorised technician can examine and control the system remotely.
During the day power to the farm is primarily supplied by the Fronius Symo Inverter.  Excess energy from the Fronius unit is directed to the Victron Quattro inverter/chargers and used to charge the batteries. Over-charging is prevented by the Quattro's frequency shifting capability.
Jaime González, commercial representative of Krannich Solar in the northern region, highlighted the great work of the Efigalia installer, and their …pioneering work in launching an isolated system with this new BYD product – we will soon begin to see it in many other facilities requiring cutting-edge innovation.
Diego Mazaira, the manager of Efigalia, said he was …excited to see that photovoltaic energy gaining importance in the renewable energy sector, and companies like BYD investing in it and developing increasingly efficient equipment.
The marriage between Krannich Solar and Efigalia continues their success in the north of the Iberian peninsula having recently installed and supplied the materials for various residential and industrial self-consumption projects in A Coruña, and on different farming businesses in Galicia.