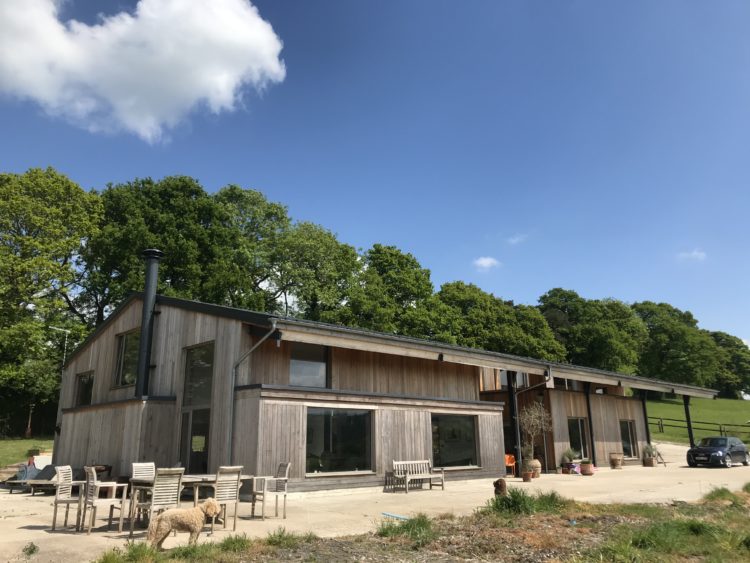 Unexpectedly, one of the biggest challenges of Vanessa and Bruce Jones's self-build project became: how to provide their home with electricity?
The nearest grid connection was 500m away …but from there it had to cross neighbouring land. Negotiations to bury cable under land they didn't own failed, which seemed to leave them with just one alternative – paying the local energy provider more than £100k to provide them with a connection via the road.
Two years of uncertainty ended when Ian Hewson of Off Grid Engineering was able to reassure them that a private off-grid energy system, based on Photovoltaic panels, could provide them with all the energy they needed, summer and winter alike, for their five-bedroomed house – which is heated by Air Source Heat Pump.
Vanessa and Bruce, along with their 2 children Rory and Freya, had always dreamed of building their own home in the country.
Vanessa grew up in rural Somerset – so after living in London for a few years the family decided to make a permanent move to the countryside in 2006, where a long search for land eventually produced a large field with a steel-framed cattle barn, in Dorset. They fell in love with its beautiful views, and the shape of the barn offered great potential to convert into a 5 bedroom home.
The home they have built seems both modern and yet traditional at the same time. Most importantly it sits comfortably in its rural surroundings.
As for the electrics: Ian Hewson worked closely with the heating engineer to design a power system with sufficient capacity to keep the domestic heating operating throughout the shorter days of winter – and provide energy for all the appliances and conveniences of a large family home.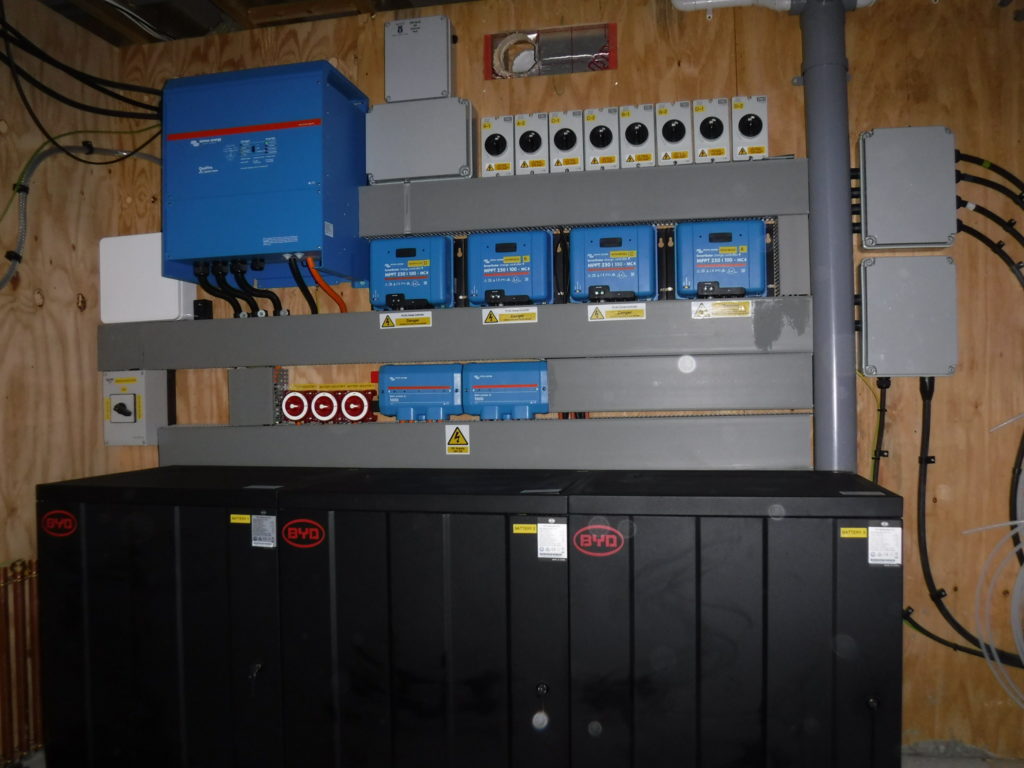 Here is the system they have installed:
80 x 335W JA Mono-Crystalline Solar Panels
Victron 15 kVA Quattro
3 x 13.8 kWh BYD LiFePO4 battery bank
4 x 250V/100A SmartSolar charge controllers
Octo GX System harmonisation and remote Communication
20 kVA LPG back up generator
One of the barn's design features is its glass roof. Roof mounted PV panels would detract from the appearance, so Ian suggested locating the 80 panel array in their field discreetly concealed by the hedge. He assisted the Jones's with the necessary planning permission – needed as this was a Class Q agricultural building conversion – and worked with contractors to prepare the site.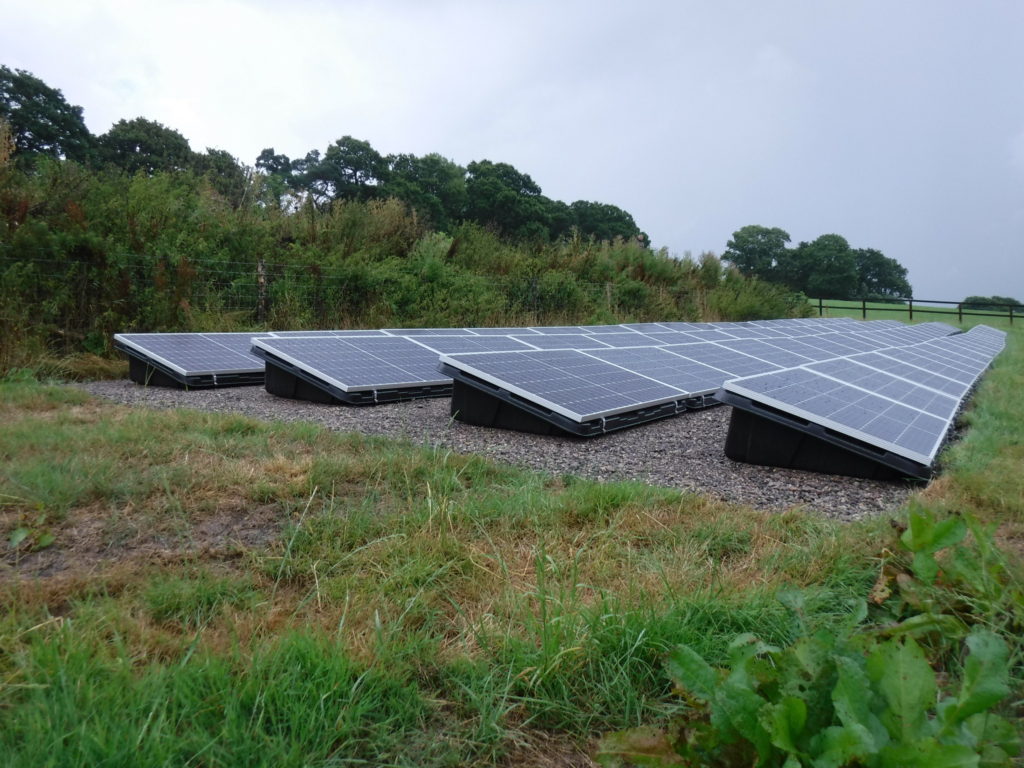 Remote monitoring
Off Grid Engineering are able to monitor and manage Vanessa and Bruce's power system thanks to the Octo GX which communicates with, and controls the system components – including the BYD LiFePO4 battery storage. Victron Energy systems are seamlessly compatible with a number of leading battery technologies, worldwide. The Octo GX allows the system's live and historical data to be monitored and managed by Off Grid Engineering remotely using Victron's Remote Management Portal VRM.
Vanessa, Bruce, Rory and Freya have the house of their dreams amid the rolling hills around Shaftesbury – far from the madding crowd – and can relax in the knowledge that their solar energy, too, is free …protecting them from the spiralling costs of electricity.
What's a Twoot?
Off Grid Engineering monitor the whole installation with data transmitted from a Twoot. I had to ask – Ian Hewson says: A Twoot is a 4G wifi unit that runs off a fused DC feed directly from the battery bank …like the Victron GX GSM. The difference is that it has internally fused DC outputs and multiple ethernet ports so that the unit can offer a basic internet connection to the client or other monitoring systems (such as the heating), as well as support internet connectivity for a Victron 'Venus' communication device. It was developed by myself and Tom Griffiths – from Specific IKC – and has been installed in about 60 of our off-grid systems across the UK.
Now her self-build is complete Vanessa – who works for the tailor-made safari operator Natural High Safaris – has some advice for anyone thinking of carrying out their own project:
Don't give up on the search for a plot; ensure you have the best team you can – from architect to engineer to main contractor. Engage the services of a quantity surveyor at the outset to give you a realistic costing… and if converting a building which has no services, carefully check the costs of bringing in utilities.
Off Grid specialist
Both Scott and Ian are highly qualified electricians – terrestrial and marine – who use their passion for off-grid energy to help clients power their lives …wherever they happen to be. What makes Off Grid Engineering unique is that they specialise in Off Grid systems – from camper van to 3 phase industrial supply. No worries.