Good day!
This morning we have released Venus OS v2.40 – the software at the heart of our GX Product range.
It brings lots of new features and various other improvements. The highlights:
NMEA 2000-out function
Solar Irradiation metering
Multis and Quattro related improvements such as Inverter only mode, Alarm notification upon grid failure and setting the Input current limit for systems with a VE.Bus BMS.
A new supported battery: Discover AES from Canada
Simplified installation of BYD by automatically forcing the DVCC on and Shared Voltage Sense off. Other batteries to follow.
Let me take you through some of the details.
New: NMEA 2000-out function
Long awaited, and already announced long ago (my apologies that this took forever!), the GX devices can now transmit battery monitor as well as inverter/charger data out on VE.Can and NMEA 2000 networks. Also, our Multis and Quattros can be controlled via NMEA 2000. Use our VE.Can to NMEA 2000 cable to connect a GX device to an NMEA 2000 network.
To enable this feature, navigate to Settings -> Services -> CAN-bus, and there enable the "Send data to VE.Can" feature: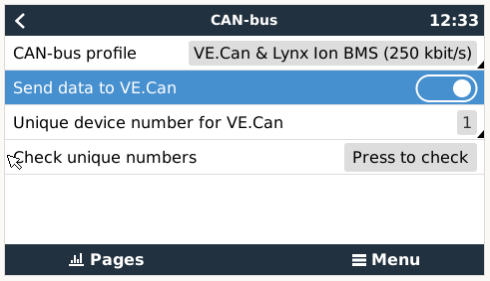 Note that this is now the recommended way to integrate a Victron system into an NMEA 2000 network. The old VE.Bus to NMEA 2000 interface, as well as the VE.Direct to NMEA 2000 interface are now deprecated.
In the coming days we'll be updating the Marine NMEA 2000 and MFD integration documentation; taking out the now deprecated interfaces as well as adding the earlier released MFD App Integration.
New: Solar irradiance metering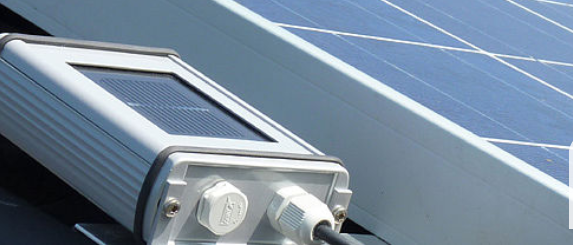 After searching and reviewing the options on how to add Solar Irradiance metering to our offering, we chose the IMT meters from Mencke and Tegtmeyer GmbH in Germany. The picture above shows their meter, mounted next to a Solar panel. The type of meters supported is their Si-RS485TC series. Besides solar irradiance, they also offer (optional) wind speed and ambient temperature sensors.
Note that we'll not be stocking these meters ourselves, consult the imt website for purchasing.
The meter is connected using our USB to RS485 interface cables. Here is how the result looks in the menu pages:
And here is how it looks on VRM:
For more details, consult the new section in the manual.
Improved control and monitoring of Inverter/Chargers
The first change is that it's now possible to switch the system into Inverter Only mode: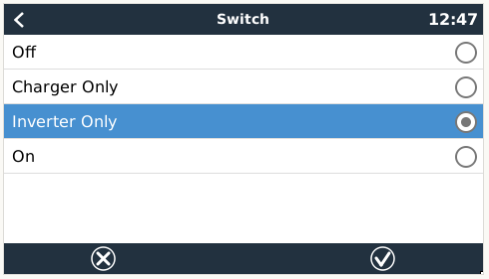 Then there is a new feature, called Grid failure monitoring: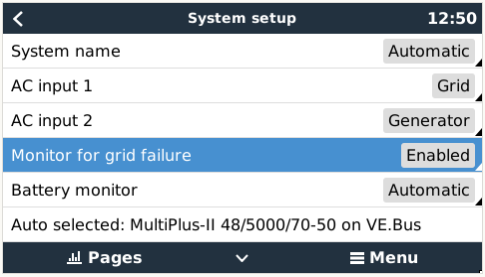 For details, consult the manual.
New supported battery: Discover AES from Canada
After system integration testing has been completed, both by the Discover AES team as well as our own R&D team, we have now added this battery to our Battery compatibility pages. For more details, see the Integration manual, available on that page.
DVCC menu cleaned up and expanded
All DVCC settings are now brought together in their own menu, rather than added at the bottom of the Settings -> System setup menu. Thus making them easier to find and configure. Here is how the new menu looks:
Those familiar with this menu will note that the Shared temperature sense feature has been expanded, and that there is a new feature, called Shared current sense. For details, please consult the manual.
Many more changes and improvements
So far, those are just -what I think- are the highlights. To learn about all changes and improvements, please read through the changelog, available on Victron Professional.
How to update?
You can find information about how to install the new version of Venus OS here.
In conclusion, I wish you a good day!
Matthijs Vader