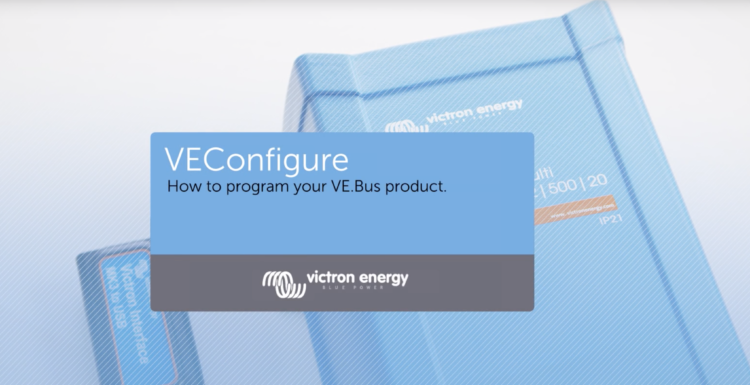 A number of major changes to our documentation have been completed. We highly recommend checking out the new versions:
VEConfigure Documentation
The VEConfigure documentation has been redrafted. It contains additional detail, and a new section about how to use the "Ignoring AC Input with Virtual Switch" feature. Video examples are now embedded within the manual to help with some of the more complex procedures; and you can copy a link to Sections of the manual – making it easier to share specific parts of the document.
Please remember that VE.Configure is a powerful software programming package which can be used to program all our Chargers and Inverter/Chargers which have a VE.Bus port, but it should only be used by Victron Professionals – Engineers, Installers and Dealers – as we offer no support to individuals using this software.
Clearer Marine integration schematics
More detailed schematics are now available showing Lynx Ion BMS; VE.Bus BMS; MultiPlus and Quattro integrations into marine installations. The schematics were drawn by Peter Bakker who has thirty years experience of leisure boat and van installations and likes to work from the ground up – covering everything from wiring gauges and fuse ratings – to an installation which keeps one eye on the future. His schematics have been added to the relevant product pages, and can be found under: Downloads > System Schematics.
DVCC – Distributed Voltage and Current Control
Also, we've updated the CCGX manual. Take a look at the section on Distributed Voltage and Current Control – DVCC .
The new section has a better description of this feature and provides advice about whether DVCC should be enabled in relation to Battery type and System configuration. A list of the minimum firmware versions required for DVCC to operate satisfactorily has been included for all relevant Victron hardware.
The new text explains what effects enabling DVCC will have on the battery charge algorithm, and how the system is modified by DVCC in a variety of configurations – including ESS.
Many thanks to Guy Stewart and to Peter Bakker for their very useful input to the VEConfigure document and to the Marine diagrams respectively.
Justin Tyers