The new version of Venus OS – the software which controls the Color Control GX, Venus GX, and Octo GX – has just been released. It includes some great new features, and also various bug fixes.
v2.18 was released one day after v2.17; and contains one more fix; relating to ModbusTCP alarm registers 34, 35 and 36; see below.
Remote firmware updates
The old VE Power Setup has been replaced by one which is easier to use, and can be found on the VRM Portal. Besides easier to use, it also:
adds remote updating VE.Direct devices, such as Battery Monitors and Solar Chargers.
has all the latest firmware; no need to go look for the correct file in VE Power Setup.
This is how the page looks:
It can be accessed via two buttons at the bottom of the Device List page of an installation on VRM.
Remote firmware update manual: https://www.victronenergy.com/live/vrm_portal:remote-firmware-update
Remote VEConfigure
Here's a video explaining how to use the new VEConfigure feature, but first update to the latest Venus firmware and then go to – Device List –> Settings –> Services –> VRM two-way communication and set that to ON.
Remote VEConfigure manual: https://www.victronenergy.com/live/vrm_portal:remote-veconfigure
Customize the logo on the Boat & Motorhome page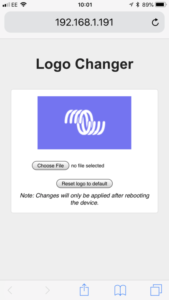 As shown in the headline image, you can now upload your own logo onto the Boat & Motorhome page. Great for motorhome builders, boat builders, and other OEMs that want to add their own touch to the system.
How to change the logo
Using this address as a template: http://[ip-here]/logo.php  (inserting your device's IP address between the square brackets) type that address into a connected browser  – the IP address can be found by going to Settings > Ethernet or Wifi. From there you will see the screen above. Choose an image file from your computer. That's it! ….but don't forget to re-boot the GX device.
Don't forget to make sure your Venus device has upgraded to the latest version (v2.17).
Improved digital input handling on the Venus GX
Add a switch that allows inverting the alarm logic from Venus GX digital inputs.
Fix bug where the alarm was not raised if the alarm signal was present on startup.
Thank you to Greg S. for reporting & helping to fix these issues
Other improvements
Add a 'reconnect' button to the Remote Console on LAN.
The names of new models have been added to the library – such as MultiPlus-II.
Better support for USB-GPS dongles. The systems supported now include GPS, GLONASS and GNSS. Thank you to Malcolm H. for his work on this.
Various other improvements and fixes
Fix Generator start/stop issue in combination with the Lynx Ion BMS and Lynx Shunt VE.Can
Fix bug relating to the VE.Can Tank Sender Adapter; this fixes the issue with the latest batch of VE.Can Tank Sender Adapters.
Improve compatibility with other NMEA2000 type fluid level senders; such as the Simrad Fluid Level Sender 000-11518-001.
It fixes a bug where the GPS wouldn't show up if it was connected whilst the Venus Device was already running.
Hide the Fronius HTTP port setting which was causing confusion – and not required anyway.
Lynx Shunt VE.Can: Fix bug in the "Zero current" & "Synchronize"; they didn't always work; now they do.
Lynx Shunt VE.Can & other VE.Can devices: Fix unknown temperature being recorded as 382C.
Add High Charge Temperature & Low Charge Temperature alarms (Device List -> BYD -> Alarm Status)
Improve format of Fischer Panda serial number
Add (feature limited) support for connecting a second VE.Bus system, using a MK3-USB.
Modbus-TCP: Add 32-bit integers for Grid meter forward & reverse energy
Modbus-TCP: Restore the ModbusTCP VE.Bus alarm registers for High temperature (34), Low battery (35) and Overload(36). They were replaced by phase specific ones in version v2.20. Breaking the old registers should not have happened; and they are back in place now.  (v2.18)
Thank you
Thanks to Greg S.; Malcom H.; Coen van L. and others for flagging-up and even contributing changes in the source code to help fix these and a number of other issues.
Enjoy!
These, together with a few more changes are all that is in version v2.17. You can find information about how to download the new Version of Venus OS here. For the full change log, visit Victron Professional.
Thanks to Nate and Steph Yarbrough – whose logo I have borrowed to illustrate the head image in this post.
Matthijs Vader