Botswana has a huge land area and is one of the most sparsely populated countries in the world.
Remote communities, Industry, and also the wealthy tourists who are welcomed from all over the world to take part in wildlife safaris – need electricity in locations where there is no 'grid'. The large installations and Mini Grids needed to provide electricity to these groups require special understanding: For that reason Victron's André du Rand is conducting some Large Installation Training.
Bringing together key suppliers in Botswana, such as Freedomwon; Bluenova; and the country's Fronius distributor to explain the technology behind how their systems work; together with providing in-depth training on Victron system integration, André du Rand aims to build up an independent network of installers who are both professional in their approach, and have high levels of technical expertise.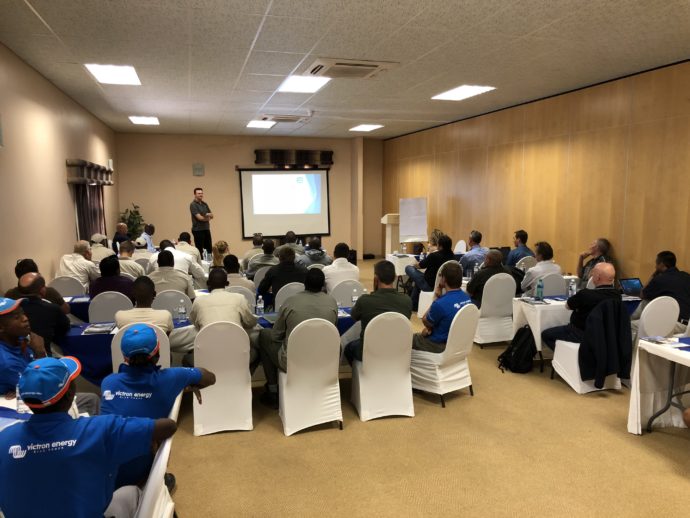 This commitment to Industry training is a recipe for success – owners of Safari Lodges; remote industries, or communities interested in having access to electric Mini Grids will find they can call on local technicians who understand their needs, and know how to design and install first class energy systems.
Back in March this year we brought you news of the first such conference – which was partnered by the Solar Industries Association of Botswana – and it was the success of that event which spawned this, and will spawn future conferences. This event runs concurrently with Victron-hosted training – thereby providing a 'one-stop shop' where installers can learn, ask, touch, and see how the equipment works. They will meet others in their industry – friendships are formed, and information networks established.
Under the spotlight – the integration of PV inverters into off-grid systems; and an explanation of Lithium Battery Technology. Both Bluenova and Freedomwon – have developed a range of Lithium Battery Storage modules for both static and mobile applications – and were in attendance to provide detailed analysis of how the technology works – particularly in hot-climate countries.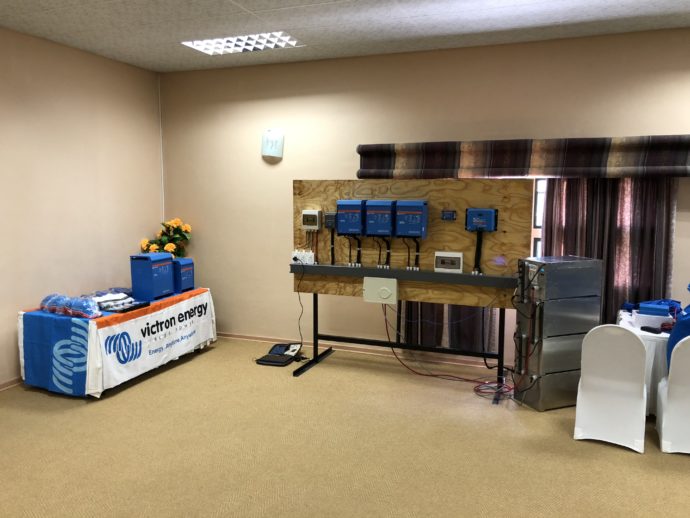 Historically a poor country – today's Botswana is ambitious and consequently has one of the fastest-developing economies in the world. In this atmosphere of excitement and optimism Victron is proud to invest in the country's sustainable wisdom, and also to be installing energy everywhere!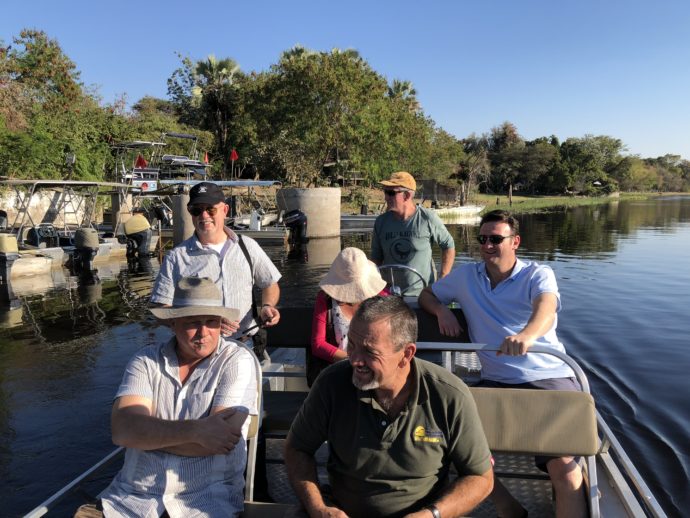 The event, which was held in Maun, Botswana, also provided an opportunity for industry experts to get to know each other – here they take a relaxing excursion down the Thamalakane River.
Front row L to R
James Verster
Glenn Jame
Back L to R
Vic Hamaty
Richard Smallman
Antony English