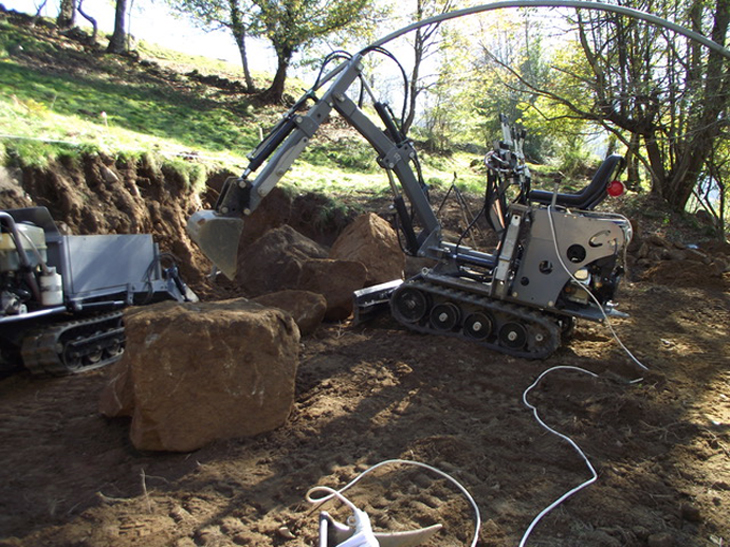 You know what it's like – you're sitting on the sofa with a glass of something warming in your hand when suddenly you have a Eureka moment.
Four years ago Benoit Buys, who advises on and installs PV off-grid installations in the South of France – and who is an inventor in his spare time – decided to remove the power-steering ram from his wife's Golf GTI and install it instead under the box of his trackbarrow (one of those mini dumper trucks you see on building sites) …so that the box had an hydraulic tilt. One thing led to another…
Seeing more possibilities, he bought another trackbarrow and, using its chassis, built an hydraulic bucket arm to turn it into a very neat mini-digger. The remarkable thing about this small excavator is that although it has 'dual fuel' (electric and petrol (gas)) – it is designed to run on Sunlight alone.
Using a 2800W motor on a sunny day the unit is effectively powered in 'real time' by 18 PV panels. Never-the-less it has a battery capacity of 600Ah / 24V; an MPPT SmartSolar charger 150/85; and the 230V output is supplied by a 5kVA MultiPlus Inverter. This arrangement allows the unit to operate for between 5 and 7 hours without any sunlight – after that you can switch to petrol-power if you've still got some fight left in you.
If at any time during the day you wonder how much power you've got left; how much power you're using; and how much the sun is providing – a glance at the CCGX will tell you. Information accuracy is guaranteed with the BMV 702.
Confounding the prognoses of doom – the advantages of this mini-digger are that having a track width of just 72cm it can be driven through the doorway of any house. With zero emissions, it can be used indoors. It is able to excavate to a depth of 1.7m; and the addition of stabilisers allow it to be operated on sloping ground of up to almost 1 in 3 (30%). To date it can be fitted with buckets of 20 / 30 and 50 cm – all of which are quickly interchangeable.
Benoit has been testing the device since 2016 – clocking up over 150 hours of use: Working on his own construction project he recorded that he was able to remove 55 cubic metres of soil (that's about 100 tons) in 48 hours of operation – using 38kWh of free electricity in the process.
Benoit – who lives off-grid, himself – constructs all his equipment using solar energy …powering his welding machine and grinders. He also has an electric chainsaw and log-splitter for home use.
He now offers his invention for sale as the Permawatt Micropelle, and plans to develop a lithium version. You can get in touch with him here.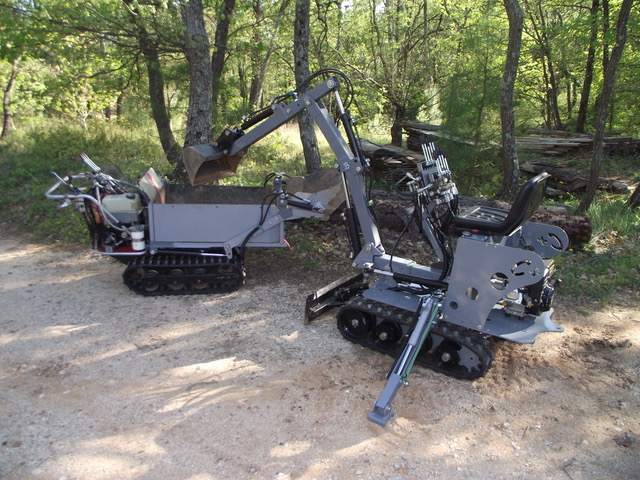 Characteristics of the autonomous photovoltaic mobile unit:
– installed PV power 1200 to 2400W
– battery storage 500 to 700Ah 24V opzs or opzv
– DC / AC conversion MultiPlus 24/3000 or 24/5000
– SmartSolar MPPT control 100/50 to 150/85
– Monitoring BMV 702 & CCGX
Benoit's silent excavator is truly ground-breaking…