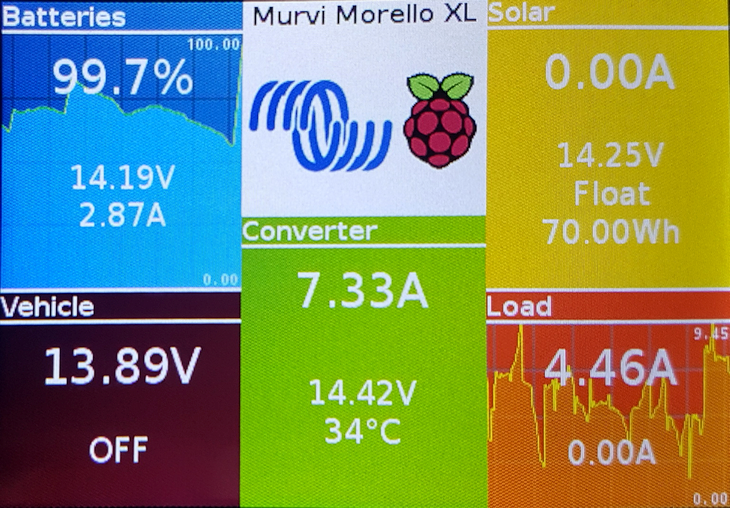 At Victron we really like Open Source projects. Here's one recipe from Alan Major, for his desirable camper van.
Inspired by Izak Burger and his successful porting of the Venus software to a Raspberry Pi, Alan decided to investigate Victron's open source software and communication protocols – to see what he could do to address his specific needs. In his own words, this is how Alan baked his homebrewed Pi.
The origins of victronPi
"In our first 7 years of retirement my wife and have been fortunate to be able to travel extensively in our Murvi campervan including visits to the Orkneys, Shetlands, the Faroe Islands and Iceland. During this time we developed a love of remote areas. Our 'van is a 'panel van conversion', i.e. the standard steel van body is retained with cut-outs made where necessary for windows, hatches and skylights. This approach has amongst its advantages the fact that original vehicle dimensions and body integrity are retained, both of which are useful considerations given the nature of the roads in the areas we prefer to visit.
When the opportunity came to replace our 'van we decided without hesitation that it would be an almost 'like for like' replacement but with an updated specification taking advantage of the technological advances that had occurred since the purchase of our first 'van. One such advance was in battery technology and more particularly LiFePO4 (LFP) batteries.
The benefits offered by LFP batteries seemed to match exactly what we needed if we were to enhance our ability to travel to and enjoy remote sites. The deeper discharge ability, more efficient recharging and lower weight helped greatly alleviate the compromises on space, weight and power reserves that were needed when deciding on the specifications for a campervan.
We were lucky in that Murvi, a small independent UK based converter of panel vans, are very flexible when it comes to accommodating owner's requirements. They were using Victron equipment within their battery systems and I had previous experience of the brand from our days of yacht ownership. So I began my research on the website of Victron Energy and very quickly concluded that they would be my preferred equipment manufacturer as the range of components offered seem to include everything I would need for my proposed installation. I felt that it was important that the system should comprise of components from just one manufacturer to avoid any conflicts which could occur if problems arose with components from multiple suppliers. On their website Victron publish datasheets, manuals and technical papers covering their equipment and data communication protocols. Using these reference sources I was able to design a system that I felt would be suitable for our 'van.
My requirements for the system were that it should be adaptable and easily serviced so as to reduce the inconvenience should a failure occur, have low self consumption and support our desire to be as self sufficient as possible. Particular challenges were the maintenance of the vehicle battery when in store while at the same time respecting the different charging profiles recommended for lead acid and LFP battery technologies, the control of cold weather charging and the minimisation of self consumption. I was able to find a way of addressing each of these requirements by exploiting the flexibility of the features offered by the Victron components. Although strictly speaking the approach I have taken has resulted in a certain amount of inbuilt redundancy I am happy to accept this and as a bonus it may even help prevent a trip being abandoned should a fault occur. Murvi were asked to install a system which comprised of:
2 x 12.8V 90Ah LFP-BMS batteries
2 x 100W solar panels
BlueSolar MPPT 100/30 solar charge controller
Blue Smart IP22 30A mains charger
BMS 12/200 battery management system
Buck-Boost DC-DC Converter 50A
Cyrix Li-ct 12V/120A battery combiner
BMV 702 battery monitor
MPPT Control solar monitor
For some a noticeable omission from this list is an inverter but we have learnt not to rely on mains powered equipment. In practice our most demanding power consumers are our 85 litre compressor fridge and diesel powered water/cabin heater. Over the course of our first year (132 nights away) with this system we have found that our power needs have been satisfied without recourse to additional mains or alternator charging in all but two situations. On both these occasions we had been stationary for 4 days or more and in the first we had sought shade to gain relief from the high summer temperatures in Spain and the second we needed heating to beat the cold of dull winter days in the UK. In each case our power needs were far in excess of our battery capacity and ability to harvest power from our solar panels so the convenience of an EHU (mains electric supply) was utilised rather than rely on the vehicle alternator.
As time passed I grew frustrated by the inconvenience of the single line displays of the battery and solar monitors when trying to get an overview of the system's performance so started to research what alternatives were available. The obvious choice was the Color Control GX but in the context of my system I felt this was too expensive and offered far more functionality that I needed. I then discovered the Victron supported Open Source project to port the Venus GX software that was at the heart of the Color Control GX to the inexpensive Raspberry Pi single board computer. After following the work of Izak Burger on the porting of the software through the victron-dev-venus forum and inspired by firstly Jan Inge's recipe to connect a touch screen to the Raspberry Pi and Stefano Massone's pictures of his Raspberry Pi running the Venus GX software installed in his campervan I experimented with a similar set up. However even with this setup I was still missing some data from my system. I wanted to be able to capture data from the Buck-Boost DC-DC Converter so I could have a complete overview of my system. Unfortunately this was the one area where Victron resources was not able to provide the information I needed, so I resorted to my own devices to find a solution. Thankfully the internet can be a great resource and some patience searching produced the guidance I needed to access the data produced by the Converter. So armed with this, Victron's documentation on its VE.Direct protocol together with various other tools from the internet I was able to assemble a 'victronPi' to produce my desired complete system overview on a single display. The recipe link below for victronPi sets out the details of how I achieved this."
Alan Major
Conclusion & Credits
We thank Alan for the information and images used in this blog and wish he and his wife many happy travels in their Victron enhanced campervan.
Maybe you're inspired to create your own Pi recipe? If so here's another to whet [sic] your appetite, maybe even literally – Markus Pauritsch and his Hydro Power Pi.
Added to that – in the coming months I'll be attempting an Open Source Pi project of my own with Victron products, utilising Signal K on my boat. Watch this space…
More about Victron Energy & Open Source.
More about battery choices: Lithium-ion vs AGM
If you have an open source project you'd like to tell us about, please leave a comment in Disqus below. We'd love to hear from you!
John Rushworth