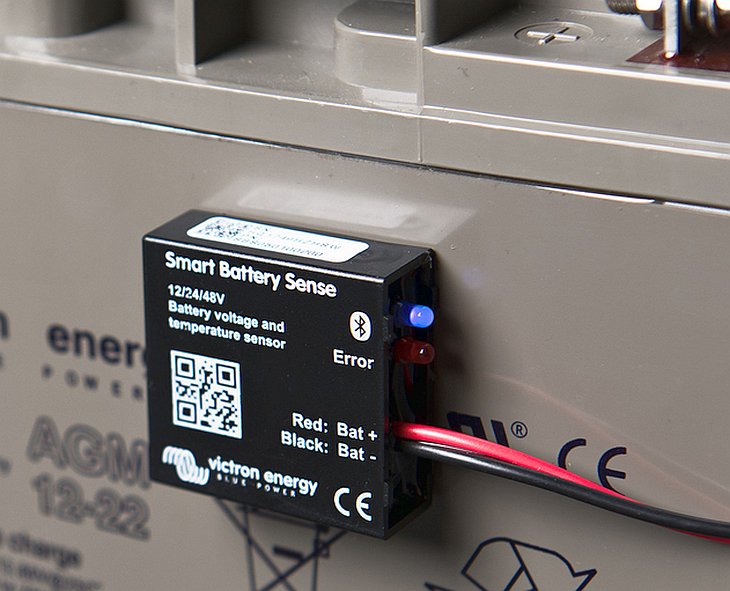 Our range of solar chargers fitted with a VE.Direct port were lacking battery voltage and temperature charge compensation. Not now!
Also, today we announce the launch of Victron Energy's Smart Battery Sense – a product to complement the new feature. New, simple, smart …and wireless.
Why do we need voltage and temperature sensing?
Improves solar yield
Maximises battery capacity
Increases battery life
AGM & Gel (lead acid) batteries use charging algorithms based on a standardised temperature of 25°C. However – when they're cold these batteries need a higher charge-voltage …and a lower charge-voltage when they're hot. So, optimally, we should modify the charge-voltage by, typically, -16.2mV/°C.
Also there can be a difference between the voltage measured at an MPPT solar charger's terminals, and that measured at the battery terminals. For optimum charging that discrepancy needs to be taken into account, too. The Victron Toolkit app demonstrates how this voltage drop is brought about as a consequence of cable length and gauge; together with voltage and current variations.
Good news though: Our MPPT Solar Chargers and accessories can figure all this out – so you don't have to!
Voltage and Temperature data – transmitted wirelessly to your MPPT
The Smart Battery Sense is a wireless battery voltage and temperature sensor for Victron MPPT Solar Chargers.
Simple installation – attach the unit to any battery by its self-adhesive tape.
Protected by an inline fuse.
Voltage and temperature data is transmitted wirelessly to the Solar Charger.
Monitor & configure the unit from your smart phone – via our free-to-use VictronConnect app.
Transmitted data can be networked to one, two – or more solar chargers connected to the same battery bank.
Works for 12, 24 and 48 volt battery banks
Works for both Lithium and Lead battery banks
Compatible with most BlueSolar and SmartSolar MPPT charger models: see VE.Smart Networking for compatible-models list.
Learn more from the Smart Battery Sense product page or from the Smart Battery Sense Manual – together with the VE.Smart Networking manual. Or watch the Smart Battery Sense introductory video:
More options for Voltage- and Temperature- compensated charging
Besides the Smart Battery Sense there are other options too. We've listed all of them in price order:
Do nothing with no voltage-compensated charging. The MPPT already has ambient temperature sensing – though that method has its limitations.
Installing Smart Battery Sense offers the best value for money. Connection to your solar charger(s) is wireless.
Installing a BMV-712 Smart together with its temperature accessory, will provide full-blown battery monitoring, too. Connection to your solar charger(s) is wireless.
Installing a Color Control GX or Venus GX, wired with a VE.Direct cable, and having DVCC enabled. This is for more complex systems – one's which include inverter/chargers for example. Note: you may still need a BMV – subject to the battery-monitoring method for your system.
Conclusion
I'm pleased to see the launch of charge-compensated MPPTs; and of Smart Battery Sense. I'll be happier knowing that my batteries are getting exactly the right charge with optimal temperature and voltage compensation.
No matter how you choose to instigate voltage- and temperature- compensated charging, make sure you do – it brings only benefits!
I always say: There are many ways to skin a cat – and the choice is yours. But Smart Battery Sense certainly does make sense when it comes to simplicity and economics!
John Rushworth