The Kruger National Park is home to a third of the world's remaining Rhino – a fact which makes the park attractive to poachers who kill Rhino just for their horns.
In order to try to prevent the Rhino from becoming extinct – Park Rangers have to be constantly on the lookout for poachers in a wilderness which extends to 2 million hectares. That's an area equivalent to a box whose sides measure 140km/90miles – you can't be everywhere at once, so the Rangers have installed some discreet technology to help.
Saving the Rhino is a race against time because the growth in poaching has been alarming: In 2007, 13 Rhino were poached in South Africa …by 2014 that figure had increased 9000% –  1215 animals were illegally slaughtered in that year alone.
Powdered Rhino horn has become more valuable than cocaine – fuelled by the misguided belief, particularly in the East, that it has medicinal value. When prices rose recently, Rhino became a target-interest of international organised crime – turning what was then localised illegal activity into something of global industry.
In order to maximise their policing, Kruger National Park Rangers have set up a number of radar detection systems, strategically installed to offer wide area surveillance, both day and night. Three or four units allow them to cover half the park area. The radar detects movement and plots it on a map. Remotely operated camera's allow the operators to distinguish between  'Animal' and 'Human' movement. Suspicious activity is then intercepted by truck or helicopter.
Financed mainly by charitable donations the surveillance installations are highly mobile, frequently moved, and can be packed for deployment by truck – or even slung under a helicopter and flown-in to new surveillance sites.
These mobile installations need reliable off-grid power source – for which Lithium battery specialist BlueNova located in Cape Town led the system design. Lithium Batteries are an ideal solution to frequently-relocated installations – amp for amp they're almost 80% smaller and lighter than their Lead/Acid equivalents. And amongst a topography of scrub and boulder, PV panels offer discreet power-generation. They do not impinge on the visual amenity which is so important to wildlife tourists on safari; and they remain undetected by would-be poachers.
The power plant features 26V-8kWh BlueNova Lithium Ferro Phosphate battery (LiFePO4)
2 x BlueSolar Victron MPPTs  Solar Chargers to regulate the six-panel PV array.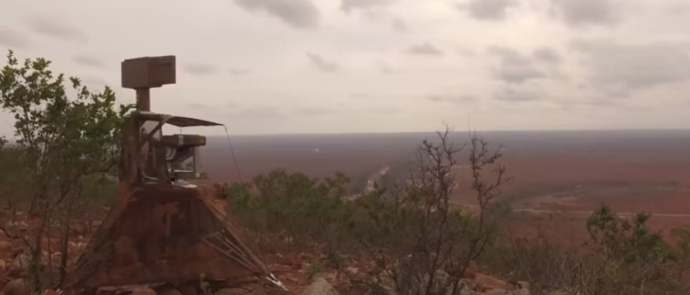 Currently, three Rhino's are killed illegally every day. At that rate the animals will soon face extinction. All that can be done to slow the decline should be done. Against armed poachers, the Kruger National Park Rangers are carrying-out a dangerous job with utter commitment to conservation – this technology helps them reduce the slaughter.
The photograph used at the head of this article is by Esculapio.