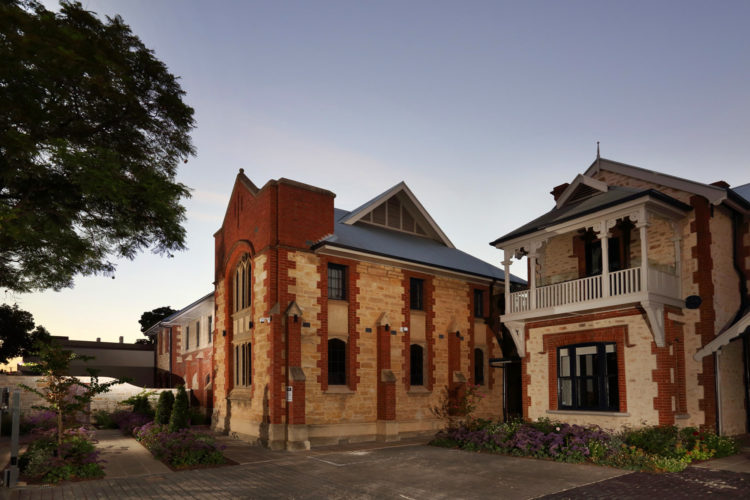 Built in an era when tradesmen were paid to create 'a thing of beauty' – large heritage buildings have to either find new purpose or fall into disrepair.
150 years after it was built, a mansion in Adelaide, Australia, has been repurposed as a technology HQ for Zinc Bromine Battery manufacturer Redflow, together with offices for a number of other high-tech companies. The challenge was to give the building a make-over, suitable for ultra-modern offices – powered by solar energy  …and yet change nothing of the building's fabric.  Here is the A$7M result:
Indoors, an informal and inclusive atmosphere has been created by using light colours; modern lighting schemes; making the most of the building's contours; and taking advantage of the large rooms for open-plan office arrangements.
Renamed Base 64 outside it is a requirement that the architecture of the building be changed as little as possible, or not at all. So when it comes to sustainable energy production the problem was where to site the substantial 70 kWp solar array – especially as the roof of the building was not an option.
Simon Hackett, Redflow Entrepreneur, came up with the idea of investing in an architecturally pleasing steel 'tree' – four trees really – which provide a canopy over the car parking area, on which to mount the solar panels.
All that power has to be stored somewhere – that's where the scaleable ZBM2 batteries come in: Zinc Bromine batteries are a safe, recyclable technology offering a 100% power cycle everyday for ten years, and can be configured into large scale banks – as evidenced by the planned 450kWh storage at Base 64.
That kind of energy transfer – from panels to DC battery; from battery to AC offices – requires a lot of command and control …a first attempt at this was not a success. Simon Hackett turned to Victron Equipment – which is also scalable. By installing 6 x Victron Quattro 48/15000 the Base64 office suite is provided with 72kWp power on-demand and offers at-a-glance monitoring via the Victron CCGX – delivering a PV-based energy system which is available off-the-shelf, tried and tested, and without making guinea pigs out of large-investment installations: Notice in the photo below that the networked inverters are quietly meeting a 64kW power demand!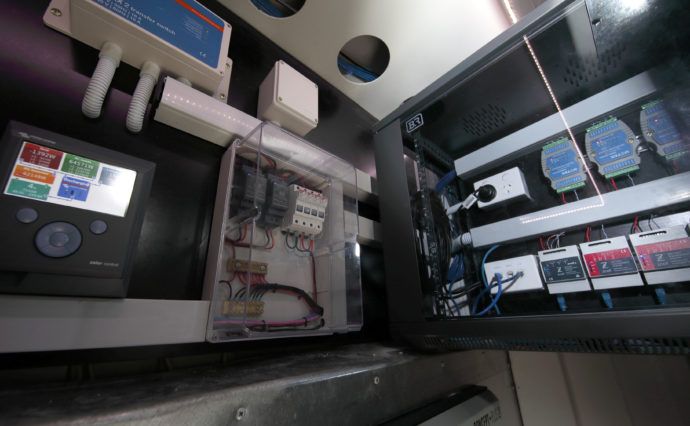 Simon Hackett couldn't be more pleased with how Victron equipment has solved the control and management of his energy project; he says: Swapping the Victron Energy gear in has turned out far cheaper and far better than the bespoke software exercise would have ever been. It has also created a signature example of a large scale Victron Energy deployment running a decently sized multiple building site.
There, that should keep the lights on.