Elektro Stumpfl: Enhancing hybrid marine propulsion
All the best to our readers for 2017. Here's the first blog of this New Year in this fast evaporating decade.
Like Victron Energy, Elektro Stumpfl have been in business for over 40 years. As a valued Victron distributor this enduring relationship has resulted in a high level of technical expertise across a range of markets – something you'd expect from such a long term relationship.
Based in Slovenj Gradec, in northern Slovenia, Elektro Stumpfl are ideally situated in Europe to deal with the marine market, amongst other sectors. One such area (which is of particular interest to myself as my electric propulsion sailing yacht is Victron enhanced) is hybrid marine propulsion.
Marine electric propulsion
There are many boating variants that utilise electric propulsion in the marine world, but before looking at Elektro Stumpfl's expertise in that area it's worth noting and realising – this is nothing new. It is however only in this decade that we are seeing more and more sea going leisure boats with some form of electric propulsion, due in principal to battery technology and improved power electronics.
But where did it all start? If you want to read more about the history of how electric propulsion pre-dates the diesel engine and the variations in electric boat technology, here are a few pointers.
Hybrid technology
Whilst Victron partner Oceanvolt focus primarily on electric propulsion sailing yachts, Elektro Stumpfl's focus is in providing turnkey power electronic systems for the award winning Greenline range of hybrid motor yachts, shown in the headline image above and in the schematic and images below.
Greenline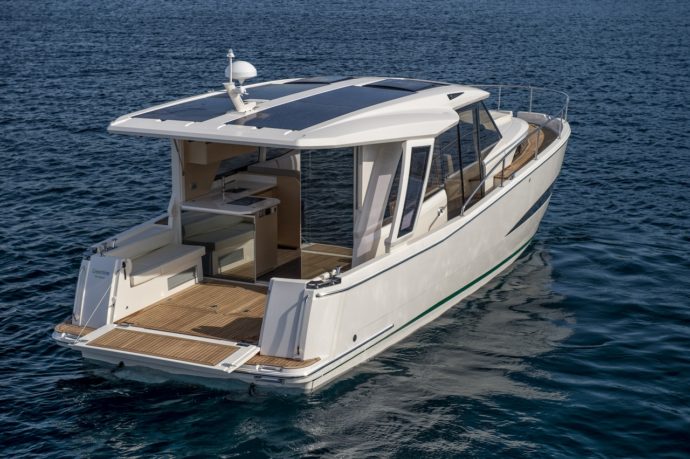 Here is what Jan Podgorsek of Elektro Stumpfl has to say about their customer Greenline:
"Greenline is one of the pioneers in hybrid yachts and probably number one in the world when you look at hybrid boat models and sales. We supply them with fully preconfigured kits in a modular boxed format, including wiring looms, which of course have 'Victron inside'. For example:

Conclusion
I don't know about you but I really like these hybrid yachts; the best of both worlds. In fact (in part due to age and health) I'm in the process of selling Elektra and considering going back to motor as opposed to more physically arduous sail. This is the Norwegian NB840 I owned previously which had a Volvo D4 210 hp in it; something similar would be nice.
As I really like all things electrically propelled, I've been to look at a secondhand Greenline as an option. These days I find hybrid far more appealing than pure diesel power. There's nothing quite like the 'silence' of electric and hearing the wildlife ashore as you pass close by remote Scottish islands. The Greenline would have suited me and that kind of 'sailing' perfectly – but unfortunately it was outside my price range.
I guess I'll have to stick to jaunts on friends' boats, my electric mountain bike and a motorhome funded from the sale of Elektra instead  – Victron enhanced of course!
My thanks to Elektro Stumpfl and Greenline for the information and images used in this blog.
John Rushworth
Links