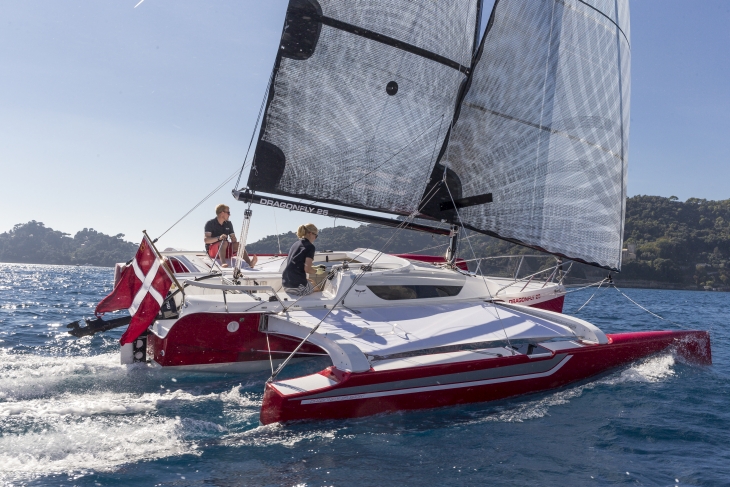 Quorning Boats of Denmark is the company that produces the world-renowned Dragonfly trimarans. To complement that pedigree they have selected Coromatic A/S to configure and deliver a range of Dragonfly trimarans with Victron Energy systems.
Quorning Boats success
Quorning Boats was founded in 1967 by Børge Quorning with the aim of building, safe, quality, performance trimarans to set new standards in sailing. Over the years they have certainly achieved that as some of the nominations and awards testify:
2017 – Dragonfly 28 Performance; nominated Best Boat by the US SAIL Magazine in  the Mulithull Performance category.
2015 – Dragonfly 25; Best Boat by SAIL Magazine in the Small Cruiser category and European Boat of the Year in the multihull category.
2014 – Dragonfly 32; Best Multihull by SAIL Magazine in the 31′-40′ category.
2013 – Dragonfly 32; was nominated  as European Yacht of the Year and awarded Performance Boat over 30 ft by Yachts & Yachting magazine.
To learn more about Dragonfly trimarans and their unique Swing Wing System do take a look at the Dragonfly website. For now, our focus though is on how Victron Energy products compliment the Dragonfly pedigree combined with the able expertise of Coromatic, who configure and deliver the energy systems.
Dragonfly 32
The electrical energy system in several customised Dragonfly 32s are fitted with:
Dragonfly 25 and 28
These smaller boats are fitted with a conventional lead acid battery system and whilst they don't benefit from the enhanced qualities of Lithium batteries, they still benefit from the new Blue Smart IP65 Charger professional battery charger with Bluetooth built in. This enables you to see the information from your charger on your smartphone, tablet or computer, using the VictronConnect app. The model used in the Dragonfly 25 & 28 is:
Conclusion
As you can see these boats are fitted with differing battery technology. To learn more about battery choices see the blog: Batteries: Lithium-ion vs AGM
Victron Energy are delighted Quorning Boats have chosen Coromatic A/S to configure and deliver the Victron systems. As Coromatic's core business is safeguarding power and data communication 24/7 – we are sure that expertise will be pay off in delivering these systems for the Dragonfly trimarans shown above.
Thanks to Quorning boats and Peter R. Christiansen of Coromatic A/S for the images and information used in this blog and Niels Kaarill, who is the Victron area sales manager for Scandinavia, for making me aware of this project.
John Rushworth
Project links:
Coromatic A/S – https://coromatic.dk/
Quorning Boats ApS – http://dragonfly.dk/