In July, Leonora and Sissel set off from Copenhagen, Denmark, on an open-ended circumnavigation during which they plan to dive the world's oceans and hope to raise awareness of the sometimes fragile eco-systems they discover.
Taking guests along the way, the intention is to be independent from the shore for extended periods. Consequently they have built self sufficiency into their boat, and in spite of having no background in sailing or in anything electro-mechanical they're learning to master their vessel's machinery.
Lulu Tao is a Beneteau 50 (14.9 m) sloop of thirteen-and-a-half tons displacement. She carries 1,000 litres of water together with 500 litres of diesel for her 100HP Yanmar Diesel engine, and has a 6.4kW back-up generator 
Navigation equipment
She has a comprehensive range of navigation electronics: there is a 12″ Garmin chartplotter and GNX Garmin wind instruments, radar, AIS, satellite phone, satellite compass, autopilot and VHF radio, search and rescue transponder and emergency position indicating radio beacon.
There's a watermaker capable of producing 60 liters per hour, and of course a range of diving equipment including a compressor, tanks, buoyancy compensation devices and regulators.
Let's hear from Leonora and Sissel as they tell us about their plans.
When we first decided to restructure our lives and pursue our dreams just a little over two years ago, we never imagined how many good people would come forward and help us make it happen.  We knew that the preparation time for our journey would be challenging, and that we would be presented with new and unfamiliar situations.
Neither of us come from a background in engineering, boating, or anything resembling electrical systems and power. However, it did not discourage us because we knew that with the will to succeed, we would overcome all obstacles.
We want to be as self-sufficient as nature allows. With the help of mother nature, the wind will be our primary way of travelling around the world. From the ocean we produce drinking water using our 12V water maker. And from the sun we harvest energy to produce the power for our little home. That said, it hasn't been easy to learn all the aspects of owning a boat in such a short amount of time. We would not have come this far without the help of people who have taught us and little by little we are getting better, smarter and eternally more eager to learn. 
Our Victron installation contributes to our lifestyle and helps transport us around the world.  We have installed 2 x 407 watt Bifacial solar panels in parallel, to which each solar panel goes down to its own solar charge controller MPPT 100 / 30, as we are not at risk of being without power if now one of the panels should break.
From our battery bank, consisting of 3 x 200 AGM batteries, we have our inverter/charger Quattro 12/3000/120-50/50 that convert our 12VDC to 230VAC. 
Installing dual solar charge controllers arrays on a sailing boat helps maximise the power harvest and to overcome the inevitable shading problem caused by the sails as the vessel tacks toward its destination, or during long ocean passages as the sun tracks from east to west.
A companion to our dream is the passion for documenting and sharing our experiences around the blue. We have an infinite love for our oceans and we believe that if we want people to take better care of our oceans, we need them to love them, and we intend to do so through our documentation.
This requires a lot of camera equipment, drones, microphones and the more we can charge during the day when the sun is highest the less the strain on our batteries as our Quattro converts 12V to 230V. We are constantly learning more and more about our power consumption, load and improvements, but something that has helped us immensely on our power journey has been our Cerbo GX with 7″ GX Touch screen. With the visual data, the learning curve has been significantly easier and this makes monitoring power consumption, load and voltage a task that can be solved with the touch of a finger. The constant in real time monitoring of the onboard power helps us focus on what we love, diving, adventure and exploring.
The Cerbo GX communication device harmonises the power system – both Victron Energy's own electronic devices, and a wealth of third-party devices – allowing regional products, or special services to be integrated natively. A popular solution in marine and navigation applications is to present all the vessel's systems information – navigation, power and tank levels – on a single Glass Bridge 'Multi-Function Display (MFD). This can easily be achieved with a Cerbo GX – or any GX communication device – as they support NMEA2000 connectivity. All Victron products which feature a VE.Can port can also be directly connected to the NMEA 2000 network, using the VE.Can to NMEA2000 cable.
If connection to a MFD is not available or desired, a GX Touch device – which has a waterproof face – offers really smart looking user-access to all 'live' and 'historic' system data, and provides access to extensive menu-driven system programming – such as setting a relay to start the generator automatically whenever the battery bank falls below a certain state-of-charge …or voltage.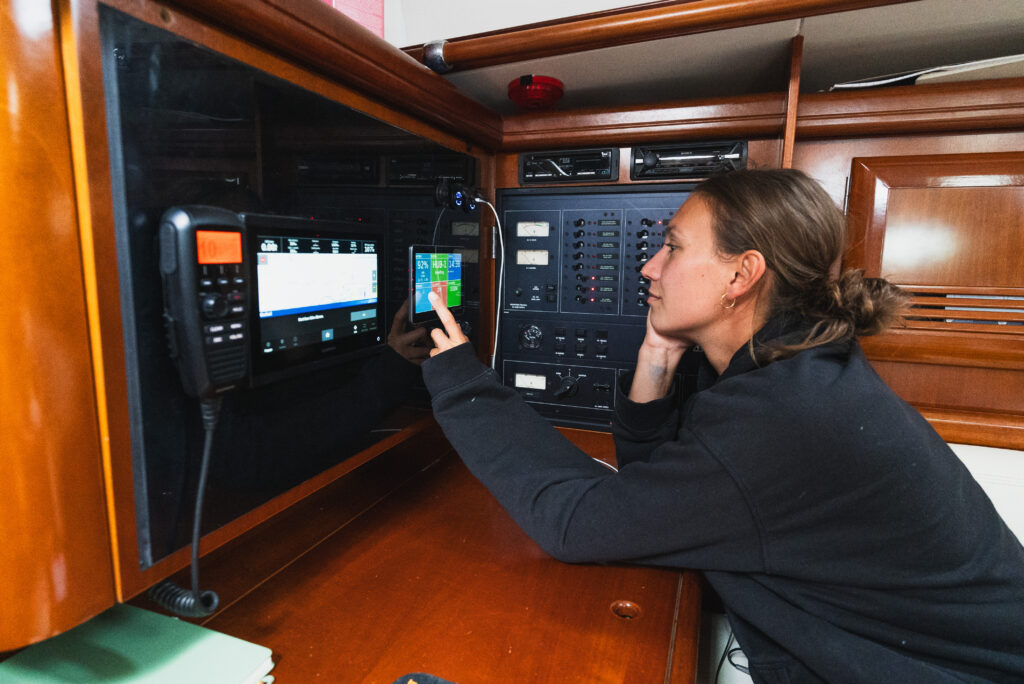 We have an independent battery bank mounted in the bow consisting of 2 x Optima Bluetop 75AH to power our windlass and bow thruster. By installing a separate battery bank, we have been able to remove a lot of thick cables and replace them with a 10mm cable that runs from our house bank to an Orion DC/DC converter. This has given us an extra layer of security by making sure that our windlass can run independently from our main consumption bank.
The Orion DC-DC converter can be used as a three-stage battery charger or as a power supply. As a charger it guarantees that a battery bank located distantly from the alternator will receive the correct charging voltage …where there might otherwise be a voltage drop caused by long cable runs.
There's also a Galvanic Isolator on board to prevent electrolytic corrosion. Whilst plugged into shore power at a marina low voltage DC currents often pass onto the boat along the earth wire and then into the sea via the boat's underwater metals – such as the propellor or rudder stock – causing damaging corrosion.
The galvanic isolator consists of two diodes connected in anti-parallel fashion which allows current in both directions – but only above a certain threshold voltage; in this case about 1.4 VDC. The galvanic isolator is installed directly behind the boat's 230VAC inlet deck-socket.
So far we've sailed 3,000 nautical miles and can't wait to continue exploring and documenting our oceans knowing that our power system will support us around the world using the energy from the sun.
At the time of writing Lulu Tao is in Las Palmas de Gran Canaria – a group of Spanish islands in the Atlantic ocean collectively known as the 'Canaries' which is a traditional jumping-off point for the Americas, under sail.
If you are interested in taking part in the adventure as a paying guest you can get in touch with Leonora and Sissel here.