Alright then, nearly driverless.
ERNI the all-electric mobile, robotic ice-cream parlour has to be driven to site by a real person – but once it's on location the robotic arm can work alone dispensing mouthwatering glacés (and entertainment) for up to five hours.
Reputed to be the world's first mobile soft ice-cream robot, it has single-handedly 🙄 lifted ice-cream sales to new heights in its native Austria.
It's fun, too. Perfectly-twirled ice-creams are served up following a series of immaculately-choreographed actions carried out by ERNI's robotic arm – which is actually a production line device made by the Electrification and Automation division of tech giant ABB known as the GoFa™ CRB 15000. The ice-cream dispenser is a GelMatic BC Easy 2 PM.
Customers, some of whom may be children, do not need to be screened from the robotic arm as it will stop if ever it senses even the tiniest obstruction whilst it's concentrating on preparing ice creams which are accurate to less than 0.2mm!
The vehicle which carries the ice-cream shop is a Piaggio Ape from which the petrol engine has been removed to be replaced by a 48V electric motor.
The resulting unit is a stylish non-polluting retro three-wheeler which is climate-friendly and licensable to operate within urban zero-emission zones. And because it has no diesel engine banging away, it can even be deployed indoors, in a shopping mall, for example.
The battery-based power system for these mobile vending units was designed and installed in collaboration with our Austrian distributor offgridshop.eu
As you might expect, no available surface is wasted on the vehicle. Its roof and side panels carry PV cells which when raised into position form a convenient canopy for customers.
Devices used throughout the power installation have been thoughtfully located by the ERNI team to maximise use of the limited space available on the Piaggio Ape. Removing the engine, gearbox and associated fittings provided valuable extra space.
Tailor-made boxes to contain system devices are welded during the fabrication process using the GoFa™ CRB 15000 robotic arm!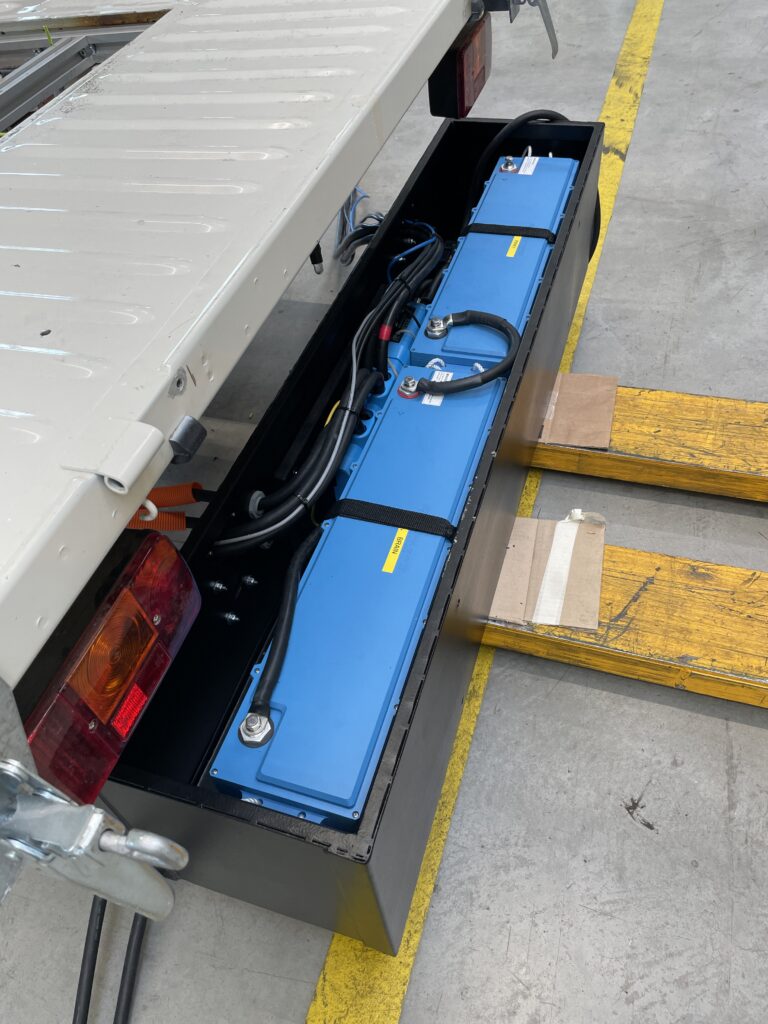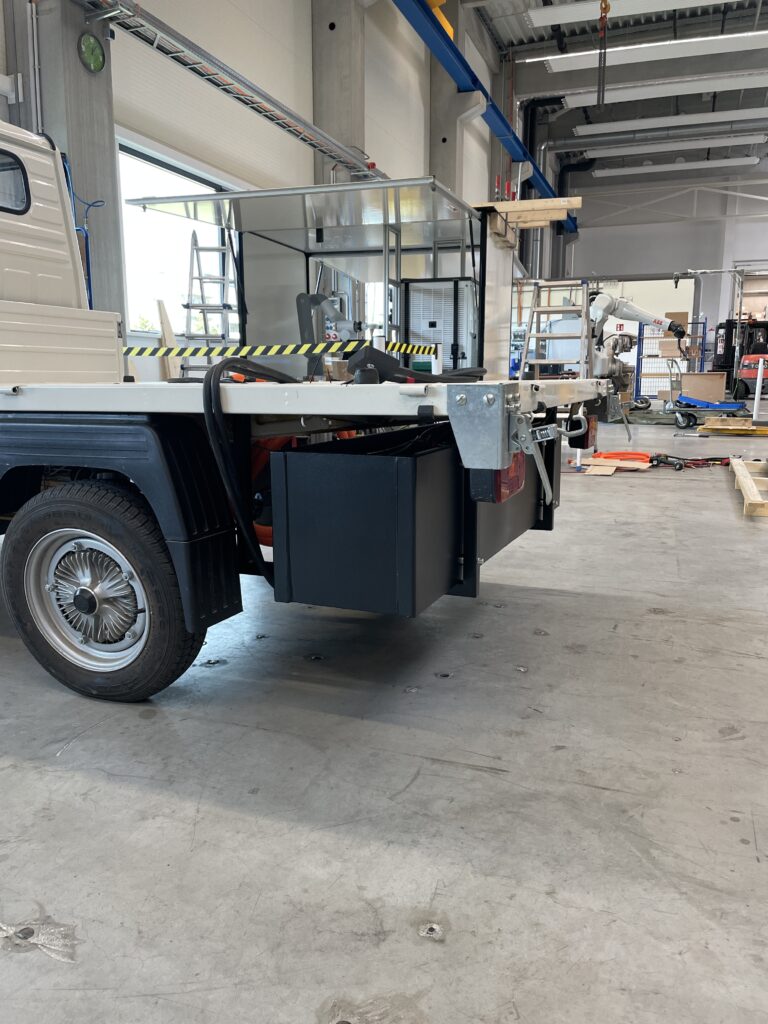 Power for the robotic arm, ice-cream maker, and for the propulsion motor is supplied by two LiFePO4 25.6V/200Ah batteries.
Victron Lithium batteries have dedicated Battery Management Systems available in our feature-rich product series of Lynx Smart BMS. ERNI uses a Lynx Smart BMS 500 optimising the life of the Lithium batteries and ensuring they don't operate outside prescribed voltage and temperature limits – as well as providing pre-alarms before those limits are reached. Pre-alarms can be enabled as push-notifications straight to a smartphone. The Lynx Smart BMS monitors battery state of charge, of course, and can also shut down the system, remotely – in this case by use of the vehicle's 'ignition' key.
The Lynx distribution system keeps DC wiring safe and tidy, and offers a bus-bar with monitored fuses.
The ice cream maker draws quite a high start-up load at over 3kW for which reason two MultiPlus II 48/5000 inverter chargers have been installed, configured to provide 10kVA
Power harvest from the three solar panels which offer just under 1kWp is controlled by a SmartSolar 150/35 solar charge controller.
An Orion Tr 48/12 DC/DC converter allows the vehicle's standard electrics (lights, wipers etc) to run from the main 48V DC battery configuration.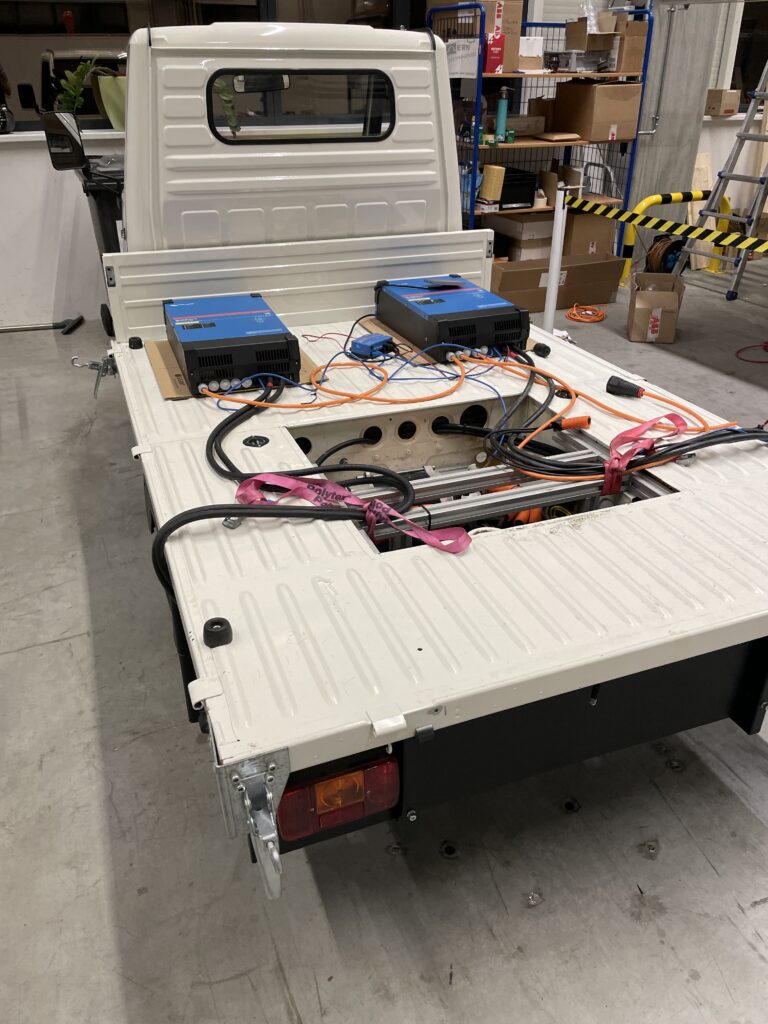 A Cerbo GX acts as the communication centre reporting live data to the internet where it can be remotely monitored – including geolocation – using the Victron Remote Management VRM platform.
The touch screen device GX Touch 50 can be used for managing and monitoring the system, locally.
The VRM platform makes it possible to monitor all data – both 'live' and historic – and the position of ERNI, so that even when operating larger fleets, a single person can very easily keep track of the operating circumstances of all vehicles.
On a sunny day the unit can run autonomously for up to five hours. If a longer vending time is needed a battery recharge can be taken from a mains supply or by use of an EV charging station.
When the available grid connection is a low-current rated supply it's possible to set a current-limit on the MultiPlus-II (as with all Victron Inverter/Chargers) so that the annoyance of continual supply-fuse tripping at the source energy will not occur.
Green Credentials
ERNI's refrigeration plant runs silently, as far as possible using sustainable energy from its PV panels. In addition, the robotic automation allows for hygienic food handling, and the avoidance of handling money between service.
It is also fun!
The Victron distributor offgridshop.eu  – who are based at Hundsdorf 2, 8111 Gratwein-Strassengel, AUSTRIA – say that the particular challenges they have overcome with this installation were the high power-consumption of the ice machine which has a nominal power of 3.1kW and a high starting current. In addition, the drive motor for the vehicle is supplied by the same battery pack. One of the big challenges was to find room for the whole system in the Ape.
Their customers, ERNI, also appreciate some of the cool features of the Victron components:
They can be easily expanded and combined. So for example the expansion with 2x Multi in parallel was pretty nice.
Operation is really easy
VRM runs great and is stable
Using the relays etc. it was really possible to control the fans (boxes from the MultiPlus's and from the container itself).
Let's take a look at the ice cream parlour in action!
The ERNI team see great potential for the fleet deployment of their vehicles, noting the ease of operation: Open (cornet) ice cream does not need packaging as the "plates" for the food can be eaten right away. In fact, there is no waste (and if a cornet wafer is discarded, it is biodegradable. Best of all, of course, is the reduced staffing cost!
If you'd like to buy an ice cream you can jump onto the ERNI webpage to see where the ice-cream parlours are currently located. And if you'd like to buy your own ice-cream parlour fleet you can contact Jakob Hörbst who will answer your technical questions: find him on +43 664 4056313 or at jakob.hoerbst@erni.gmbh
Or find offgridshop and ERNI on Social Media:
Facebook: https://www.facebook.com/offgridshop.eu
Instagram: https://www.instagram.com/offgridshop_eu/