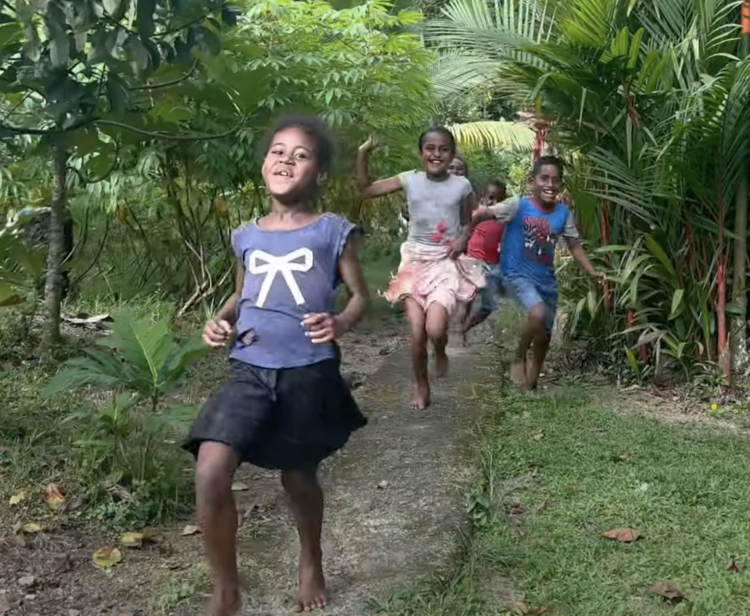 The community of Mau and its 100 student school in the Namosi district of Fiji have just taken delivery of an atmospheric water maker. The device condenses water vapour from humid air to produce clean charcoal-filtered drinking water. The installed unit can supply up to 450 litres per day.
Mau has a population of around 500 people whose water supply is currently either rainwater – which must be boiled if it is for consumption – or else it comes from a bore-hole, the level of which has been falling recently.
The water-making device collects water produced through condensation and works most efficiently in conditions where the humidity is typically above 46%, the ambient temperature is around 25C, and where there is a reliable power source.
The company behind the atmospheric water-maker, Waiea water, asked Fiji Victron installer Solar Fiji to design a three-phase off-grid solar energy power plant to provide the unit with its 4kWh – 5kWh power demand.
The installation which was funded by the Branch family, who are also Mau residents, comprises:
24 x Jinko 370W Mono solar panels offering 8.9kWp
24 x Narada 2V 600Ah Tubular Gel batteries storing 29kWh
3 x MultiPlus-II Inverter/Chargers 48V 5000W configured for off-grid supply of three-phase electricity
2 x SmartSolar Charge Controller MPPT 250/100
3 x Lynx Power In DC busbar for tidy power distribution
 2 x SmartSolar MPPT 250/100-Tr VE. Can
1 x Color Control GX communication device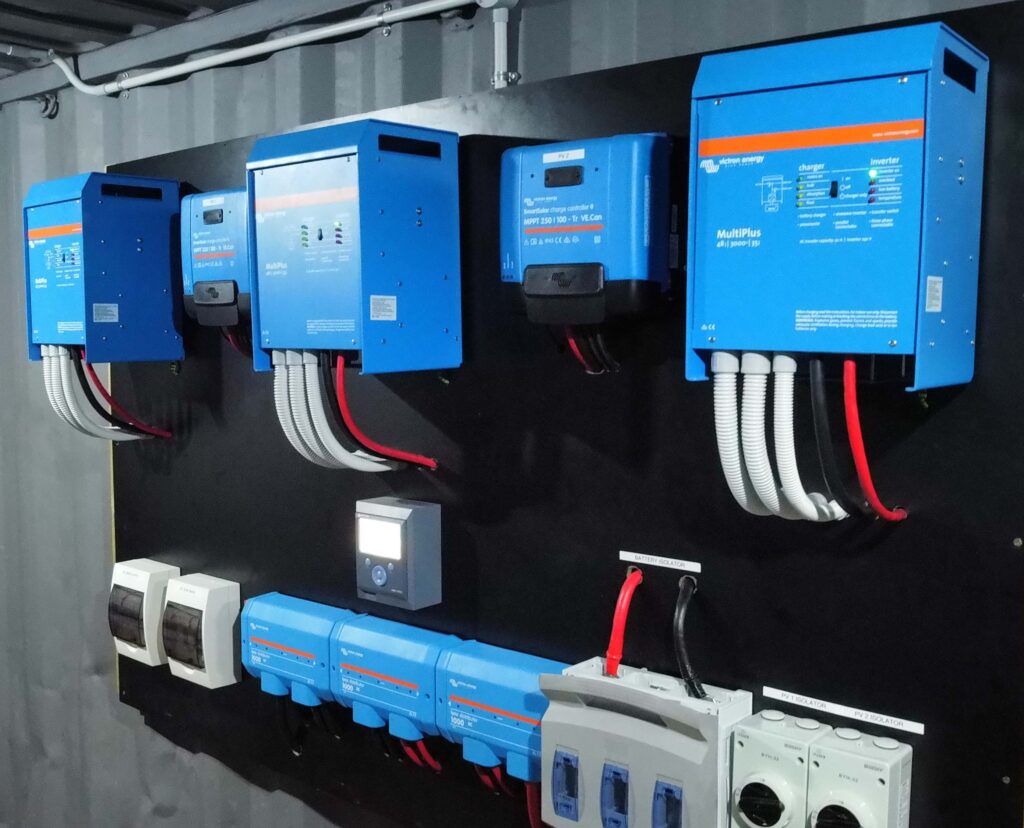 Three-Phase
Solar based off-grid three-phase energy systems are becoming increasingly common for remote industrial power supply. In fact even the smallest Victron MultiPlus Inverters, rated at just 500VA, can be configured for three-phase and parallel operation. However, by using our largest Inverter/Charger – the Quattro 15kVA – it is possible to configure a three-phase energy system capable of providing 180kVA.
If you want to learn more about three-phase Inverter systems you can view our practical online training for advanced installers. You can also learn more about the theory of three-phase and parallel installations here. You'll need a Victron Professional account to gain access to our online learning modules, and you're very welcome to open one. Look for the 'Sign Up' link at the bottom left of the Victron Professional login page.
Solar Charge Controller for large Solar Arrays
The SmartSolar Charge Controllers used in this installation – the 250/100-Tr VE. Can – is suitable for larger series- and parallel-connected solar arrays. Up to 25 SmartSolar Charge Controller units can be daisy-chained using their VE. Can interface, with all units providing synchronised battery charging of the solar harvest. Alternatively, up to 10 units can be connected for synchronised charging using the device's built-in Bluetooth communication.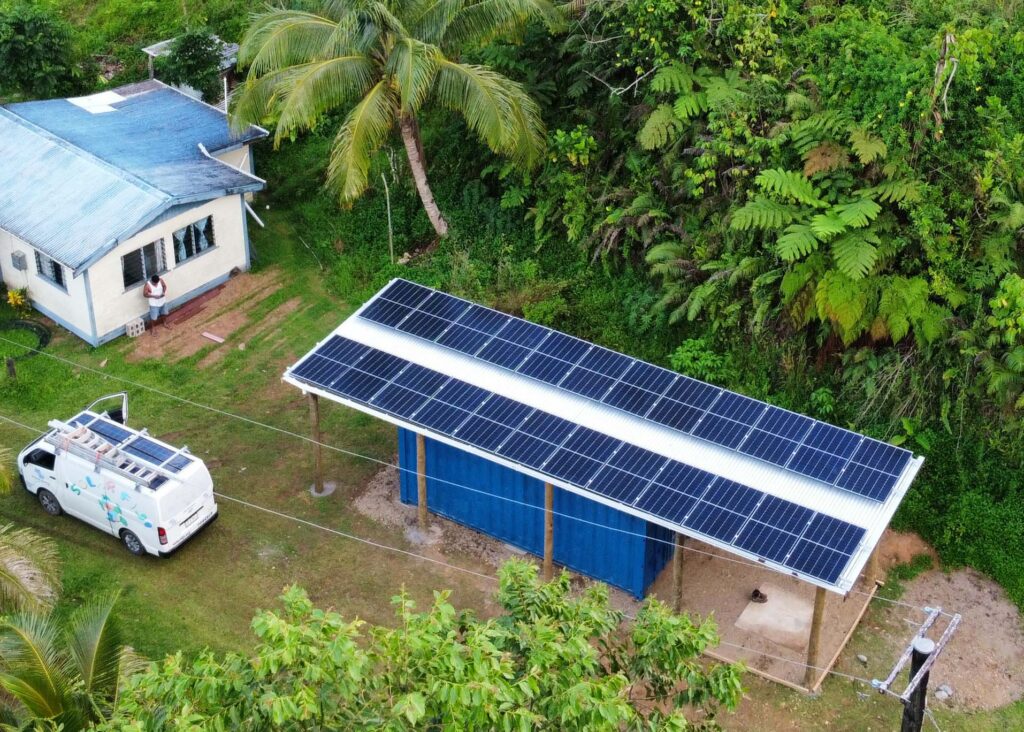 The community water-maker is sited at the school so that children can easily access healthy drinking water during the day; and, for the community, the schools location on high ground is ideal for downhill water portage to the village.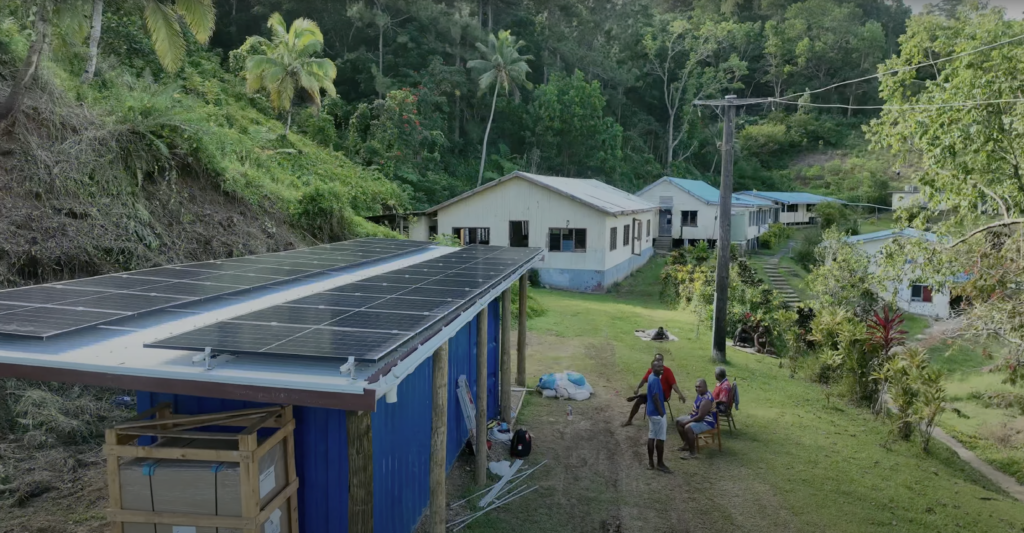 Solar Fiji are pleased to have helped install the island nation's first condensing water maker. One of the challenges they had to overcome was delivering their factory installed energy system – which is housed in a 20 foot shipping container – to the interior location in Mau.
Waiea Water filmed the installation of their unit which you can view here: