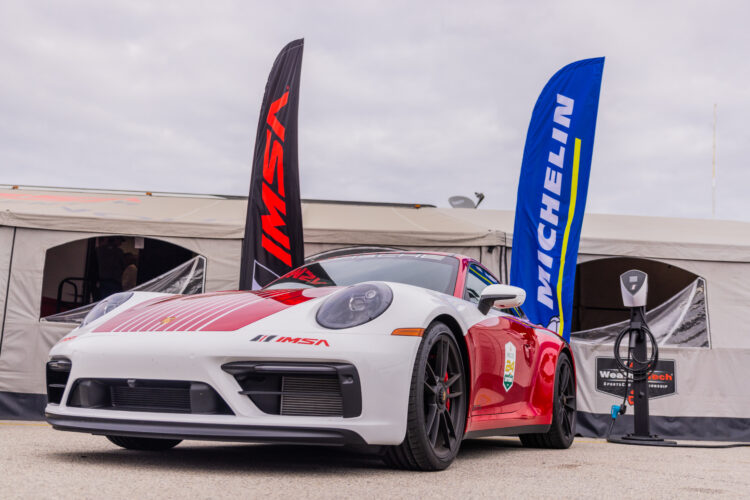 Daytona International Speedway has been thrilling audiences with diverse motor racing events for over 60 years.
North America's most prestigious endurance sports car racing event, the Rolex 24 at Daytona has just taken place. The event heralded the arrival of a brand-new racing class – the Grand Touring Prototype (GTP) – which uses hybrid powered vehicles.
With this new class, motorsport sanctioning body International Motor Sport Association (IMSA) are sowing the seeds of a greener future in motor racing.
And beginning this year there's a new trackside feature at Daytona  – putting their money where their mouth is, IMSA has built an off-grid Solar Powered Electric Vehicle Charging Station to demonstrate the viability of EV solar charging technology.
Spectators, visiting teams, and top officials from the cutting-edge automotive manufacturers will be aware of the installation which is housed at IMSA's traveling Konica Minolta Business Center. The rolling facility travels to each of the 11 races on the IMSA calendar and is used for meetings between senior members of the motor industry or other current and prospective business partners and IMSA representatives.
At future IMSA race events, the Konica Minolta Business Center will feature  big-screen, EV charging status direct from the power monitor, so that forward-thinking race-goers can observe the power transfer straight from the sun to the vehicle in real time!
The installation consists of 2 x Quattro 48/10000/140 Inverter/Chargers configured for split-phase operation. In addition to providing up to 16kW continuously the Quattros can fast charge the batteries from AC, from connections to the electricity network and a generator, for example …automatically switching to the live power source.
The on-board Lithium Ion battery bank features 24 Battle Born 12V 270Ah units storing almost 80kW of energy. On the walk-on roof 12 MerlinSolar flexible solar panels have been installed which can provide up to 5kWp.
A Lynx Shunt controls battery charging from either the Photovoltaic panels or external AC, and power distribution is neatly made using the Lynx Distributor – which provides busbars with monitored fuses.
The installation supplies two EV Charging Stations, and powers the AC sockets and lighting on board the mobile meeting facility. At the heart of the system a Cerbo GX monitors and controls solar power harvest and battery charging, and also provides authorised users with a touch-screen interface via the GX Touch 70, smart phone access, and remote monitoring and control using the web based platform VRM.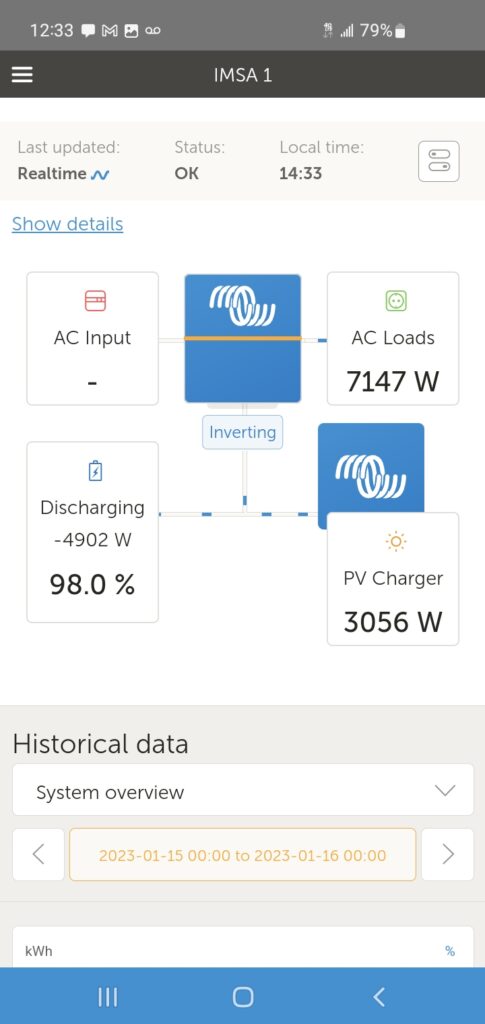 The system was built by Un-Plugged RVs whose George Agutter says he was really excited to be chosen to build this facility. The solar roof of the trailer is a work area every time the awning needs to be deployed. Walk-on MerlinSolar flexible panels, supplied and fitted by RRL Motorsports' Rob Lebel, allow the entire roof area to be used for solar harvest. Working at short notice, George and his team designed and built a unique installation with huge storage and split-phase power supply which has worked faultlessly right from switch-on.
Tyler Bourns – whose company Dragonfly Energy supplied the batteries – is excited too: I think this trailer build, along with it's incredible off grid power system, is going to open a lot of people's eyes to the possibilities of using lithium power in unique applications.
Back at the race track – nine new-build hybrid GTP racing cars entered the event among a total field of 61 cars. Eight GTP cars completed the gruelling race right to the finish line almost 800 laps later! Meyer Shank Racing's Tom Blomqvist drove the pole-winning No. 60 Acura ARX-06 along with team-mates Colin Braun, Helio Castroneves and Simon Pagenaud winning by 4.19s.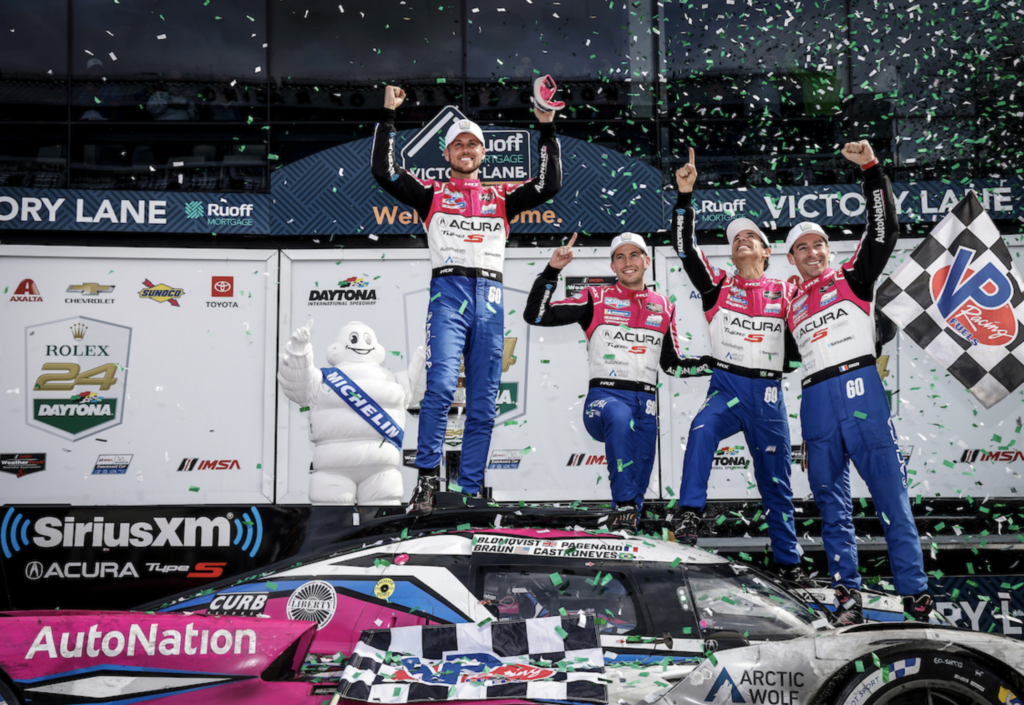 The race winner was built by Honda Performance Development whose team worked for two years on their vehicle.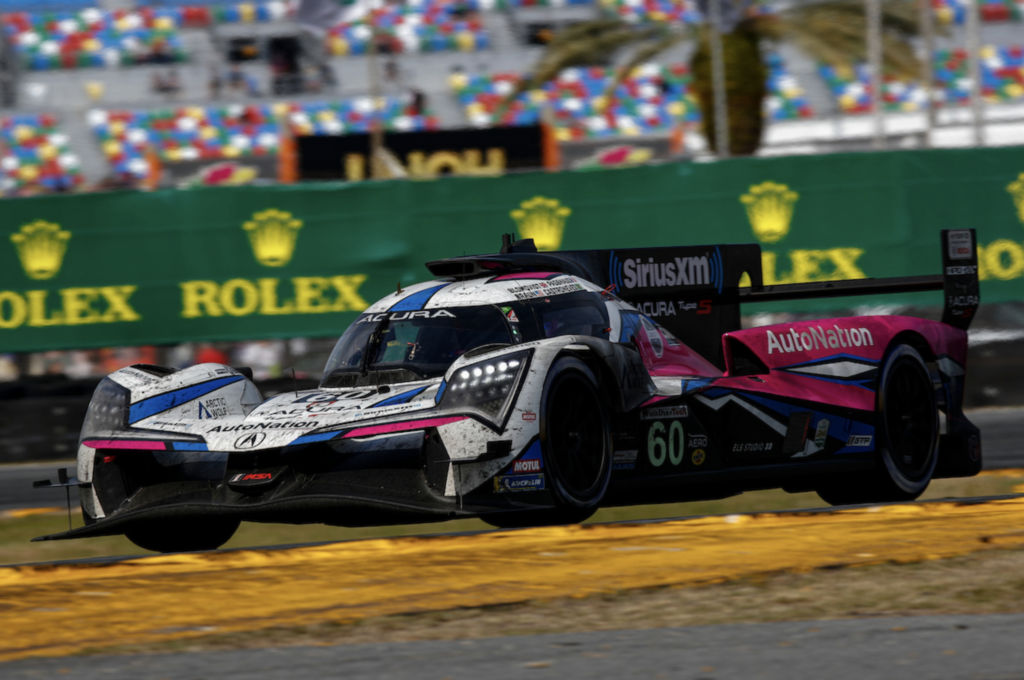 The Daytona International Speedway track will be busy again on the 19th February with the launch of the 2023 NASCAR season  and the world famous Daytona 500.
Acknowledgement
We're grateful to David Pettit of IMSA and his team for their groundbreaking initiative, and for providing the background information for this story and – together with Tyler Bourns, Meyer Shank Racing, and George Agutter – for providing the images above.