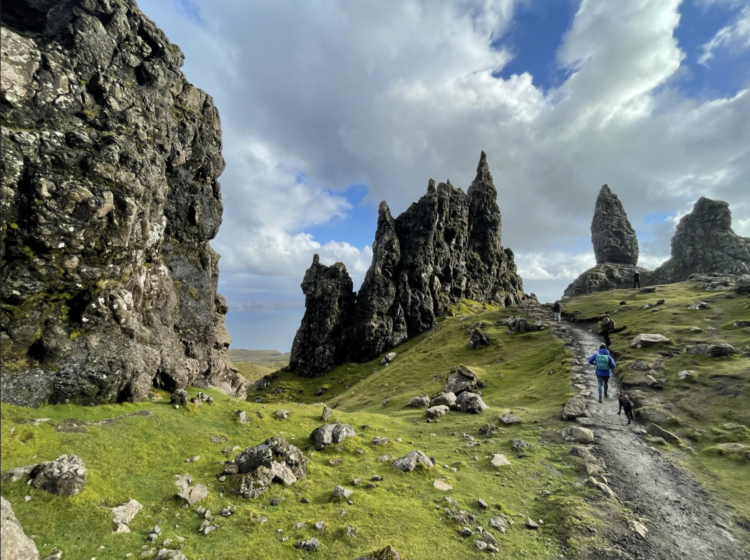 Rebecca Ramsden and her partner Dave Curnock, who are in their early 40's, drove 2700 miles in September to explore the North Coast of Scotland, Orkney and the Isle of Skye with their two dogs, travelling in a DIY conversion long wheel base VW T5.
Part of their conversion included a DC charging system for their 12 volt leisure batteries. Solar harvest is from a 175 Watt Solar Panel.  A SmartSolar MPPT 75/15 solar charge controller stores energy in 2 x 130Ah batteries. When an AC power source is available their batteries can also be topped up using a 230/10A BlueSmart Battery Charger.
Keeping things simple and avoiding high power-consuming devices releases you from the treadmill of power generation.
Rebecca and Dave have a 42litre Fridge/Freezer which consumes 17Ah/day, 6 x lights and smart-device chargers. Even at that time of the year, with Scotland's notoriously changeable weather they found they could produce up to 350Wh per day. On the dullest days, however, they only got 40Watts!
Touring that far north in September, intending to generate virtually all their domestic power from solar sounds like an interesting experience…so we asked them to keep in touch.
We asked Rebecca (Becks) Ramsden to tell us the story of a 'typical' day.
"No two days were ever the same, often dictated by the weather or a need to leave our stopover location by a certain time. However there are always some 'domestic tasks' before getting underway – such as reconfiguring the van from our luxurious king size bed' to 'living space'.  This is a swift 5 minutes of packing down the bedding and raising the centre bed section up to become our dining table. Then feeding the dogs and ourselves and washing up.
"This particular September morning we awake around 6.30am.  We are in Orkney, Scotland and in a carpark which allows van stops, providing enough spaces are left for locals to park and take their walks. We have travelled so far approximately 800 miles and taken a 1 hour 30 minute ferry.
"Our wake up, as always comes from the youngest of our 2 dogs who jumps up on the bed with a wet nose firmly being planted into our faces, and the other one soon joins him.
"After the bed-to-living area shuffle and making tea to go, we head from the carpark, over the sand dunes to a beautiful beach to watch the sunrise over the North sea.
"We walk the dogs along the beach, along a narrow coast path around the headland, and spot a wonderful display of birds and seals popping up their heads.
"On these walks we normally discuss our plans for the day.  We have loose plans but sometimes the weather changes these – or we hear about somewhere we should add to our itinerary.
"After an hour's stomp, we're back at the van to get ourselves sorted for the day and have a breakfast.
"Washing up is in a rubber bucket – then we head off to explore more of Orkney …today we're only travelling a short distance from the East to the Northwest – approximately 28 miles.
"We head to Birsay Earl's Palace, (stopping in the local shop en route to treat ourselves to some shortbread!). The Palace was home to Robert Stewart, the Earl of Orkney, in the late 1500's (half-brother of Mary Queen of Scots) and although the palace is a ruin, a lot still stands, making it easy to visualise how it must have looked in all its glory. The information boards help.
"Fortunately it has a water tap  – so we were able to fill up our water bottles for day – with 2 of us and 2 dogs, we go through a lot!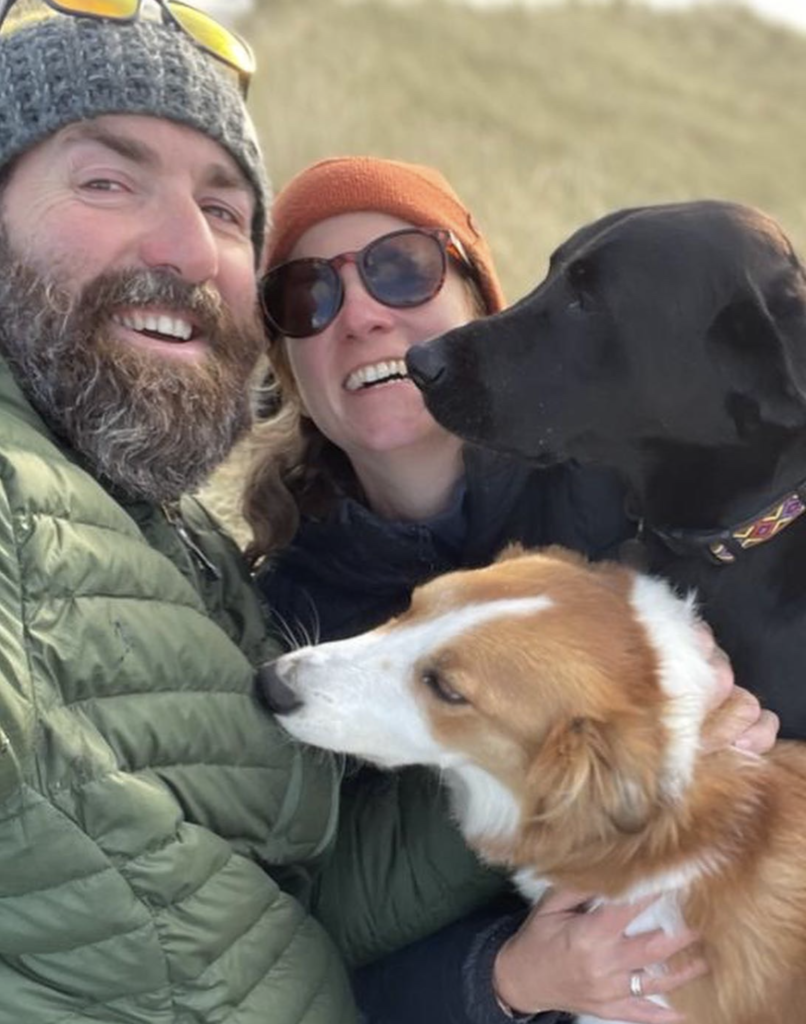 "Back in the van we headed to the coast for lunch with a view – the weather was still a little drizzly and cloudy, so we stayed warm in the van.  Our lunches are usually salads, wraps, or sandwiches. We picked up some wonderful smoked cheese and salmon on our travels which were a great lunchtime treat!  Solar power keeps our 42 litre 12v compressor fridge/freezer going.  It is big enough for the essentials, salads, and some beers too – and so we headed to the Orkney Brewery, next!
"They have an amazing selection of IPAs, stouts, and Scottish Ales.  We heard about each one on offer and picked up a selection for our own beer tasting later that evening.
"The weather cleared to gorgeous sunshine – and although heavy rain and wind was predicted from 6am the next day, we decided we would camp back at our lunch spot.
"We walked along the beautiful beach to the prehistoric Stone Age village at Skara Brae. Archaeologists date its occupation to the 600 years between 3100 and 2500 BC. It was rediscovered in 1850 – perfectly preserved under sand.  Between 50 and 100 people lived in houses linked by roofed passageways.  It is a fascinating place, and easy to imagine what life here was like.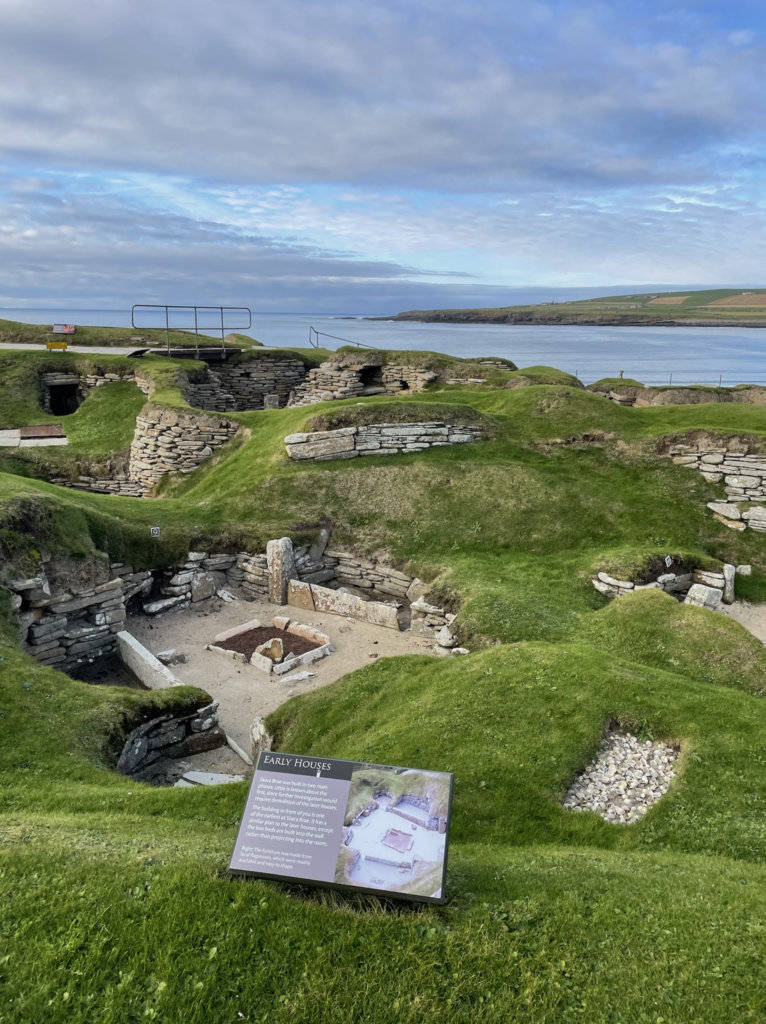 "The afternoon sun became lovely and warm, so we walked back along the beach to begin our Orkney Brewery beer tasting while watching the sunset and cooking a curry.
"As the sun went down, we retreated inside the van for more beer tasting, to play cards, talk about our day and to share photos with family and friends.
"A perfect day, filled with discoveries, history, local produce, and eventually some sun.
"We set our alarm for 5am the following morning in the hope of packing everything away before the expected storm arrives, and what we expect to be a very different type of day on Orkney.
"Our hobbies at home are walking, exploring, and swimming so this trip was a great opportunity for us to do what we love while exploring such a varied and wonderful landscape.
"Before embarking on the trip, I didn't really appreciate how important having a power supply would be, but the places we visited really are remote! Luckily, we were off work so didn't have to factor in too much admin or emails, but it was great to have the power available for when we needed to be online.
"In the 4 weeks we were on the road we only ate out twice, and had two takeaway meals – so we really relied on our fridge for fresh storage. A hot cup of tea and a steaming bowl of porridge in the morning was a comfort as many nights were so windy it felt like we'd been sleeping on a boat! One night, on the West Coast of Sango Sands (a stunning, cliff edge campsite near to the Smoo Caves) the wind got up to 50mph – Dave googled how strong the wind needs to blow over a 3-tonne van! We were quite surprised the Solar panel stayed on the roof!
"We were surprised that – given this bad weather – we managed to provide enough power for our needs …and in the most northern part of mainland UK! About two and half weeks into the trip we used an electric hook up – the BlueSmart Charger was really efficient so that over a 12 hour period it fully-charged the batteries.
"Our off grid system and minimal loads gives us the freedom to explore remote places without being tied to finding plug-in power supplies.
"Luckily, we didn't have to do any van maintenance either!"
They're safely back home now. No doubt they will spend the winter planning another trip. When you plan to go 'remote' there are some luxuries you really can't do without – so it's great to hear that you can still get plenty of solar power, in the Orkneys, in September.