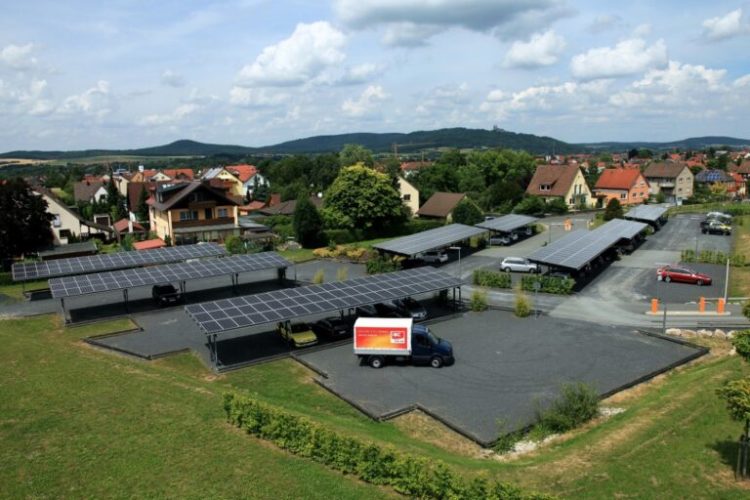 Solar Power specialists IBC Solar employ almost 250 staff at their office in Bad Staffelstein, Germany, where for fifteen years they have been working toward energy self-sufficiency, and as energy philanthropists.
Early on in their plans they took on the challenge of providing Electric Vehicle (EV) charging from Solar Energy. Because their office is located near residential dwellings, they decided to make EV charging available to their neighbours, free of charge, using a Radio Frequency card access system.
Power for their office is mainly derived from a PV array offering 24kWp. The energy is stored in 5 BYD Battery-Box LV units each having a capacity of 13.8kWh. 6 Quattro 48/15000 Inverter/chargers supply the loads from battery.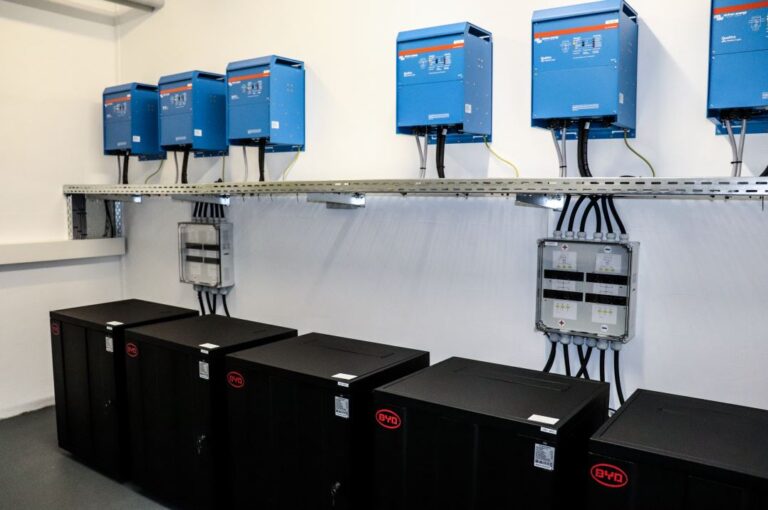 The system provides the majority of their energy needs, and effective peak shaving for well-managed energy usage.
Oliver Oswald, Project Engineer for Commercial Energy Systems, says: Our house system achieves a lot and is also extremely innovative. Because it intelligently networks all of these areas of application with one another, so that self-consumption is increased, the grid connection point is relieved and the expenses for electricity purchase and grid fees are reduced – and all regulatory requirements are met!
These kinds of installation are unusual in Germany where the reliability of the national electricity grid is high, and private installations maximising self consumption and energy storage are only now beginning to find favour.
There are four Electric Vehicle charging points in the residential solar car port, and a further seven at their Head Quarter offices. Peak Solar output for the car port is 125.6kWp, and battery storage is 70kWh.
Decentralized energy generation and intelligent self-consumption
Oliver Oswald continues: A special feature is that the battery storage system can be used independently of one another and for different purposes. As already mentioned, they are used at IBC SOLAR's headquarters to increase self-consumption and to reduce network charges through the use of peak shaving. The storage system contributes around 13,000 kWh of solar power annually. The central Energy Management System at a higher level records all relevant status data in the system and then forwards the corresponding control commands to the respective devices. In addition, in the area of ​​charging infrastructure, we have created the necessary prerequisites for integrating manufacturer-independent wallboxes and charging stations into a backend in the future. The wallboxes and charging stations have the OCPP1.6 communication protocol for the correct connection.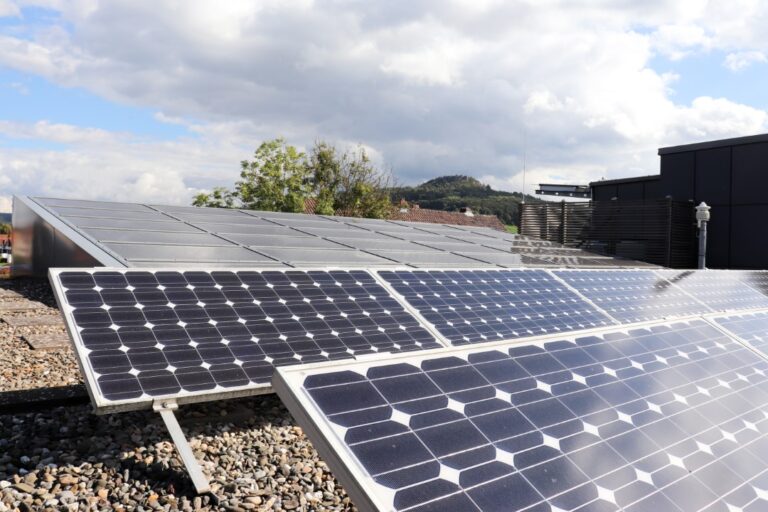 Even visionary altruistic schemes such as Free Public EV charging will encounter legal hurdles; at the time of writing IBC Solar have had to suspend that very popular scheme. Nevertheless IBC have demonstrated what is already possible and we hope their ground-breaking sustainable scheme will soon be made available once again – for the sake of their neighbours and the planet!