A 180 Hectare Pecan Nut Orchard in Hartswater, South Africa has solved its irrigation problem virtually overnight by installing the region's largest off-grid low-voltage solar farm.
The problem was not access to water – 1200km of canals constructed as part of the Vaalharts Irrigation Scheme supplies the water they need. But the electricity grid infrastructure in South Africa is unable to cope with demand and is subject to a rolling schedule of power shutdowns. Even when the supply is on, it is notoriously unstable.
This farm waters its orchards in rows according to a timed irrigation schedule – a schedule which is cycled throughout the plantation. Water has to be ordered in advance from the Irrigation scheme and is channeled to the farm in time slots. If a power cut coincides with the water's arrival the farm is unable to extract it; the water is lost, money is lost …the irrigation schedule is spoiled, and trees are left in drought conditions, devastating the harvest.
Two systems provide 270kVA
The Hartswater Pecan Plant decided the time had come to make a major investment in private power – for which they turned to Ecotrades Solar Power Systems – South African experts in domestic and industrial solar power. Ecotrades suggested a 270kVA private power supply divided into two separate power infrastructures to avoid voltage drops on the cable distribution network which runs to 4.5 kilometres!
Ecotrades pre-installed the system in four insulated, air conditioned shipping containers – two for the battery banks, two for the inverters …carrying out the work on their own premises before transporting the valuable cargo securely to site in their own crane-trucks.
Heavy duty bus bar
Izak Oosthuizen, Managing Director of Ecotrades says: "One of the biggest challenges in this installation was battery balancing. The installation includes 336 batteries – all of which must be connected using identical cable lengths. Potentially there's going to be a lot of slack cable. In the end we were able to solve the problem – for which we'd like to acknowledge the help from Victron Sales Manager Gerrit Tromp – with an ergonomic battery arrangement, wired into some really heavy-duty bus bars 100mm wide, and 10mm thick."
The system comprises:
18 Quattro Inverter/Chargers of 15kVA – totalling 270kVA
50 SmartSolar MPPT charge controllers 250/100 VE.Can
12 Fronius Eco 27kW 3-Phase Solar Inverters
336 SolarMD SS 202  7.4kWh Lithium batteries – totalling 2.5MWh
1680 Longi Solar panels rated at 430Wp – that's a total of 722kWp
2 Cummins diesel backup generators rated at 200kVA each
9 Step-up Step-down Transformers to reduce losses in the 4.5km of private grid infrastructure
2 Cerbo GX provide whole System monitoring and control – including control of third party devices
A late enhancement to the planned design was to mount the solar charge controllers outside the container where they can readily dissipate heat whilst reaping their huge solar harvest. The solar chargers have an IP43 protection rating (unit is protected from water spray falling vertically, or within 60° of vertical) so there was no 'downside' to installing them open to the air, under a profile roof.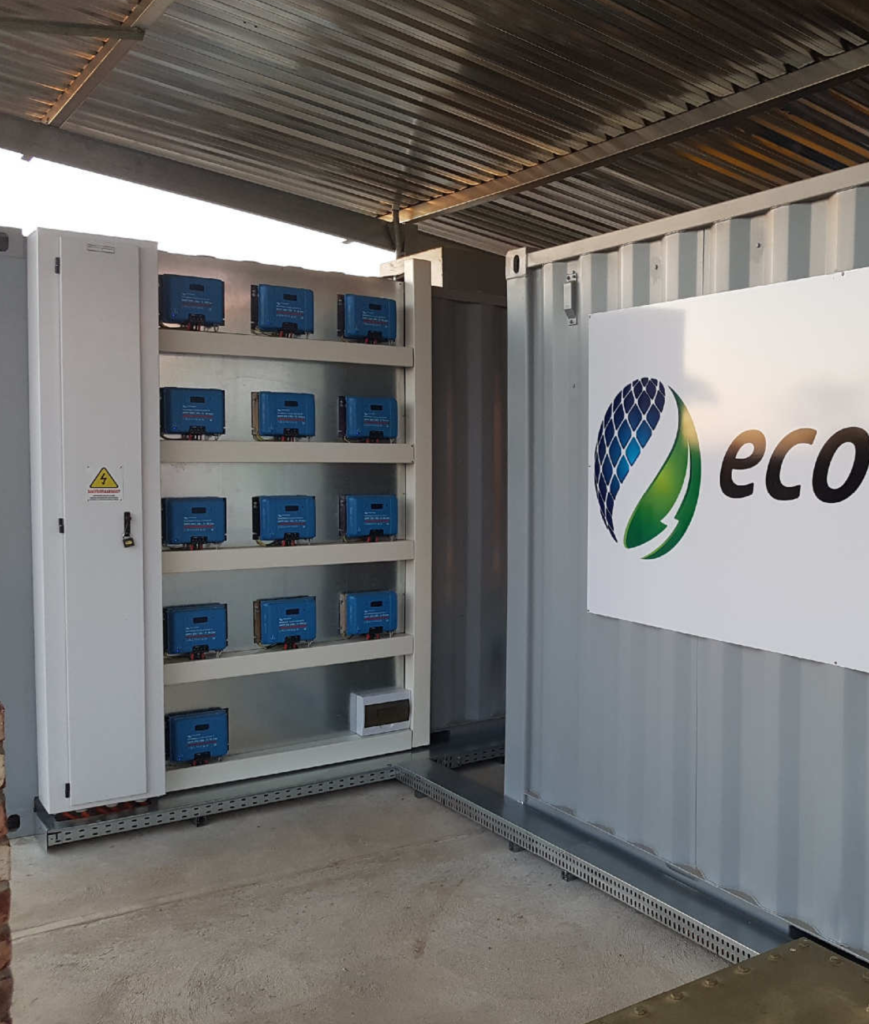 Performance on Victron Remote Management
The Hartswater project on the Victron Remote Management (VRM) platform can be viewed in real time without visiting site. The Advanced tab provides an analysis of power input/output, and demonstrates how the 25 daisy-chained VE.Can Solar Charge controllers synchronise their output.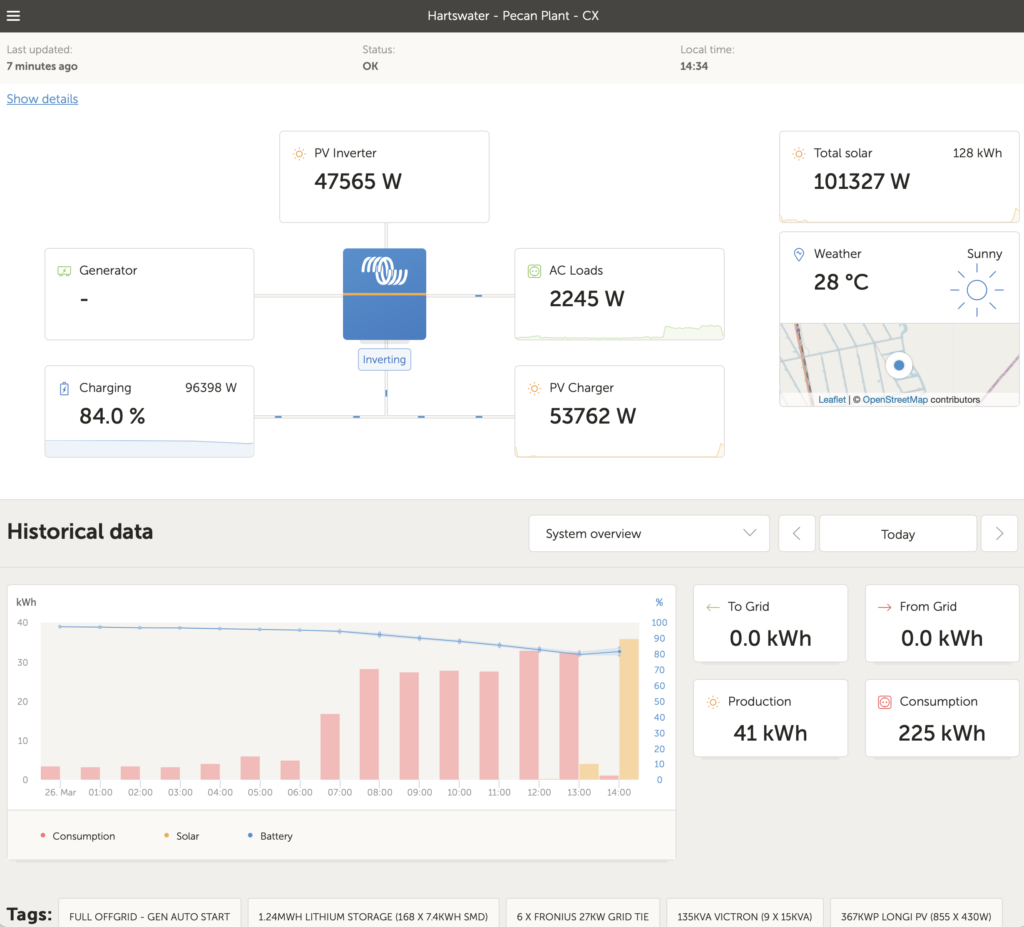 Overall system control is provided by the Cerbo GX. This installation demonstrates how well the new Cerbo GX performs even near its design limits with 25 MPPT solar chargers; 6 Fronius Solar Inverters; 135kVA of inverter power; and Solar MD lithium batteries with huge capacity all connected to each device. No problem.
Incidentally, using VRM you can examine system data for almost any time-range, from the last hour, few hours, day, days, week, month or months, back through the lifetime of the installation. This is really useful when you want to analyse and compare how a system performs throughout the seasons, or as a result of some change, or new event.
The greatest power demand on the farm is from a number of 30-40kW water pumps, served by step-up step-down transformers. The pumps send water through hundreds of metres of hose from reservoir to sprinkler irrigation outlets.
There are also four homesteads on site – which all now benefit from the introduction of a reliable energy source.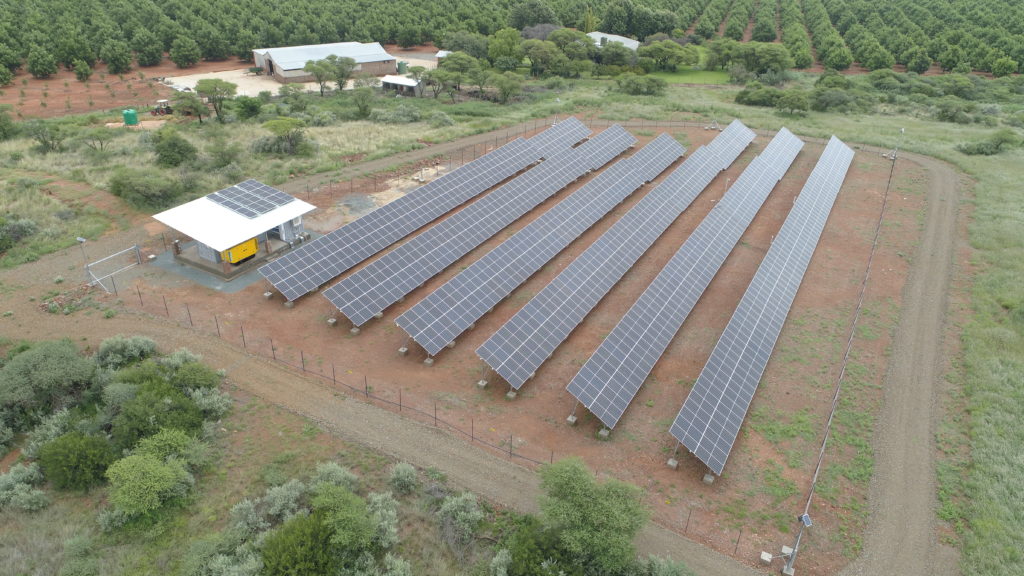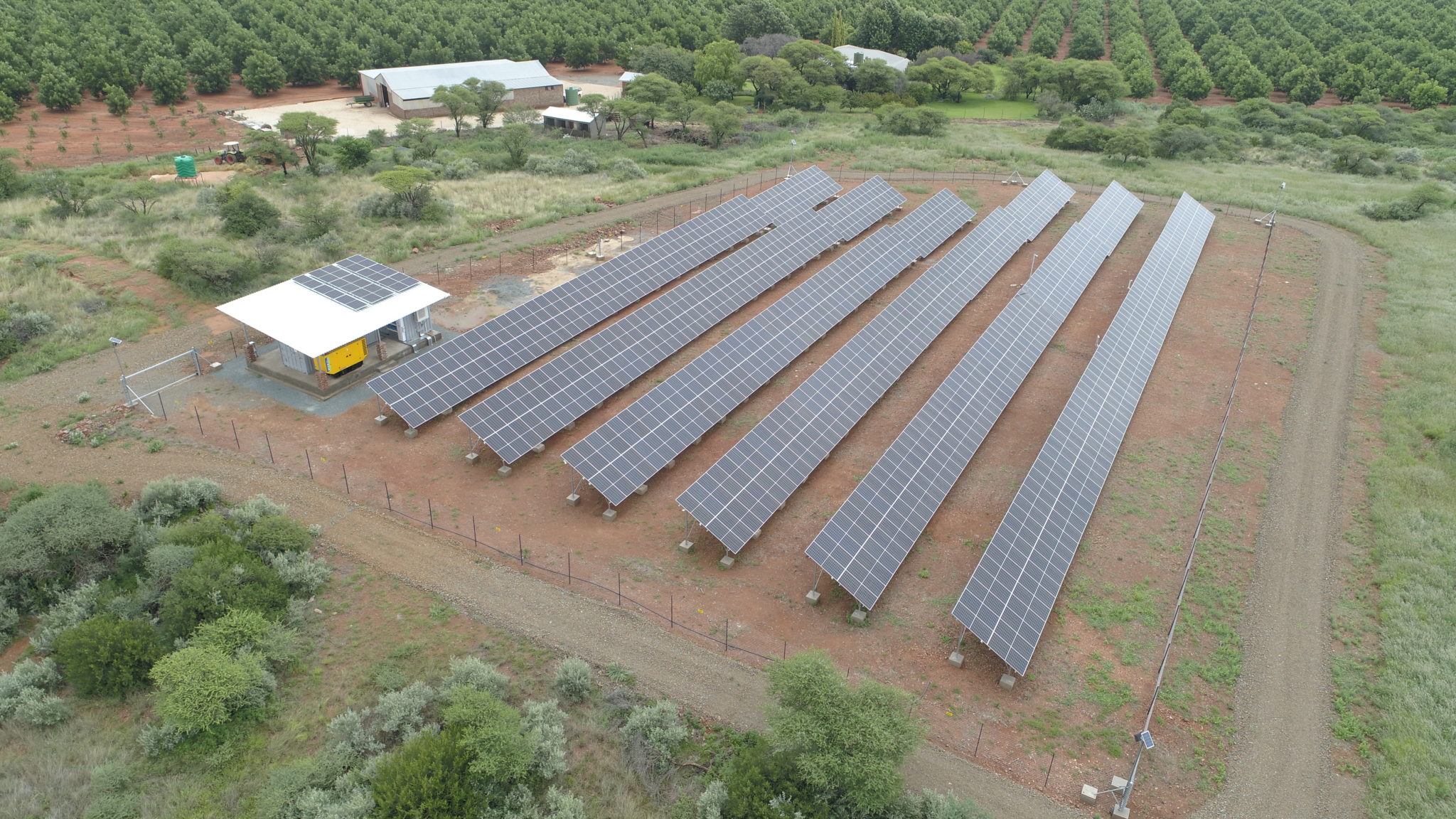 Relay-triggered Generator start
The Solar MD Lithium batteries in this installation can withstand being discharged completely more than 4000 times, but last longer if they are not depleted below 20% state of charge. For this reason the Cerbo GX has been programmed to auto-start the generators if this threshold is reached using one of the on-board relays available for just such a task. A further command auto-stops the generator when the battery state of charge has climbed back up to 40%. Ecotrades expect this programmed charging parameter to extend the life of the batteries from 11 years to 16 years – with an assumed end of life residual capacity for the whole battery bank of 70%. Thus the programmable relay can deliver enormous economies by extending battery life.
Swarm of bees
Izak recalls an unusual incident: After a week of poor weather the Cummins diesel backup generators roared into life as expected but one of the units – with only three hours runtime on the clock – soon stopped owing to a Low Oil Pressure event, and couldn't be restarted. Ecotrades technicians arriving on site found a pool of oil on the ground had been blown out through the dipstick aperture – but couldn't find the cause. After two days without a successful restart they decided the unit would have to go off-site for investigation …and just then noticed that a swarm of bees had taken up residence in the breather-pipe! "We weren't expecting anything like that! he says – "…from now on we cover the breather with mesh."
Satellite view
The scale of the water/electricity installation is best viewed from a satellite. The farm is located between Hartswater and Jan Kempdorp in Northern Cape, South Africa.
Successful water management maximises crop harvest
The Pecan nut farmer is really pleased with his investment. He owns other farms, too, and is in discussion with Ecotrades about a private power installation for those. In fact there are many hundreds of farms in the region and Ecotrades is hoping that the success demonstrated here will encourage other farmers to choose the reliability of private power. That will avoid the headaches of power outages; interrupted irrigation schedules; and it will guarantee bumper harvests.
Ecotrades have produced a video of the installation process: