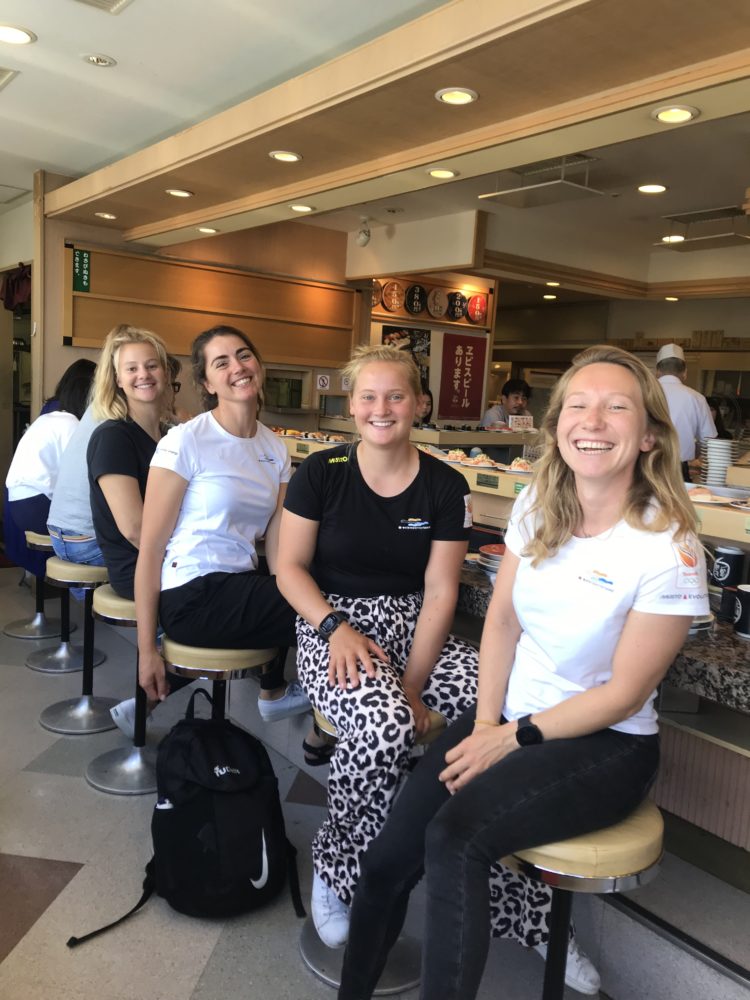 World Champion sailors Annemiek Bekkering and Annette Duetz take a break from the waters off Enoshima to discover Sushi.
Pictured here with fellow Dutch 49erFX dinghy sailors Cecile Janmaat and Willemijn Offerman – they were in Japan for three weeks during July to begin their Olympic Campaign. The 2020 Olympics don't take place for twelve months – yet such is the professional determination of the team that they plan to spend a lot of time at the Olympic location between now and next year – getting to know the water; the weather; and the topography.
Bekkering points out the logic behind this: ...if you build up your sailing experience in a location, you begin to know what you can expect from the wind, weather and current  …and you can start to make a strategic plan for the day when it really counts. In the image below we glimpse famous Mount Fuji on the horizon. Mountains, plains, cities …any topographical features alter wind direction and speed in predicable ways (though at unpredictable moments), and so getting to know what can be expected in a location gives you an edge.
Annemiek Bekkering says she really appreciates having a whole year to focus on their Olympic Gold Medal bid. They have a new boat, sail and mast – so they can take all the time they need to try out the new boat and discover what combinations of rigging tension and mast bend is working well for them. Those combinations will be different for each team owing to body mass, and sailing style. You can't materially change the hull or sail, of course, but you can set up the running-rigging to suit skipper and crew; and can change the position and shape of the sail by adjustments to the standing rigging. Working on those details makes your Olympic entry unique …and I got the impression I wasn't going to get much information about that.
Practical sailing rehearsals are ongoing of course – but I was surprised to learn that Mental Skills are practised just as hard. You can learn mental skills easily enough, but you have to keep practicing them just as you practice tacking. Annemiek told me. So every day there is something new to think about on the water- and where better to practice practice practice than Enoshima where the Olympic sailing events take place.
Annemiek and team mate Annette were back home at the time of writing, but have left again, now, to spend another month on location. During the first week of December they will take part in the World Championship in Auckland, New Zealand; and they will participate in a second World Championship event which takes place in Victoria, Australia, during the second week in February, 2020.
Are you going to win?… I asked her.
Yes. She said.
I think it was the shortest answer she gave me.
We – who seek to succeed – can all draw lessons from their Olympic bid: Focus on your one big goal – to the exclusion of all else. Sweat the little things – but focus only on today. Believe you will win.
Victron Energy are proud to sponsor Annemiek Bekkering and Annette Duetz – and the Dutch Olympic 49erFX sailing team. We're excited to help them be the best Olympic athletes they can be …and to learn a little bit more about Sushi.
Justin Tyers