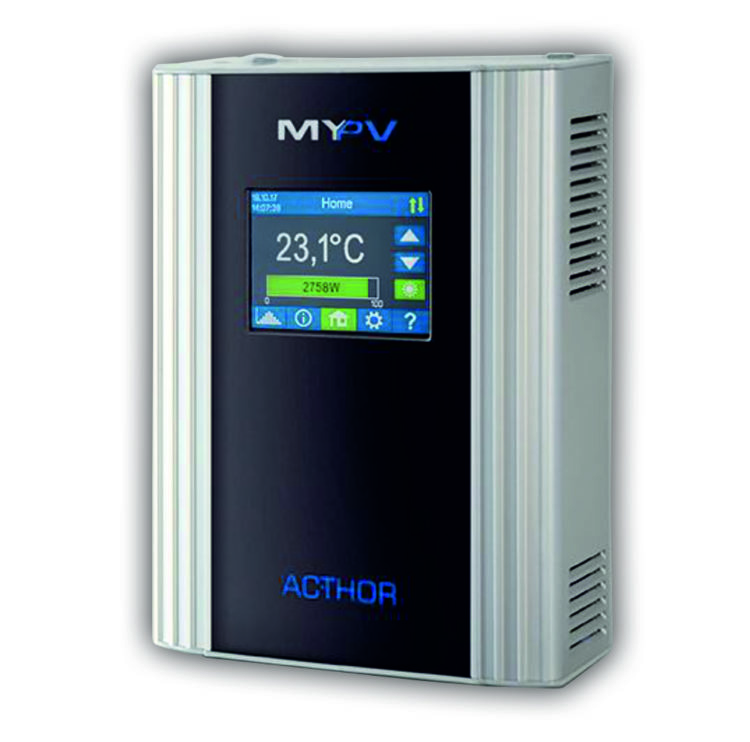 Austrian based MY-PV have developed a range of AC and DC products to store surplus PV energy which would otherwise go to waste.
Last December Lucian Popescu – Victron sales manager for Eastern Europe – suggested MY-PV  make their product compatible with ours for incorporation into off-grid and energy storage systems (ESS). That's now fully-functioning and the compatibility was recently announced in Munich, at Intersolar Europe.
A common off-grid/ESS experience during summer months is that by eleven o' clock in the morning your batteries are fully recharged and from then on little of the energy falling onto your panels will be self-consumed, or stored.
MY-PV have a solution for that circumstance, which can store the surplus energy outside a battery bank – for example it can use surplus energy for water heating.
AC.THOR
The AC.THOR is a 0 – 3 kW linearly controlled photovoltaic power manager for heating water, electric underfloor heating, or space heating.
In combination with the Victron system, the AC•THOR uses the surplus energy from your photovoltaic system to supply electrical heat sources such as immersion heaters, electric heating mats or infrared panels linearly with power. This ensures optimal energy utilisation.
AC.THOR is connected via ethernet to the Victron GX device – such as the Color Control GX. Metering takes place every second, so any change in circumstance – a load being turned on elsewhere in the house, for example – is quickly detected and the power provision to the immersion heater is either reduced or terminated.
The following schematic shows how AC.Thor might be integrated with a Victron Energy Storage System: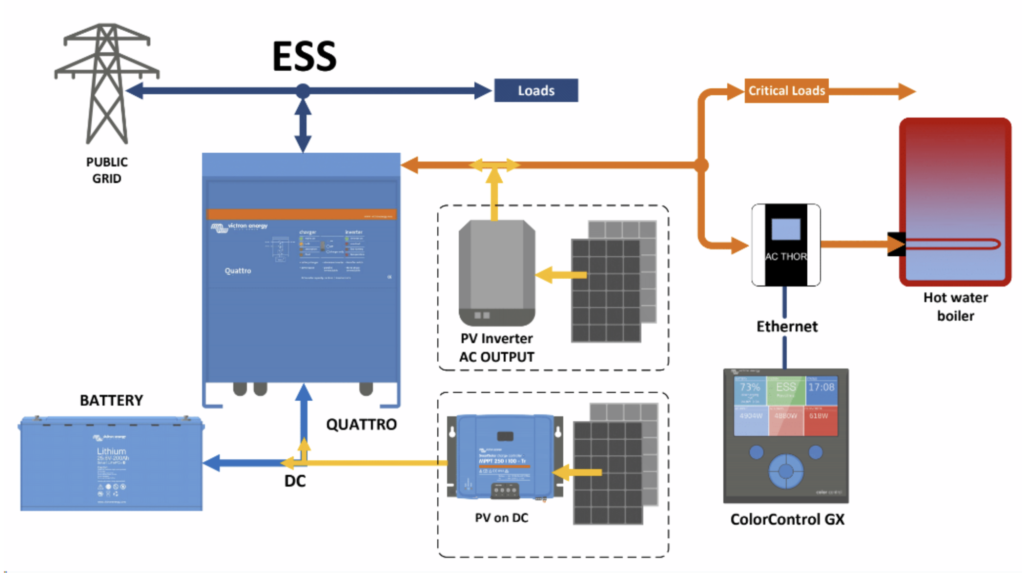 In houses with solid floors it's interesting to note that 25kWh energy stored in concrete will raise the temperature of 120m² of screed through 4°C. Similarly, 17kWh of energy can be stored in a 300 litre tank – raising the temperature of the water from 10°C  to 60°C. Even solar space-heating begins to make sense in a modern reasonably airtight, well-insulated house.
Manuals
Instructions for incorporating the AC.THOR unit into a Victron 'Energy Storage System' or 'Off-Grid' installation can be found found in these manuals:
For those of you who can get to the Off-Grid Experts workshop in Germany in September, the MY-PV product integration will be demonstrated at that event.
Conclusion
The MY-PV AC.Thor is a great solution to further optimise the use of PV Energy.