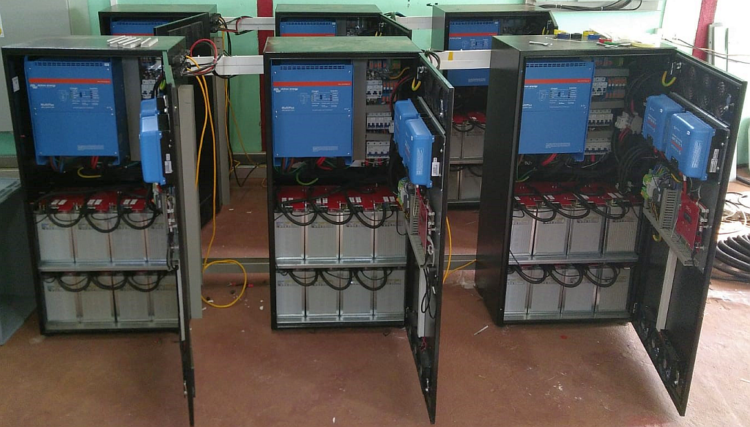 BOS AG (Balance of Storage Systems AG) are a supplier of products and services for off-grid energy solutions. Based in Neu-Ulm near Munich in Germany and founded in 2014, the aim of this young company is to become a leader in decentralised energy supply. Their focus is on Li-Pb (lithium-lead) hybrid charging technology for solar systems which support intelligent load management.
As BOS use Victron Energy products in their systems it was good to hear from one of their staff and to gain insight into how Victron products are integrated into their solutions. My thanks to Bob Hopman of Victron Energy for making me aware of this project.
Here then is a guest blog, by Veeresh Anehosur of BOS, about a mini-grid on Kenti island in the Mergui Archipelago.
John Rushworth
Kenti island Mini-Grid
Mergui Archipelago (locals call it Myeik) is a region of untamed beauty comprised of 800 islands, with beautiful mangrove forests. Most of these are uninhabited and untouched, whilst some are sparsely populated and off-grid. One of these islands is Kenti island, which is a 3 hour drive, then a 20 minute ferry ride from the port city of Myeik.
Around 2,500 people call Kenti island their home, where their major sources of income are from fishing, rubber plantations, farming, shops, small workshops for tasks such as welding, grinding, minor repairs to boats, and a rice mill.
Until 2017, the island received power for only 4 hrs in the evening from a 50kVA generator, owned by a private individual on the island. People paid 650Kyats/kWh (USD 0.6/kWh unit) with a minimum usage of 10 units per month. This meant the villagers had to pay a minimum of 6,500Kyats (USD 6) per month regardless of whether they utilised the full units or not.
The 4 hours of energy in the evening was also not sufficient for the villagers, as they couldn't use it for anything apart from lights and phone charging. Altogether not an ideal when considering the high cost of energy, which was a major expense for the islanders. A better solution was needed.
Under the NEP program with the support from World Bank and DRD, a 63kWp 288kWh lead acid mini-grid was built in June 2017. The mini-grid was well accepted and villagers started to buy fans, refrigerators, rice cookers, washing machines and other such conveniences. Until recently, the mini-grid worked fine but in recent times the capacity fell short as the energy demand had shot up due to the demand. This increased the diesel generator runtime significantly, which also increased the cost of energy to the developer.
The company which owned the mini-grid (Techno-Hill) approached BOS AG (BOS) for a solution to expand the mini-grid capacity to cater for the growing energy demand. BOS recommended 6 of their HS10000 solution, which is a Lithium based plug and play solution with inbuilt Victron inverter/chargers and MPPT solar charge controllers. The system was designed to be a Hybrid, combining lithium and lead acid batteries, the combination of two differing battery types helps to reduce the cost whilst keeping the performance and life as good as lithium on its own.
To Reach Kenti island, we had to take a flight from Yangon to Myeik, a taxi ride from Myeik to a jetty and then a boat ride. The road to Kenti island from Myeik was quite rough alongside a thick rubber plantation. On reaching the jetty, a small boat ferried us to the village in 20 minutes.
Our daily shuttle to the village.
Equipment getting loaded on to the ferry.
All set for the  installation!
Our team members from Techno-Hill were happy that they didn't need to carry heavy lead acid batteries this time, as logistics on these islands is quite a nightmare, since everything needs to be hand carried due to the unavailability of forklifts. People on the island were happy seeing the equipment, as this meant that they would now be able to do more with the extra energy – like power foor an ice making machine!
The installation started with the PV panels. An additional 48kWp of Solar PV was installed on top of the 63kWp which already existed.

On the power side of the system, 6 x MultiPlus 5kVA inverter/chargers and 12 x 150/70 MPPT solar charge controllers, along with 60kWh of Lithium-Ion batteries were added to the system.
After two weeks of hard work in the hot and humid Myanmar weather (getting bitten by mosquitoes and sand flies was an interesting experience!) the installation was completed.
In the photo above, the old Schneider system with XW inverters can be seen in the background along with lead acid batteries from Luminous on the left. On the right-hand side of the photo are the HS10000 units with Victron components inside the box. The new system capacity is now 111kWp PV, 288 (Pb)+60 (Li) kWh battery backup with 51kVA (XW inverters) + 30kVA (MultiPlus).
The project has now been running since February 2019 and has helped the developer Techno-Hill to reduce the diesel consumption significantly. The Lithium capacity can further be increased as and when needed, as the HS10000 is very modular and scalable.
It is incredible how the power has changed the lives of these island people; it seems like the village comes alive after  sunset with so many activities going around on the island. Fishermen export their fresh sea catch to Thailand and Japan everyday in the evenings, school children study together, people hangout over a beer (yes, they can now chill the beer!).
School children study in the evening.
Relaxing in the evening.
The hybrid combination of lithium and lead acid is a patented technology from BOS AG. Scaling mini-grids with lead acid backup has been an issue with lot of projects, as lead acid capacity is not scalable. In such cases, the BOS solution of expanding the capacity with lithium batteries is helping developers and energy producers to scale up with the least capital expenditure.
Veeresh Anehosur
BOS AG (Balance of Storage Systems AG)
Links
Website – https://www.bos-ag.com
Facebook – https://www.facebook.com/balanceofstoragesystems