Remarkable World Champion Dutch sailing duo Annemiek Bekkering and Annette Duetz put in an extraordinary performance at the 49erFX racing which has just been held in Weymouth, UK – this weekend …pulling victory from the very jaws of defeat! The odds were really stacked against them at the start of this event …but their experience and professionalism provided us with a nail-biting spectacle!
Imagine competing against 56 boats and knowing that in order to hang on to your dream of taking part in next year's Olympic's you'll need finish 3rd, or higher.
So consistently had the Brazilian team performed throughout the competition that they were assured of a Gold medal whatever happened to them in the final. For Silver and Bronze, however, six boats were in contention – the fight was going to be hard, and the gloves were off. Having secured an excellent position on the start line Ned 1 (the Dutch boat) got away fast with clean air and Gold-placed Brazil chasing them hard.
They turned at the first buoy having built a ten second lead over the Brazilians and Great Britain in 3rd.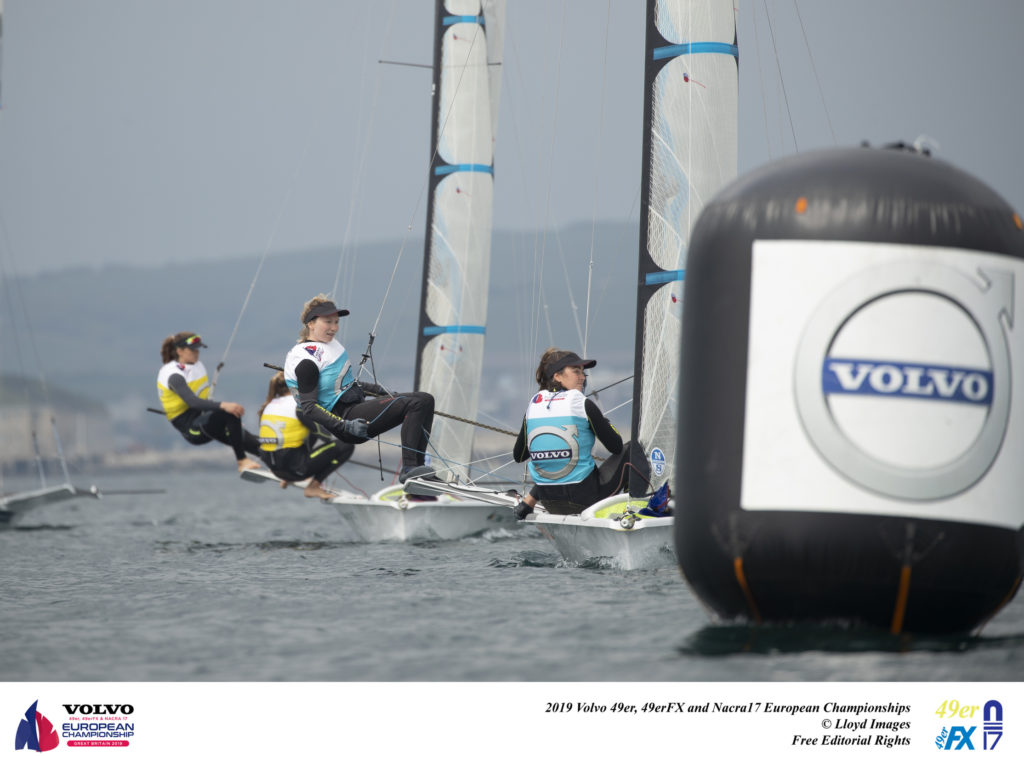 The downwind leg saw the Dutch pair execute a perfect gybe with beautiful athleticism. But being ahead of the pack brings its own danger: When they get excited both Annemiek and Annette tend to go quiet –  and lose concentration – it was then that Annemiek called: "Please keep talking…" that brought them back into the race mentally and they continued to verbalise their observations, and to supply each other with positive feedback.
Crouching before the mast Annette played the spinnaker to increase their lead by the next mark …but a great piece of tactical racing by the Norwegian team took advantage of a 20° windshift during the following upwind leg forcing 'Ned 1' into second place.
Silver will do nicely… and all the girls had to do was defend their wind-lane (where the boat behind you has the advantage of taking your wind) and hang on to their position. Keeping us on the edge of our seat, requiring one last gybe within metres of the finish line – an adrenalin-fired manoeuvre which saw skipper Bekkering throwing herself out on the trapeze to prevent a capsize – and shot over the line for Silver.
Their performance so far this year brings home the silver trophy from Weymouth; makes them European Champions; and Oh! …did I mention that they've qualified to represent the Netherlands in the 2020 Olympic games – to be held in Tokyo?
After an extremely frustrating competition last month Annemiek and Annette teach us that Our greatest glory is not in never falling, but in rising each time we fall.
Victron is proud to sponsor Annemiek Bekkering and Annette Duetz, together with the rest of the Netherlands 49erFX top team fleet.