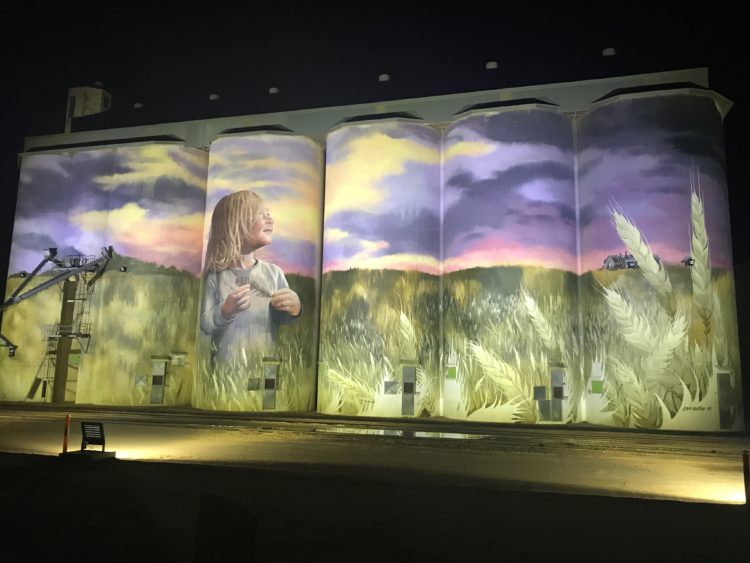 Kimba is a small town with big ideas. Lying near the south coast it marks the half-way point between Australia's East and West. It's a modest wheat growing region with around 600 inhabitants. That's until now. If you visit Kimba today you'll find it hosts an art installation on a phenomenal scale.  …Fifteen hundred square metres  to be exact.
In order to create his artwork, Cam Scale spent 26 days working in the basket of a tele-lifter, applying 200 litres of paint (that's nearly a quarter of a ton) to half-a-dozen grain silo's 25 metres high, and 60 metres wide. The result is quite literally spectacular. It attracts visitors from far and wide and has put Kimba on the map. The community feels the image – a young girl in a field of wheat – is an expression of themselves: Amongst the suggestions from the artist, working in collaboration with residents, it was agreed that the elements of this image: Youth, Agriculture, and a sunset which promises great weather for tomorrow – expresses the community's culture …and their Hope for the future.
Igniting Kimba Arts Program – the local group of volunteers who worked with the artist and residents to conceive the idea – is itself a testament to the can-do attitude of the people of Kimba. It took just eleven months between their first conceptualisation meeting – to 'unveiling' the completed artwork.
Their work included raising A$90,000; reaching all necessary agreements with Viterra – the corporate-owner of the Silo's; public consultations were held on a regular basis to gain consensus of what the image would actually be, and as soon as decisions were finalised, the idea was put into action, and reached its perfection.
The installation was finished last September to such applause that it was decided to illuminate it at night.  A A$30,000 custom-built lighting system has just been completed by Eye Energy Systems which consists of four 450W LED floodlights – all custom built. The energy for the bulbs is provided by – well – the Sun, of course. That's where we come in… At the heart of the 24 volt 16kWh/3.48kWp solar installation there is a Victron Energy EasySolar unit 24/3000/70-50 with a Colour Control providing remote monitoring via our VRM.
As an added bonus for those of us who admire artists and the way they produce their stunning works, the project fund-raising has allowed for the time-lapse camera footage of the month-long process to be sent away for professional editing. If you wonder how Cam Scale achieved his incredible image, layer by layer, this video reveals the secrets of its creation – 4 weeks in 4 minutes!