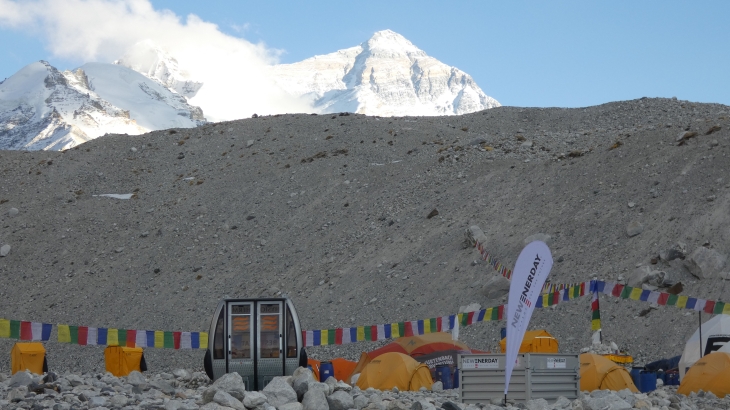 Don't worry, Mount Everest isn't melting – but a small part of its northern base camp has certainly got warmer.
Thanks to New Enerday GmbH and one of their Powerbox systems, mountaineers can now warm themselves after their exertions in a Physiotherm infrared cabin. Apparently such cabins can "improve circulation, blood flow to organs, muscles, connective tissue and the skin", thereby stimulating the climber's metabolism.
New Enerday SOFC fuel cell system
To power the Physiotherm infrared cabin New Enerday (along with their partner Furtenbach Adventures) have put into operation the first solid oxide fuel cell (SOFC) system at Mount Everest basecamp, at a height of around 5,300m. This fuel cell is an environmentally friendly, quiet power generator which combined with their Powerbox supplies electricity to the infrared cabin.
Powerbox system
The New Enerday Powerbox contains an EN400 fuel cell system, a battery buffer bank, a solar charge controller and two high-power Victron Energy inverter-chargers. At the beginning of April the Powerbox was shipped to Kathmandu. From there a truck carried the equipment directly to the base camp, where the Sherpas were able to unload it simply due to all the components being contained within the aluminum Powerbox.
New Enerday's development engineer Dr. Arne Sommerfeld followed the Powerbox to base camp, taking a small detour over Lhasa, Xigaze and Tingri. On the 16th of April he commissioned the system and naturally was one of the first to 'test' the infrared cabin!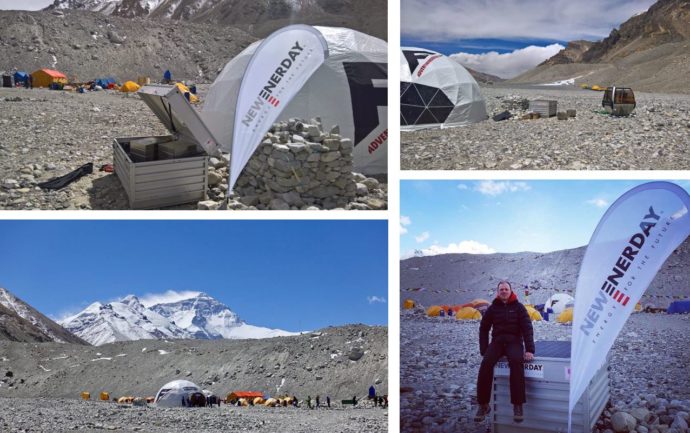 The Powerbox will supply power until the middle of June, ensuring Furtenbach Adventures expedition members will be able to benefit from the infrared cabin and its breathtaking panorama. After this project, the Powerbox will become a part of New Enerday's rental fleet at lower and less challenging elevations in Germany and Europe.
Victron inside
New Enerday's Powerbox system comprises the fuel cell, solar controller, battery buffer bank and power electronics.
The Victron Energy components used are: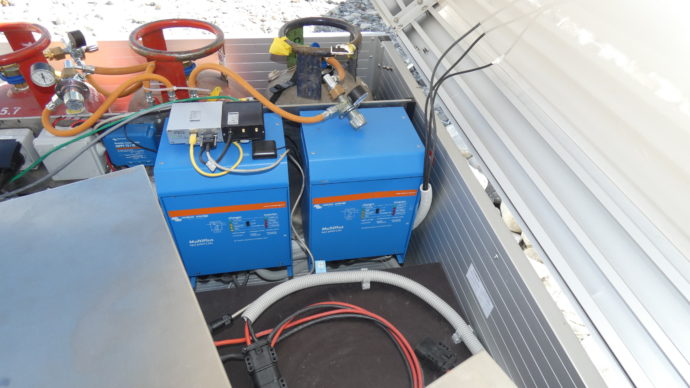 Conclusion
It's flattering to know that New Enerday chose Victron Energy for their power electronics – and they are not the first to have that confidence – they are in good company!
Victron products are often used in challenging locations and have featured on this blog a number of times – here's a few more examples of such locations:
John Rushworth
Credits & Links
Thanks to Bob Hopman of Victron Energy for making me aware of this project and Marcel Dee of New Enerday GmbH for the information and images used in this blog.
New Enerday website – https://www.new-enerday.com/en/home