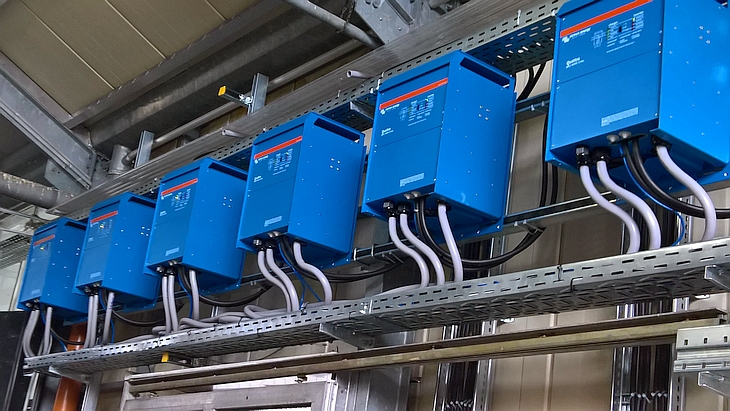 System upgrades are a fact of life and it's always encouraging to see clients choosing Victron Energy components in preference to others. And so it was with an EnerWit and SERVICE TEAM Döbeln project in the Südschwarzwald (Southern Black Forest) in Germany.
Much of Victron Energy's high volume market in Germany is residential, but in this case the system upgrade to a Victron based ESS was more on an industrial scale, consisting of 6 x 48/8000/110-100/100 Quattros (to replace the original components), combined with 100 kWh of Lithium-ion battery storage and 180kWp of solar.
Out with the old…
The heading speaks for itself, as blue becomes the colour of choice.

Energy Storage System (ESS)
An ESS is used to optimise the self-consumption of a building by storing surplus energy throughout the day, whenever possible, and then using that stored energy during the night.
Here is a screenshot from the project – showing instantaneous solar harvest of over 91kW – using Victron's Remote Console via the VRM portal and Color Control GX, or CCGX as it is commonly known.

The installer for this project was EnerWit of Donaueschingen, who have an excellent reputation and network. Support and programming of the ESS used the expertise of one of Victron's top distributors in Germany – SERVICE TEAM Döbeln GmbH together with Mr. Prag from that company.
If you aren't familiar with an ESS, Victron have a number of Webinars in the video section of Victron Professional. An ESS Design & installation manual is also here.
Please note all our blog readers are welcome to sign up for Victron Professional, as it's not just about ESS – there's firmware downloads, news and more.
Conclusion
Thanks to Uwe Dräger and Bob Hopman of Victron Energy for making me aware of this project.
Considering an upgrade – isn't it time you changed to Blue Power!
John Rushworth
Links
SERVICE TEAM Döbeln GmbH – https://www.service-doebeln.de
EnerWit – http://www.enerwit.de