Cram it all in. At least that's what Victron Energy staff, distributors and customers seemed to do recently. I'm not so sure about some of the dance moves though…
On 27th March it was the Victron Energy African distributor meeting in Sandton at The Venue Green Park, the 28th-29th saw the Power & Electricity World Africa Exhibition (The Solar Show) at the Sandton Convention Centre, Johannesburg, with an impressive Victron stand demonstrating many new products. Last but not least on the 30th it was a Victron Energy Training day at the Protea Hotel by Marriott® Johannesburg Balalaika Sandton.
And then there were meals, socialising, awards and dancing too – all in all a very packed four days.
Socialising – African distributor meeting
Part of any good sequence of events is the socialising and this year the fun part of the African distributor meeting was held at The Venue Green Park, which describes itself as – 'An upscale conference and events establishment nestled at the top of Johannesburg's exclusive World Trade Centre. The unique location of The Venue Green Park offers breathtaking views over Johannesburg, which can be observed through the floor-to-ceiling windows as well as from the balcony, allowing you to have the Johannesburg skyline as the backdrop to your function'.

This Victron Professional looks familiar!
Work – The Solar Show
Now that you've seen how much fun 'work' can be, let's focus on the Solar Show aspect or to give it its full title – Power & Electricity World Africa, which celebrated its 20th anniversary at this year's event. The event is the largest of its kind in Africa and with 640 delegates from 40 countries and 200 speakers in conference plus 6,714 attendees at the exhibition – it was a great success.
Victron Energy exhibited in the Clean Energy Hall again this year for the 6th year running. Besides showcasing its product range for solar applications, Victron were also able to showcase some of their latest products for 2017.
There were products such as the Easysolar range, the Bluesolar MPPTs and the new VE.Direct Phoenix Inverters. The mention of Bluetooth configuration for such products brought great interest from visitors, as it is the first product range of its kind in the world with such features – including various levels of configuration – all demonstrating Victron Energy's ongoing drive toward ever increasing flexibility and ease of operation.
Different solar systems from DC coupled and AC coupled to larger 3 phase systems were also on display. Here third party battery brands were part of the display too, with Victron staff on hand to explain the added benefits of being able to configure Victron Energy products to work in a variety of systems. This was very well received.
Here are some of the new and innovative products that were on display:
Learning – Training Day
Following this exhibition there was a technical training day held for customers and also visitors from the exhibition. The training was held in English and French in two sessions.
Some of the topics covered were:
The latest products from Victron Energy.
System control panels.
Victron Remote Management (VRM) website with a focus on remote control.
Integrating with CanBus enabled 3rd party batteries.
Hands on sessions.
Awards – Distributor Meeting
Kicking off this whole sequence of events was the Victron Energy African distributor meeting in Sandton and I started this blog with a headline image of one of the awards at that event – now I'd like to leave you with a few more smiles and awards.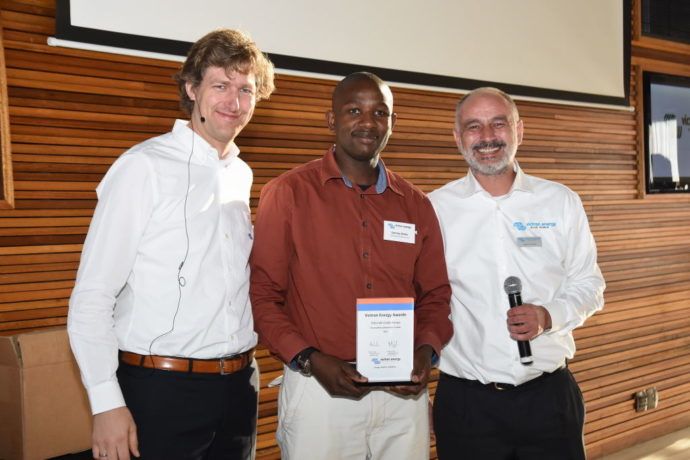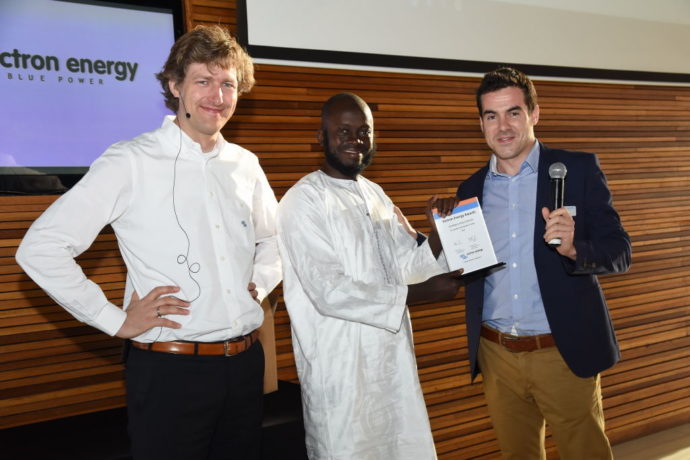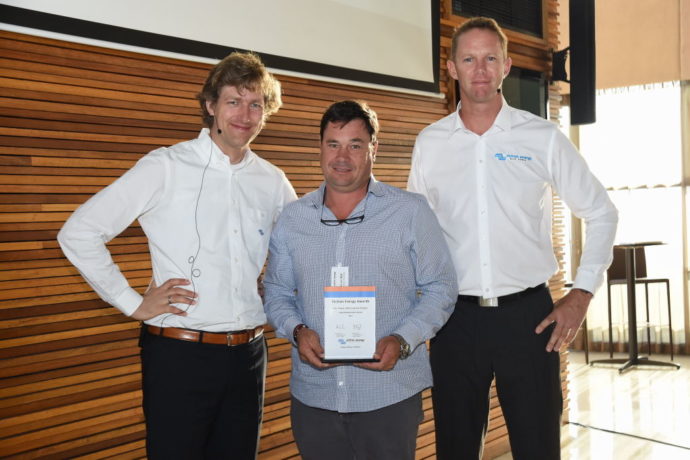 Conclusion
Thanks to Andre du Rand, Victron's area manager, Southern Africa, for the information and photos used in this blog – that's all 642 one of them! It's always difficult to choose from such a vast and welcome array of photographs from such events, but I hope at least the ones chosen have conveyed how valuable, rewarding and fun work can be.
John Rushworth