Villa Halcyon is situated on Boquete Island, one of the many islands of the Philippines, in the Puerto Galera municipality. Puerto Galera is the most north-westerly municipality in the province of Oriental Mindoro, Philippines.
Such locations present many challenges – primary ones being the location, installation and supply of electricity – as we've seen in previous blogs where Victron Energy equipment supplier PhilSolar Equipment and Trading Corporation has supplied equipment and provided technical support for clients in Palawan island and Pangatalan Island.
This latest project on Boquete Island has helped the villa owners move on from the hassles of diesel fuel delivery to the onsite noisy and fuel thirsty generator – all 120 litres of it for every 24 hours of use, with all fuel being delivered by sea.
There had to be a better solution. Here then is how Villa Halcyon has moved on, to less expensive, quieter and mostly diesel free days.
Keeping it simple
The Villa Halcyon owners contacted Danny Maesen of PhilSolar, along with design and installation specialist Patrick de Backere, to conduct a site visit and advise on the best way forward for their electricity needs.
After the site visit the initial advice was simple – replace old type lightbulbs with LED lighting, old refrigerators and other energy consuming appliances with new energy friendly ones, plus newer and better electrical cabling. The result, lower fuel consumption. Naturally to reduce this further the logical step was solar. But before going into that I'll let the following before and after photos sum up the above.
Before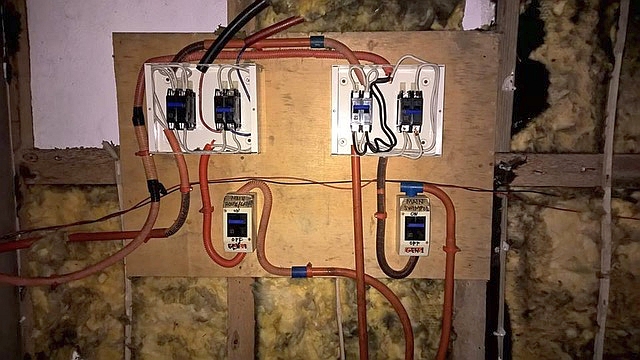 After
Solar solutions
The next challenge was to find a place to mount the solar panels as the residence is situated in an oasis of exotic plants, palm and coconut trees and naturally the owners wanted to keep it that way.
The decision then was taken to install the solar panels on both sides of the landing jetty, high enough
above the water for materials safety and security and still easy to access for cleaning. That presented another challenge – the distance from the panels to the inverter/generator room which is around 70m from the 27 x 260W Jinko Polycrystalline panels.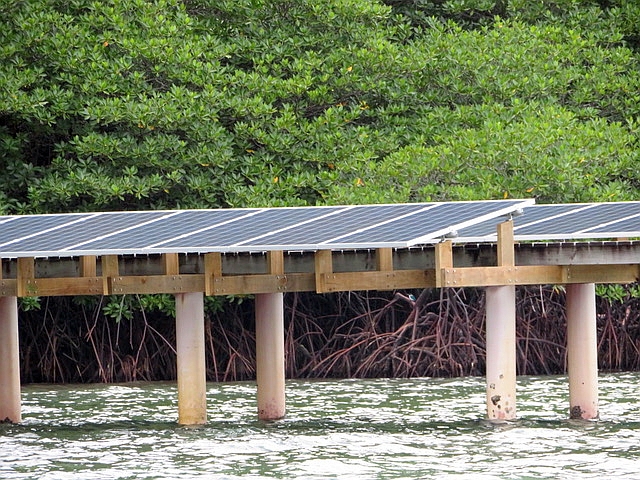 The solution was to mount an enclosure with the busbars as close as possible under the panels and from there to use 25mm cables to connect to the Victron MPPT Charger. A downside though is the voltage drop (which is substantial) but that was better than damaging the onshore environment. However to my mind there is also an upside, likely lower panel temperatures due to the proximity to water when compared to hot land – every cloud has a silver lining.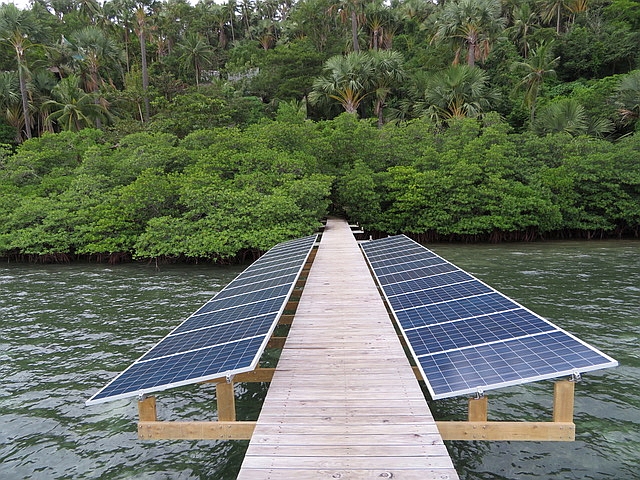 In fact it's always a good plan to properly quantify such matters and that can easily be done with the Victron Energy MPPT Calculator Excel sheet,  read in conjunction with the excellent blog – Matching solar modules to MPPT charge controllers, by Bob Hopman.
In the scenario above, by using the spreadsheet, you can easily see how cable distance and size and panel temperature affects output. In fact in one extreme case with an old friend of mine who has retired to Cyprus to grow Olives – we cooled his panels with water. The gain surprised him, but I have to say had he been using a decent MPPT and a differing combination of wiring and higher panel voltages he'd have likely done just as well. Try the sheet and surprise yourself! Don't forget the Victron Toolkit App also, which will calculate cable size and voltage drop, along with other handy tools.
Rock the boat
One of the last hurdles to conquer was equipment transportation to site. It wasn't an issue for the basics but transporting a 169 Kg lithium battery in a small boat was 'exciting' to say the least!
Getting the Freedom Won battery there safely and installed was quite epic. It took a number of Mangyans to get this job done. The Mangyan people are the original inhabitants of Mindoro who live in the mountains around Puerto Galera. They are strong, very strong, apparently. Having said that and from what I'm told, Danny was very relieved nonetheless when the battery arrived safely onshore and was carried confidently up to the powerhouse.

Victron compatibility
As many of you will be aware from using a Color Control GX, there are all sorts of compatible non Victron products and batteries that integrate with Victron systems, so it was heartening to hear PhilSolar's Danny Maesen comment:
"It's always a challenge and exciting when new products are compatible with Victron Energy products and as technology is improving every day, we decided to offer the latest new lithium storage system from South Africa – a Freedom Won 48V/300Ah lithium battery, used in combination with a Victron EasySolar 48/5000/70-100 MPPT150/100 and Color Control GX."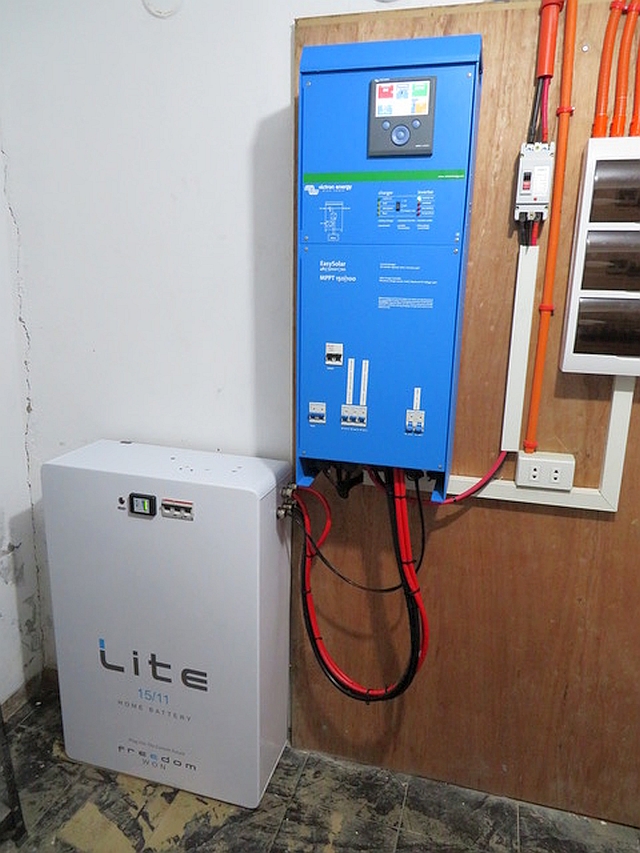 Typhoon
To add to the anxiety of installations in such locations – and whilst the system was up and running in December 2016 – a typhoon hit the day after Christmas! It's testament to the system that nothing got damaged and that it has continued to run well, although the generator is still an old one which has to be switched on manually. That will soon be replaced by a much smaller one with auto start/stop functionality linked into the Color Control.
Whether the Typhoon has anything to do with the variable internet connection on the island I don't know, but until such time as it is improved (which it is scheduled to be) there is little point in posting the Halcyon site link on VRM World, although there are plenty of others online now to choose from at: https://vrm.victronenergy.com/world/
If you want to include your site on VRM World see: https://www.victronenergy.com/live/vrm_portal:vrm_world
Conclusion
My thanks to Danny Maesen for the information and images used in this blog. Here's hoping his next installation is a little less water and weather challenged!
John Rushworth
Links
PhilSolar Equipment and Trading Corporation:
Danny Maesen: info@philsolar.ph
Design and installation for Puerto Galera area:
Patrick de Backere and his team: debackere.patrick@gmail.com