Are you planning an energy system installation in a campervan, motorhome or caravan, do you live near Düsseldorf? If so, you could certainly save yourself some time and money by visiting Caravan Salon Düsseldorf 2016 this weekend.
Experts from Victron Energy (Booth no. Hall 13/D82) and TransWatt (Booth no. Hall 13/E64) will be on hand to guide you through a range of hybrid energy systems and choices. The show is open from 10:00 a.m. – 6:00 p.m. If you can't make it there are always plenty of other events that Victron Energy exhibit at.
As I'm currently in the process of selling my sailing yacht Elektra and looking to get a Victron equipped motorhome, I was particularly interested to hear from Uwe Dräger at the show. Uwe is Victron's sales manager for Germany. Here's a few photos from the show and what is hot.
Victron equipped campervan
The Victron equipped campervan has certainly created a lot of interest.
Electric induction cooking and making that essential cup of fresh coffee is not a problem, as the van is lithium ion equipped with a Multiplus inverter/charger and Color Control GX.
As you may recall with the recent release of the Color Control GX v1.70 firmware this now includes tank sensors for fresh water, black water and fuel, plus adjustment of the current limit for a Mutiplus or Quattro as shown below in the additional overview screen.

If visiting the show this is all displayed live on a screen, so you can experiment with all the options and choices.
You'll also notice on the windows of the van a schematic of the system. There is also a list of the products used. Apologies for the hasty photos from the show, but if you need further information please contact Uwe Dräger and I'm sure he'll be happy to provide you with clearer details than those shown below.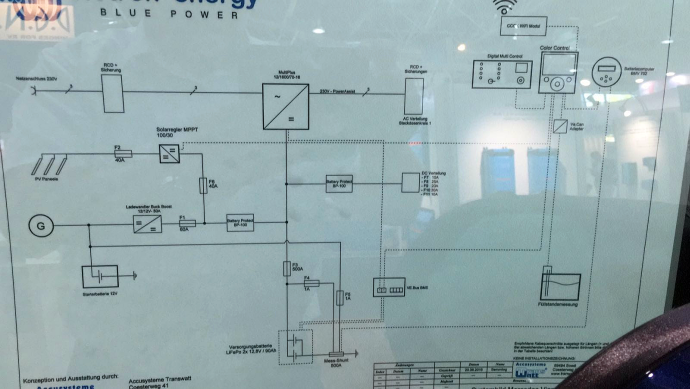 Products used in the campervan.
Conclusion
Whilst the Victron equipped campervan has clearly been a hit, there are of course many other products on display. A few that have been of particular interest are:
Well, that has certainly given me some ideas for my forthcoming motorhome. I hope its helped you too. Contact your Vicron dealer if you'd like more information.