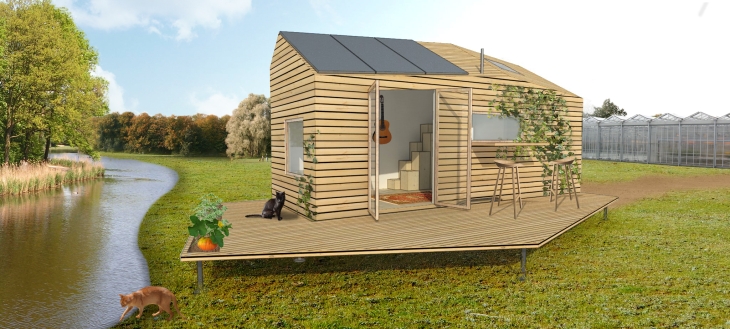 The Tiny House movement was borne out of necessity in America, partly in response to natural disasters and also a burgeoning desire to live economically and sustainably. Slowly but surely this small movement has morphed into a Tiny House revolution across the globe.
One such person that has the desire to live in this way is Marjolein Jonker from the Netherlands. Her dream started in February 2015. On the way to realising her dream she has been blogging at 'Marjolein in miniature', educating others about her journey and the growing Tiny House movement in the Netherlands.
Marjolein's dream, which includes her cats Jack and Hella, is shown in the headline image above. The design was created by Ontwerpstudio Walden and Dimka Wentzel of Tiny-House.nl
Marjolein is pictured in the photo below outside Dimka Wentzel's Tiny House. Photo by Phil Nijhuis.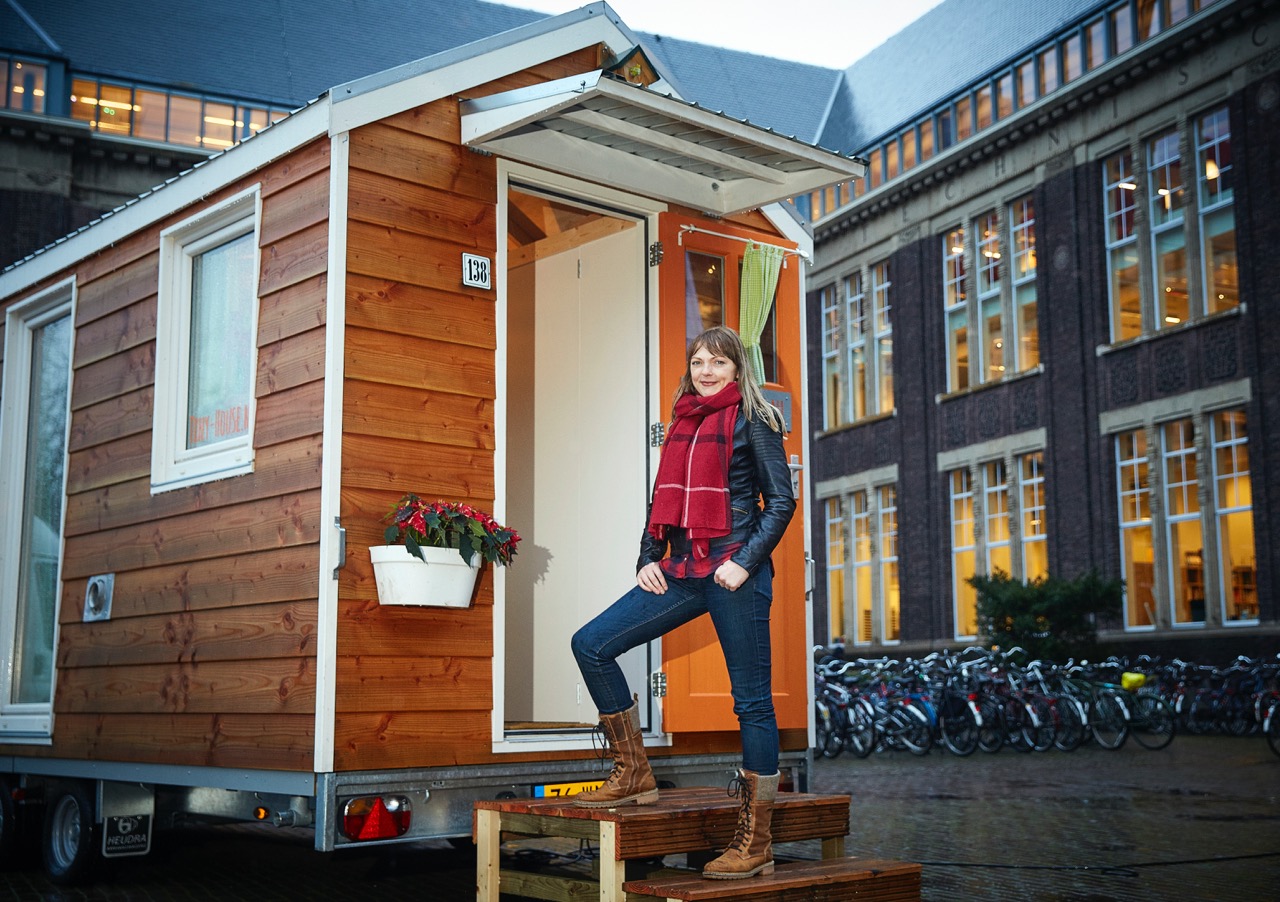 What is a Tiny House?
Whilst the exact size and construction can vary due to legal requirements from country to country; in Marjolein's own words Tiny Houses are:
"Sustainably built homes, no larger than 28 square metres and meant to be lived in throughout the year. They can be built on a foundation, or on a trailer. Usually they are made entirely of wood, although nowadays sometimes with aluminium frames. Tiny Houses come in all shapes and sizes and there is a lot of creativity and craftsmanship built into them. A Tiny House is for and often built by the owner, from start to finish, to his or her own taste and is invariably a bespoke design. The focus of a Tiny House is one of a simple and environmentally conscious lifestyle that creates more freedom".
At home with Victron Energy
The build started in February 2016 and is now all but complete. One of Marjolein's goals was to be self-sufficient in her electricity needs. Just like all off-grid requirements, the first step was to carry out an energy audit and to see how and if solar panels would meet her goals. You can read more about this in her blog where she details her solar power needs and decisions. The blog is in Dutch but if you use Google Chrome the translation works well, if needed. Suffice to say her off-grid needs have been met with Victron Energy products. Here is what Marjolein had to say:
"To be self-sufficient in energy the Tiny House features a solar energy system from Victron Energy. Victron has everything that an off-grid installation needs and all equipment is perfectly matched. With the products and services of Victron I am assured of a professional installation of high quality, provided by a company that is constantly working on innovation in the field of solar energy.
My installation consists of:
3 x 300 Wp solar panels
1 x EasySolar 24V 1600VA: MPPT Solar Charge Controller, plus inverter/charger with AC distribution, all in one enclosure.
In addition, a battery monitor, Color Control GX and Victron USB Wi-Fi dongle are fitted, so I can see remotely what my consumption is via the VRM portal. Such a luxury! But not only luxury, as by changing my behaviour I might manage with solar energy alone – so it certainly helps being able to properly monitor my usage. It is almost a sport to manage for as long as possible with only the power of the sun!"
Tiny House nearing completion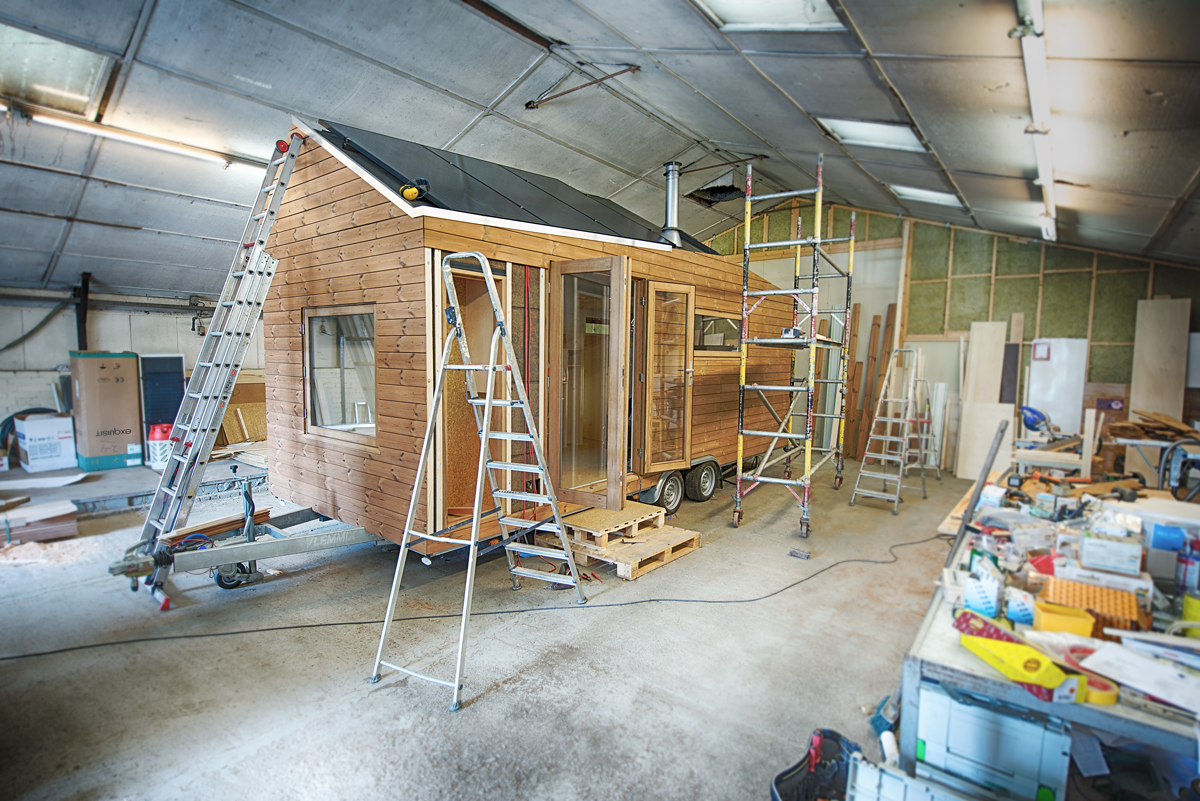 Victron installation
"The installation was carried out by Frans 'the Pittenspecialist (DPS)', in cooperation with Johannes Boonstra of Victron Energy. Frans has many years of experience with Victron Energy products and similar types of installations. He also thinks Tiny Homes are just great. I feel so blessed having the help of Frans and Johannes!"
Conclusion
Owning a boat myself which is fitted out of with Victron Energy equipment that also allows me to be off-grid (albeit at sea) has many similarities to a Tiny House, so in that sense I can totally relate to Marjolein's desire for "a simple and environmentally conscious lifestyle that creates more freedom." We wish her well with her new home and look forward to hearing how the cats Jack and Hella are settling in too!
Links
To learn more why not visit the Marjolein in Miniature links below:
Website: https://www.marjoleininhetklein.com/
Facebook: https://www.facebook.com/marjoleininhetklein
For further information about Tiny House systems see Aquasolar: