In mid April this year four courageous young women left San Francisco to row across the Pacific Ocean for charity, backed by their patron Kylie Minougue and a dedicated support team. Since then they have made their first land stopover in Hawaii and are now within 400 miles of their next replenishment in Samoa. The track of their boat (called Doris) is shown in the headline image above.
To gain some more insight into this amazing challenge and their fundraising for the women of Walking With The Wounded and Breast Cancer Care, here are the initial and follow-up blogs about the Coxless Crew and Doris.
For those with less time on their hands there's a précis of the endeavour below, but right now we just want to remind everyone of what they have achieved to date, where Doris and crew are – and of course to ask you all to give them a shout out. In fact why not make a donation too: http://uk.virginmoneygiving.com/team/coxlesscrew
Learn about and support the Coxless Crew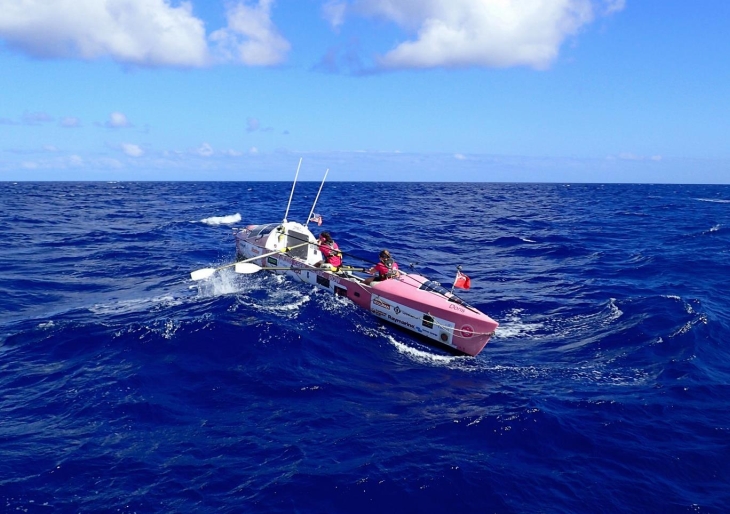 Image courtesy of: http://losingsightofshore.com
The Coxless Crew
The rowing crew at any one time consists of 4 ladies, from a team of 6 plus of course all the support team, behind the scenes. These women are rowing 8,446 miles unsupported across the Pacific Ocean. Read more about the crew: http://coxlesscrew.com/crew/
The boat
Doris is 29 ft long and 7 ft wide, made mainly of Carbon Fibre. Read more about Doris: http://coxlesscrew.com/the-boat/
Sponsorship
Victron Energy and Victron distributors Barden UK Limited are pleased to be sponsoring the Coxless Crew team in this challenging endeavor.
To keep Doris energized she is equipped with 2 of everything below, to ensure system redundancy:
Coxless Crew sponsors page: http://coxlesscrew.com/sponsors/
Links
Website: http://coxlesscrew.com
Facebook: https://www.facebook.com/crew.coxless
Twitter: https://twitter.com/coxlesscrew
Blog: http://coxlesscrew.com/blog
Donate: http://uk.virginmoneygiving.com/team/coxlesscrew
YouTube: https://www.youtube.com/channel/UCVDZK7L34_bPesQAIiE-5FQ/
John Rushworth