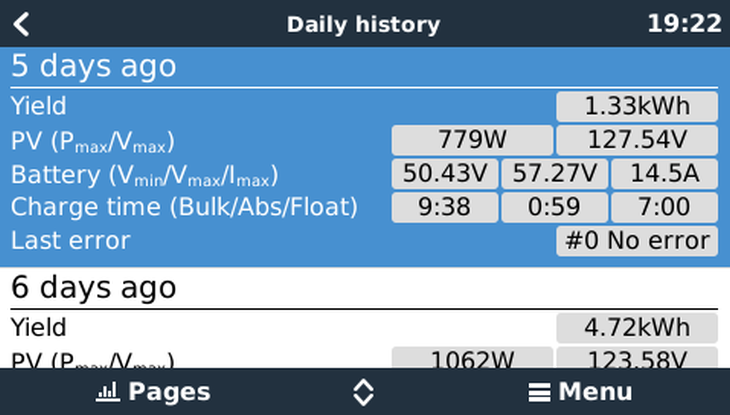 As of today v1.24 Firmware has been released for the Color Control GX (CCGX). The incremental differences or changeleog when compared to v1.23 are detailed below. One of the key features is shown in the headline image above, which shows day 5 which is part of a full 30-day history readout for VE.Direct MPPT Solar chargers. I've tried it on my own CCGX – it is a very nice feature!
v1.24 – 22 June 2015
Recovery image: http://www.victronenergy.com/feeds/ccgx/images/CCGX-v1_24-recover.zip
New: VE.Direct MPPT Solar chargers 30-day history readout.
Fixed bug which was introduced in v1.22 and 23: in certain installations, the CCGX no longer showed the Inverter, Multi or Quattro. Updating to v1.24 will automatically show the Inverter, Multi or Quattro again. (see CCGX FAQ if it remains off).
Fixed: Live-feed on VRM now also uses AC input type settings (Genset / Grid) and the Battery monitor selection made in CCGX System Setup.
Fixed access level that was too strict: switching Multis and Skylla-is on/off and changing current limit can be done by users also. Also setting time is now possible with access level user.
Increase max length of Wi-Fi password to 35.
Preliminary version for Hub-4.
Known issues:
Support of recovery from USB sticks does not work on all sticks.
Finding a USB-GPS might take a while.
The Tiles page will show 'HUB-1' in case there is an MPPT in the system, even when there is no HUB-1 assistant loaded into the Multi: confusing.
Log VRM Portal data to storage (sd-card / usb-stick) does not work.
This firmware release is an incremental one. The previous release upon which this version builds is v1.23 which included some significant new features such as Remote VEConfigure. You can read about that in the previous CCGX blog: https://www.victronenergy.com/blog/2015/06/04/color-control-gx-v1-23-firmware-released/
As ever we welcome your comments in Disqus below.
John Rushworth