Medical procedures at Gorkha hospital in Nepal have – until recently – been disrupted by up to 15 power outages a day.
The city's power supply varies between 180 to 210VAC, damaging some of the sensitive healthcare devices. Power outages also impede hospital communications, interrupt the water supply and, of course, cause a great deal of stress to hospital staff.
Until now the workaround has been to fire-up a diesel generator each time there's a blackout- but the costs associated with fuel and maintenance, against a backdrop of already-high grid energy prices – convinced the management team to investigate a more reliable – and in the long run, much less expensive, alternative.
The solution presented by the region's local Victron Energy distributor and installer Sunshine Peak Power JV was a solar based three-phase energy system with a generous battery storage.
Everything has changed. The 67 bed hospital now has an uninterruptible power supply twenty-four hours a day; at a consistent and reliable voltage from the pure sine wave inverters – ensuring that sensitive electronics run faultlessly.
The system designed by Sunshine Peak Power's Rakesh Shrestha has 118 solar panels arranged in two arrays providing 64kWp to PV inverters configured for three-phase supply.
6 x Quattro 48/8000 Inverter/Chargers allow for a nominal power supply of 48kVA from the battery storage. PV Inverters, and the Victron Energy battery Inverter/Chargers are synchronised – ensuring that AC power supply and DC battery-charging is maximised.
The Quattro Inverter/Chargers work in harmony with the PV Inverters, regulating power harvest and sending surplus solar power to three banks of batteries, each having a capacity of 2,500Ah – a total energy storage of 360kWh. The batteries can also be re-charged from the electricity grid or from the back-up generator – if this is ever required.
A Cerbo GX communication device allows Victron and third-party devices to work together. It also reports real-time system data to the internet allowing remote monitoring and control from anywhere via the Victron Remote Management (VRM) portal – and touch-screen system control is available on site using a GX Touch 70
One of the challenges of the installation was that the hospital compound has a number of buildings sited close together, allowing very limited space for new installations.
The hospital has a much larger power demand than the 38kW grid supply, consequently it was necessary to calculated peak demands – match those with the times of day when power was required, and build a system which shaved peak power demand, and yet had sufficient redundancy to meet everyday running during prolonged grid outages …even covering exceptional loads.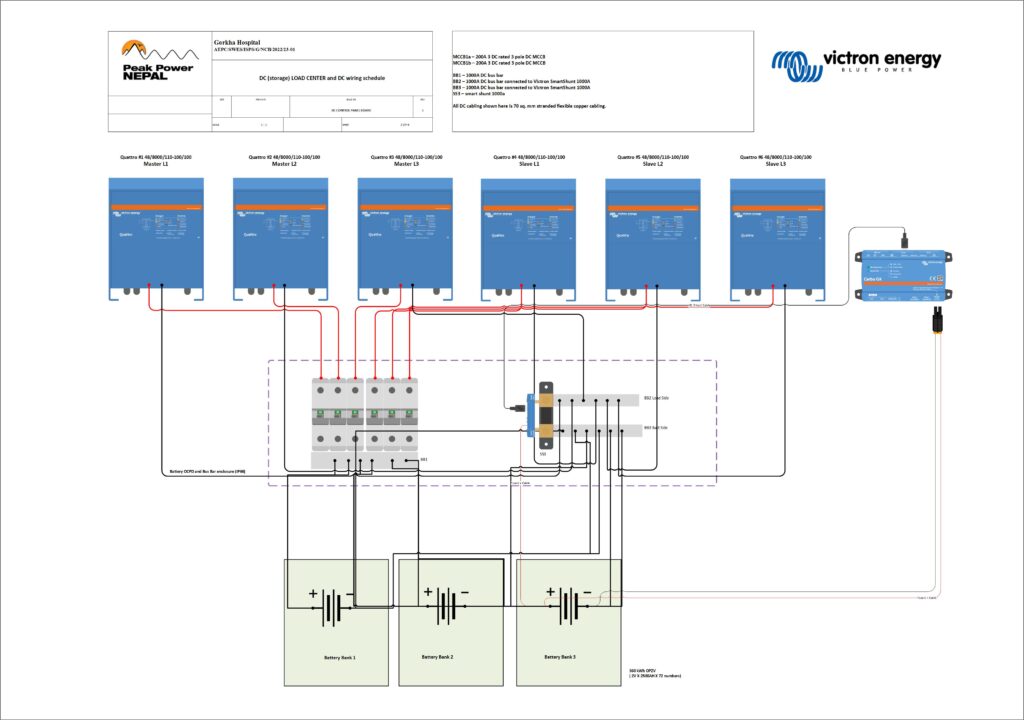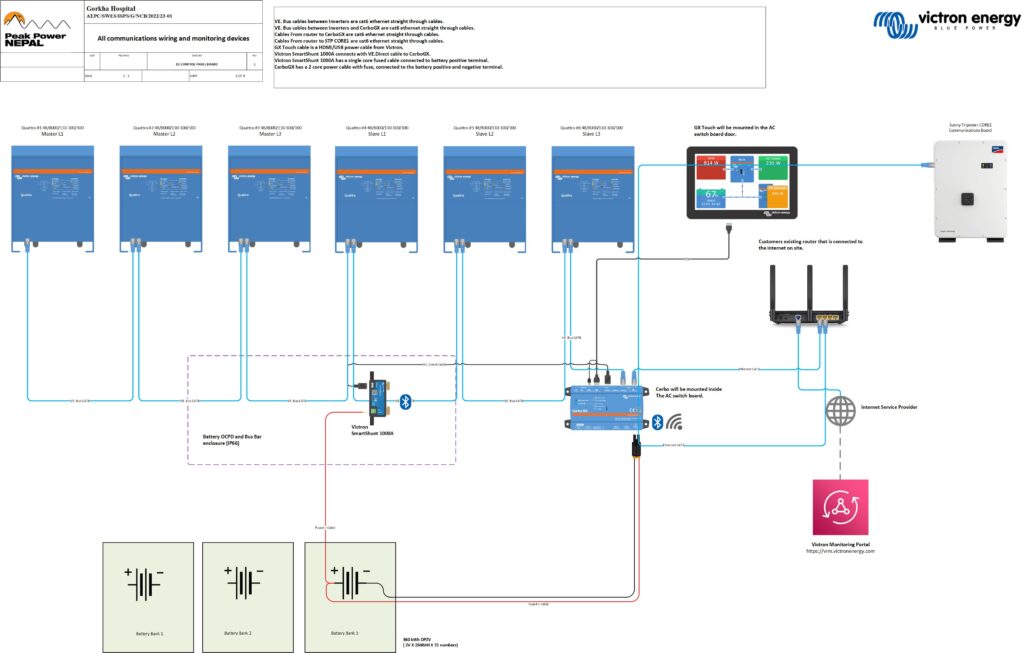 Rakesh Shrestha says: "Now in practice, we set ESS as first priority to the solar, second priority to the battery storage energy, third is the grid and last is the generator. The day start with the charging the battery and directly supply solar energy to the hospital loads. In the night when there is no sun the power supply from storage battery and from grid ( in the night grid didn't charges the battery)
Sunshine Peak Power are very pleased with the outcome of this installation which has been working perfectly for some months. It's an added bonus to be able to make a difference to Nepal's critical services, and to be able to play a rôle – albeit indirectly – in improving healthcare outcomes for the population of Nepal.