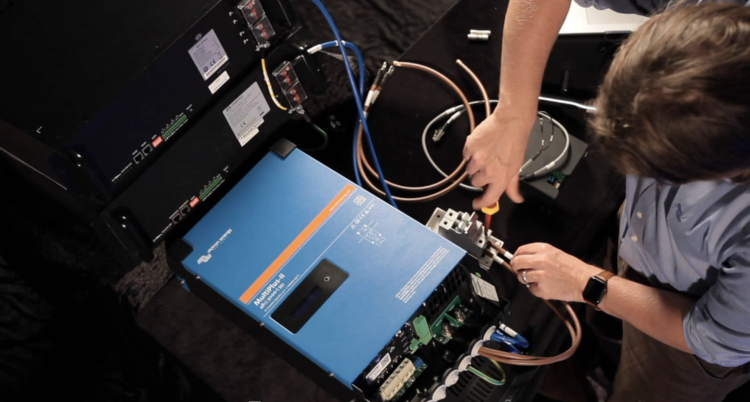 Professional installations which meet client needs and exceed expectations are good for business.
Whether your customer is price conscious or quality-driven, our Training Videos are designed to empower you to easily select the most appropriate product for your customers needs.
They will help you install tidy, well-considered systems, optimally configured for the task.
They will guide you to enabling the appropriate product features that achieve excellent performance – and result in a power system with which your customer will be really happy.
Digital Training Manager Guy Stewart is working on new videos all the time – so why not take a look and see what's new?
Even if you've watched some of these easy-to-follow videos before, a refresher might offer that elusive solution you've been looking for!
Training Video Library
At the time of writing there are 19 videos in the Training Library available in seven languages. On land or sea; isolated or connected to the grid, generator back-up or remote stand-alone, large or small, three-phase, parallel, daisy chained, cross-manufacture installation – you'll find a solution for every circumstance.
The videos, and any presentation slides used in them, can be downloaded for later viewing. Each video is followed by a test. Completion certificates can be downloaded after achieving successful test results.
Here's a round-up of what to expect from each of them. You will need to be signed in to your Victron Professional account to follow these links to the desired content.
The series begins with MultiPlus Inverter/Chargers as power conversion lies at the heart of everything we do.
Providing an overview of our range of inverters from 500VA to 15kVA, expandable to 180kVA – the largest range on the market – this video explains:
sizing advice and guidance on correct product selection
a breakdown of the product features
a comparison of the features of our 'apparently similar' inverters
simple schematics showing essential switching/wiring topography and their importance
Grounding features for different applications
Frequency shifting / Three phase / Parallel installation
A few words on back up Generators
and some commonly used accessories
In this video Margreet outlines the types of Generators available on the market and discusses:
the automatic Generator Start/Stop feature
programming options/parametres available when programming auto start/stop on a BMV; a MultiPlus; and on a GX device
triggering by SOC, low voltage, and current
Power Assist
Reporting to VRM
3 Phase special conditions – phase matching and balancing
Generator to Inverter sizing
With PWM and MPPT stand-alone and all-in-one solar charge controllers capable of handling charge currents between 10A and 100A, with or without Bluetooth – plus an ability to daisy-chain up to 25 solar charge controllers, this video guides you through:
Sizing calculations
Product selection informed by PV array / battery voltage
PV input connections / cable sizing / temperature and open-circuit voltage
Product Configuration on VictronConnect / Smart networking
VE Can devices
Settings BMV / Temperature Compensation
Features DVCC / Streetlight / Current limiting
This powerful new galvanically isolated solar charge controller has its own training video, discussing:
Significance of Galvanic Isolation / test for ground / application examples
450V extra cautions / 48VDC only application
Two PV string input / 25 device daisy-chain capability / temperature sense
Wiring examples / programming
When used, the GX family of communication devices sit at the heart of an installation controlling and monitoring power harvest, storage and supply; harmonising third party devices, and storing and reporting system data. This hands on video takes us from unboxing, through making connections, to a full consideration of the many available features:
Guide to ports / updating firmware /accessories
VRM setup / remote console
connection to MPPT with VE.Direct, and MultiPlus with VE.Bus
This video explains how to get the most out of the VRM platform, using its powerful data-rich features to analyse the performance of installations as used by customers in the real world. Such analysis allows 'fine-tuning' decisions to be made, or additional product purchase with the absolute certainty that it will result in a perfect match between customer need and system build. The video includes:
Adding/Deleting monitored installations
Dashboard overview explained / Advanced data overview
Drag and drop/range selection by data-type, and by historic date
Export to spreadsheet
Remote Console change system programme settings
Multiple Alarms – setting audible or email notifications
Remote firmware check and update
Device Memory clear
Setting Geofence for out-of-area warnings
This video provides an insight into battery types and chemistries and, focussing on Lead Acid batteries, discusses:
Discharge cycles – affect from Depth of discharge
Rated capacity – affect from size of load
Charge efficiency and temperature
Battery idle
Battery bank configuration
Battery Protect, Low voltage disconnect, Mid Point monitoring, Balancing
Generator Auto Start
This presentation offers a comprehensive investigation into battery types and the jobs they were designed to do. Common errors and misconceptions. How batteries can become damaged, shortening their design life. Correct installation, management of charging, periodic maintenance, and testing. It is followed by an exam.
This video includes a practical demonstration, and discusses:
Overview of the BYD battery unit
Wiring between the Battery and Inverter
Installing fuses
Communication connections
Pre-commissioning checks
Connecting the installation to VRM
Installation Example VW vehicle narrated by Jono – (4 videos – 36 mins – links below)
This video follows Lucian Popescu and his team as they install a comprehensive power system in a VW van. The instruction is divided into four videos: Solar panel installation; alternator charging provision; mains charging capability; connecting a Color Control GX.
1 Solar (7 mins)
Mounting the panels
Wiring
connections to Lithium battery
Wiring diagram
2  Alternator charging (6 mins)
Cabling
Buck Boost DC-DC conversion for battery charging
BMS
Software downloads
Programming the Buck Boost
3 Mains Charging (14 mins)
Installing an AC inlet
Consumer unit
Lynx Distributor and megafuses
Battery Protect
Mains Detection
Programming
4 Install a Color Control GX (9 mins)
BMV wiring/control
House/Starter battery voltage monitoring
GX GSM – reporting to VRM and geofencing
Full installation schematics
This talk-through video familiarises us with the use of programming assistants. Many of the more specialised features of the MultiPlus have been added in response to requests from customers. This video demonstrates the way in which question and answer assistants work for programming:
Safety switch
Charge Current Control
Input Current
VE.Bus BMS
Generator Start Stop
Energy Storage Systems
Self Consumption Hub
…and more
In this instructional video Johannes opens the casing of a MultiPlus and takes us on a tour of the components, providing the technology behind power inversion and battery charging. Learn about:
Field-Effect Transistors (FETs) and their role in AC to DC, and DC to AC power conversion
Grid/Generator frequency sine-wave synchronisation
The control board
Parallel operation
Sizing Inverter according to typical use and battery bank
Stand-by power reduction options
AC PV Inverters offer efficient daytime power, but are invariably part of a larger installation offering 24 hour electricity. This video discusses:
Off-grid and Grid-ties installations
The significance of where the AC PV is installed in the system topography
AC PV or DC PV – how to choose
The 1:1 ratio for PV array and Inverter sizing
Frequency shifting
Victron Brand compatibility
Using an Energy Metre/ESS assistant/Fronius zero feed-in
Advanced system schematics
Energy Saving Systems maximise the economies of Solar Energy harvesting and offer some of the neatest solutions to customer needs. This video discusses:
The main components of an ESS system
When to use ESS
Grid conditions improved by ESS
Battery bank sizing – analysing performance on VRM
When not to use ESS
In this webinar Margreet describes the observations necessary for setting up three-phase, parallel and split phase power systems. Among the topics discussed in detail – along with relevant hints, advice and cautions are:
Victron Inverters capable of three-phase configuration
Star configuration and Delta configuration topography
Parallel configuration – maximum strings and output
Single phase in – three phase out
Physical arrangement of mounted devices
Rules on wiring and fusing, and the importance of built-in AC resistance
Three-phase rotation – mobile power supply
Communication cabling – rules and wiring sequence
The value of including a GX device
Programming and settings
Three Phase and parallel private power systems offer robust electricity for industrial use – even in the remotest locations. This video demonstrates:
Victron Inverters suitable for use in three-phase systems
Wiring/cabling sizing and advice
Order of works during installation – Cautions
Making VE.Bus connections
VE.Bus System Configurator vs Quick Configure
3-phase – verifying installed unit to 'Line out' association
Special notes about 'Current Limit' and unexpected cumulative results
Connecting GX devices / confirming settings