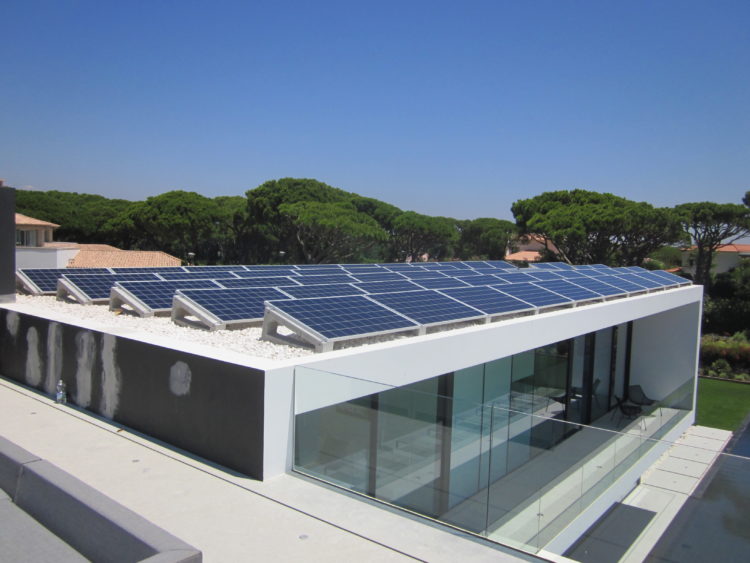 When the  owner of a luxury villa asks for a major solar installation to be retro-fitted to his architecturally interesting property without spoiling the appearance, you know it's going to be challenging.
Surface mounted utilities isn't work you can hide, but local solar experts Freelight – who also have offices in Spain – saw an opportunity to add further interest to the architectural design of this stylish property near Almancil – Portugal's Golden Triangle in the Algarve – and made it look easy!
Power blackouts and voltage drops together with ever-rising energy costs set the owner on a mission to find alternative ways of enjoying his built-in facilities with increased reliability, and in a way which was greener, and at less cost.
He has circulation pumps and filtration plants for the swimming pools and irrigation system; together with underfloor heating serving over 1000m² of floor area – all of which totted up bills of thousands of euros per month.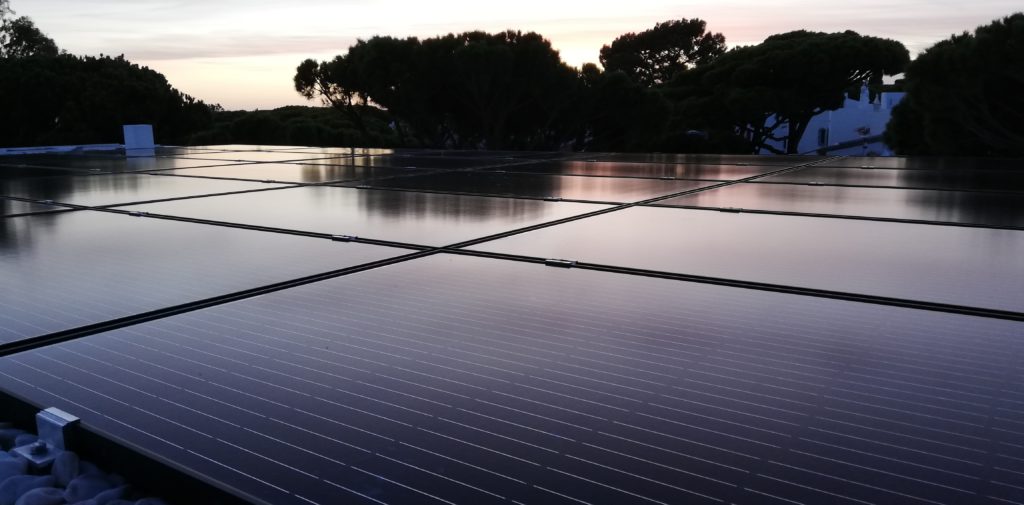 With their knowledge of the market Freelight designed a three phase system comprising:
30 x 305Wp Monocrystalline All-Black panels (9150Wp)
55 x 275Wp Policrystalline Trina panels (24.275kWp)
There are two grid-tied Fronius Inverter
Fronius Symo 10.0-3-M
Fronius Symo 15.0-3-M   (25kW in total)
There are three Victron Inverters
Energy is stored in three racks of 6 x Pylontech US3000B – with a total capacity of 63kWh – and a Pylontech LV-Hub
Whole-system communication and control is performed by a 
Color Control GX.
 The GX device has many functions, including controlling the solar harvest, battery charging, Solar inverter output; and communicating with a Carlo Gavazzi EM24 Grid Meter.
The system is configured to be an Energy Saving System (ESS) designed to optimise self-consumption and battery storage, and minimising the purchase/sale of energy to the grid.
Victron GX communication devices support an extensive range of third party storage and switching equipment, allowing endless combinations of product to function seamlessly; and to be remotely controlled and configured using the Victron Remote Management (VRM) platform.
Remote access allows Freelight to monitor customer's installations and carry out programme changes without leaving the office.
The owner is delighted both with his new system's performance and appearance – indoors and out.
Larry Parker of Freelight says:
"The greatest challenge of this installation was to aesthetically integrate the panels, cabling and inverter installation to make it fit in seamlessly with the visual attractiveness of the property both in terms of outside profile and interior design. Hence the decision to use the all-black panels which were placed flat on the roof to avoid being visible from the main road.
"Together with other one-off adaptations to common traditional PV systems we feel our greatest success here has been the pleasing cosmetic appearance we achieved. We hope it will inspire local architects, at the design phase, to integrate PV and ESS solutions into their projects."