With 75 years of experience under their belt, leading German Cable manufacturer Klaus Faber AG have diversified into the field of portable power.
The company likes a steady hand at the helm – their CEO retired recently at the age of 90 – and with the new CEO Joachim Czabanski came the idea of developing a containerised power system which could be drawn from stock, on demand, flown to site, and deployed in an hour by non-technical individuals who have no tools.
If this sounds like the ideal solution for power in disaster zones, refugee camps, exploration areas, or defence – then you're right – these are the kinds of applications Faber Infrastructure GmbH have in mind for their Mobile Power Systems.
One-and-a-half years in development, the 20′ container offers 80kWh of Li-ion battery storage, and provides up to 30kW at 230/380V, configured either as an off-grid or grid connected power source. The unit is scalable allowing in-parallel connection to more containers.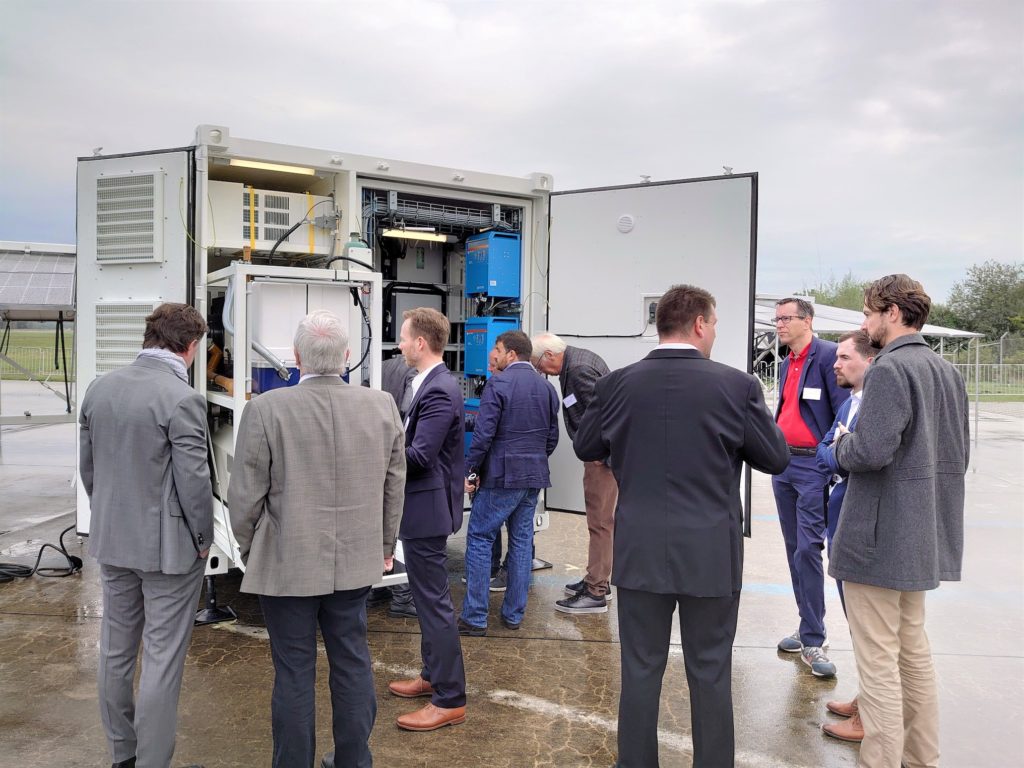 What's in the box?
German engineering allows 64 Solar Panels to unfold from the unit – deployed 'by-hand' in four pitched arrays offering 24kWp. Power is harvested by 8 solar chargers – SmartSolar MPPT 250/100-Tr.
A frame-mounted 15kVA Fischer Panda generator – installed for back up purposes – slides from the unit complete with its fuel tank into the outside world for easy access. The container is so designed as to allow the generator to run within the security of the container shell.
3 x Quattro Inverter Chargers offer 30kVA (60kVA peak). The Quattro has two AC inlets which could be connected to both a generator and grid power, if available – automatically drawing current from whichever source is live. Its two AC outlets offer an uninterrupted power supply in the event of grid or generator failure; at the same time non-essential loads – such as air-conditioning – will be dropped, securing the stored-power supply for all essential loads. The Inverters can be configured for three phase supply. Sophisticated software provides optimum charging of the 80kWh lithium battery bank – which can be scaled up in size.
The remote power installation can be managed and monitored from anywhere in the world via satellite, using the Victron Remote Management Portal. This means that the power supply, wherever it is in the world, is never far away from technical support.
What becomes possible?
The most urgent humanitarian requirement in a disaster zone or refugee camp is clean drinking water. Water pumping and purification needs power, and that power becomes available without the need for difficult or dangerous fuel transport.
The simple provision of Lighting allows emergency operations to continue 24 hours a day; and Communication networks can be established.
When used in commercial applications – such as mineral exploration – the container meets the power-requirement of staff sustainably, silently, and without pollution …and when it's time to move on it leaves no footprint.
Faber Infrastructure GmbH intend their new containerised-power modules to become industry leading emergency remote power units. By keeping warehouse stocks of their Faber Mobile Power System units ready-built, they are able to offer rapid response to urgent and emergency power need, anywhere in the world.
Thanks to Bob Hopman who is the Victron Energy Sales Manager for Germany for bringing this story to our attention.