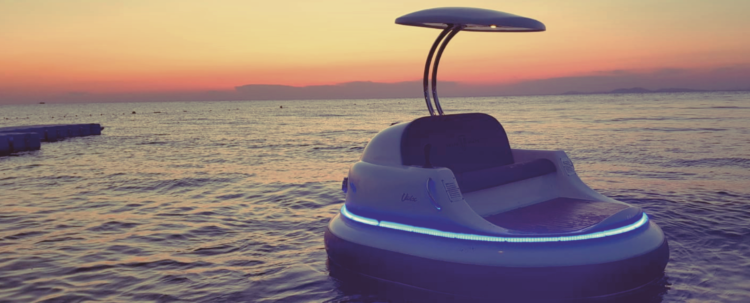 After 28 months of research and design in Germany the Turkish-built watercraft Voly and Volx are proving to be popular holiday destination get-afloats.
The electric boats are offered by Volan Boats.
Volx
The 2.5 metre Volx has a maximum speed of 10kmh from its 2.5kW motor. The three-seater craft has a run time of between 3 and 6 hours and is powered by an 8kWh Lithium battery which has a fast-charge time of 2.5 hours.
At the heart of the power drive sits a Multiplus II 48/5000/70.
Easy to drive, with its joystick control, the Volx is already proving popular with hotels, beach clubs and watersports centres and privately as well. To start driving Volx you just push one-touch button. The joystick responds to right, left, forward commands and moves the vehicle smoothly in the desired direction.
Voly
The Voly – slightly longer at 3.5 metres in length – is a trimaran capable of 12kmh. Complete with a  boarding ladder, there is no propeller to worry about which makes it ideal for trips around the bay looking for deserted beaches from which to swim.
The build quality of both craft allow holiday destinations, resorts and hotels to offer the freedom of the water to adventurous guests in a way which is silent and stylish.
No smoke on the water
Both at sea and on land there is an expectation nowadays that sustainability lies at the heart of recreational pursuits. Voly and Volx show how this can be achieved in an exciting way way which invites participation.