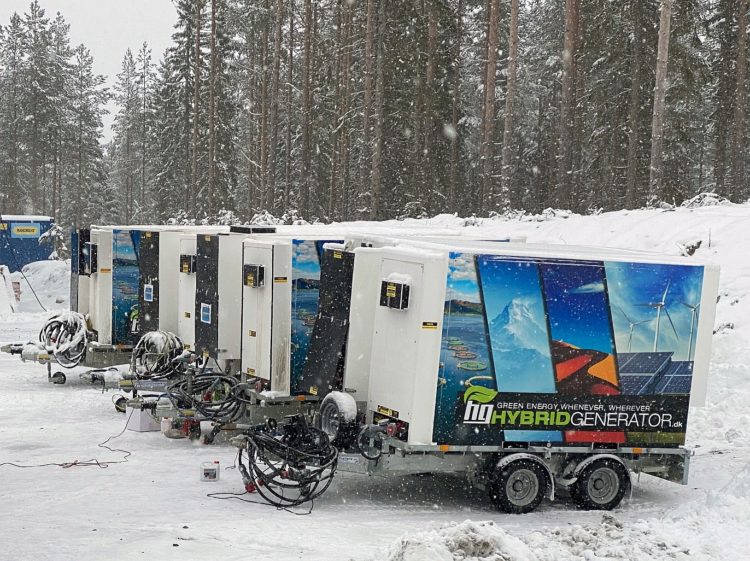 Rune Eilertsen, Managing Director of Hybridgenerator ApS in Denmark, certainly knows how to grasp a good idea and implement it.
Whilst many companies use Victron Energy Inverter/Chargers supplied by battery systems to provide power during low load diesel generator periods, when not running at more engine and environmentally friendly full generator loads – Rune decided there was a better way to do things.
The result is a range of sophisticated Hybrid Generators that flips things on their head – by using inverter power as the primary high power source, together with a smaller supplementary diesel generator. In fact, in many units inverter power is all that is required.
Key differences
When compared to most hybrid-generators Rune's systems are lighter and more cost effective, due to the factors below.
System replaces a 120 to 150 kVA genset
Trailer mounted, towable with a pickup truck
All within a 3500kg towing weight, including 750 litres of diesel onboard
Better power to weight
Superior power output quality
Optimised battery system for heavy use
Benefits of primary Inverter power use
Particularly when considering onshore wind turbine installation and commissioning, there are attractive benefits and cost savings compared to using just a standalone generator.
In Summer, fuel burn is reduced by up to 75%
Generator servicing, reduced by up to 80%
Simple logistics, tow to site
Less generator fuel refills
Longer system lifespan
No damage from unstable diesel generator power when commissioning turbines
Harsh environment operation
Hybridgenerator ApS designed their products from the outset to be rugged and suitable for harsh environments, such as Arctic weather conditions.
Key example reasons why the units have been well received in the harsh environment market:
Rugged – even with 8 fast charges per day, the system and batteries will not overheat.
Cold weather – the battery system holds itself in a warm state when used in the winter.

The future
Hybridgenerator ApS are currently working on a battery system that can have  25-30 thousand charges, together with a 10 year warranty.
Shortly they will also implement Stage V Generation, to reduce soot and particle emissions. This, when compared to just using a generator at low load for long periods, will greatly assist the onshore wind turbine industry – as when using a hybrid instead, its the ideal combination for low and high load operations.
Conclusion
Having worked in the wind turbine industry myself and seen the huge generators that are transported about, I can see clear advantages to using a hybrid system.
We're delighted to see Rune using Victron Energy products to help him achieve his business goals.
Thanks to Niels Kaarill, Victron Energy Sales Manager for Denmark, Finland, Iceland and Norway, for the heads up on Hybridgenerator ApS.
John Rushworth
Contact
Rune Eilertsen
Hybridgenerator ApS
Phone – +45 3163590
Facebook – https://www.facebook.com/hybridgenerator/
Website – http://www.hybridgenerator.eu/