Sometimes a project is just too large, complex or geographically remote for one company to do on their own.
It takes cooperation to achieve the desired outcome; and so it is with Lahia Lodge and their large off-grid solar/battery system, in Tanzania's fabulous Serengeti national park.
This brand new luxury resort is (surprisingly) the first large tourist accommodation in the park to run entirely from solar power. This is not just for lighting, as it includes heating, running the large fresh water supply pumps, plus all the equipment needed to operate the infinity swimming pool. That's every electrical item that such a special resort needs – and now it's all off-grid solar/battery/electric technology.
Of course Lahia resort has a backup generator too, just in case of an emergency or maintenance. Yet were such a diesel the main power source – imagine the fuel consumption, the noise, the fumes – not what you want where the beauty of the vista, the peace and wildlife is why people come here.
MG Energy Systems B.V.
The project lead in this instance are Victron Energy's close friends, MG Energy Systems B.V., who are also based in the Netherlands. In Leeuwarden in fact, which is about an hour by car from Victron's Almere office. Always good to keep your friends close.
Of course as the project build itself was in Africa, that required in-country cooperation too. In this case that was down to local Victron Energy and MG Energy Systems' dealer GadgetroniX Tanzania, in close cooperation with Anco van Bergeijk (Victron senior engineer based in West Africa).
Solar Saviour System
To give you an idea of the scale of this project – think 488 solar panels (totalling 160kWp) and 20 NMC lithium battery modules (150kWh), based on 18650 cells.
Now imagine that battery bank as a lead one; apart from the sheer volume/space that such a lead bank would take up – it would require about 120 batteries with a weight of roughly 9 tonnes to get even close to the lithiums!
An obvious choice then – 20 x MG HE lithium-ion batteries were chosen weighing 'only' a total of 900 kg, yet giving the same useable energy as that large lead bank would have.
It's not just weight though, as lithiums can charge and discharge much faster than lead. Indeed were the system a lead battery bank with the heavy use of such a demanding resort, it would likely last only a few years. By comparison this lithium-ion system is strong enough and tough enough to power an entire off-grid tourist resort (like Lahia) for at least a decade or more.
Whilst solar and lead-acid batteries are still widely used in Africa, it's a struggle to build large systems for self-sufficiency – that's where lithium-ion comes in. For a comparison see this blog: Lithium-ion vs AGM.
A first
Here's what Mark Scholten of MG Energy Systems had to say about their completed project.
"It's our first system to run in parallel redundant mode, which means several strings of batteries are connected in parallel and set up to control the Victron inverter/chargers through a digital link. Even in the event of one battery string failing, the installation will keep running on the remaining ones. In case of an emergency or maintenance a back-up generator will seamlessly kick in.
The Lahia resort system is a proof of concept for the tourist industry – that it can be done and this is how. We've worked long and hard to commission such an advanced large-scale off-grid eco-friendly energy system, but it's been worth it.
Many thanks for the hard work of the local team and staff to help bring this project to fruition.  As they say in Swahili – Asante Sana (Thank you very much)."
Components used in the system are:
488 x Solar panels
4 x Fronius Eco
9 x Victron Quattro
14 x Victron MPPT
2 x Victron Venus GX
5 x 4 MG HE Series battery modules
5 x MG Master LV
Cooperation & Compatibility
Victron Energy cooperate with many companies to ensure their products work well with such partners. MG Energy Systems and indeed Fronius (in this case) are such examples.
It's not just batteries from MG though when it comes to compatibility with Victron products. There are many others too.
To learn more about using Fronius with Victron products, these links should give you an idea:
Conclusion
Cooperation between companies and compatibility with their various products are key to building integrated systems, where specialist knowledge from each company is required.
Maybe this photo of a local smiling GadgetroniX technician working with Victron and MG Energy products says it all…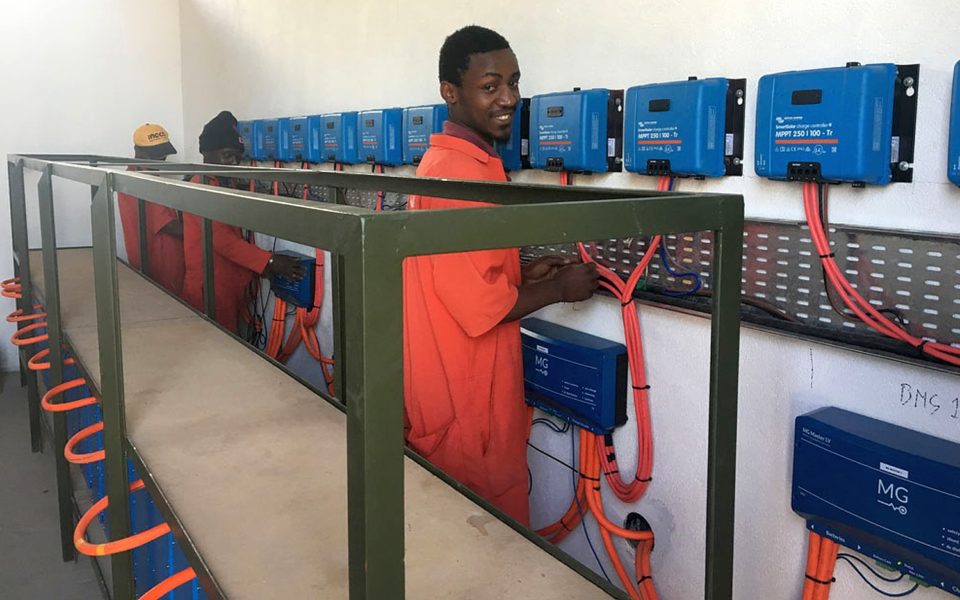 If you have a project that you need battery cooperation on why not give MG Energy a shout, or indeed have a chat about it on Victron Community in the first instance.
Credits
My thanks to Mark Scholten of MG Energy Systems for the information and images used in this blog. If more companies like theirs built renewable projects like this we can truly call them – Serengeti Off-Grid Solar Saviours.
The headline image used in this blog is courtesy of Tanganyika Wilderness Camps Ltd.
John Rushworth
Useful Links
MG Energy Systems B.V. – https://www.mgenergysystems.eu/
MG Energy Systems on Facebook – https://www.facebook.com/mgenergysystems/
GadgetroniX Tanzania on Facebook – https://www.facebook.com/gadgetronix/
GadgetroniX & Victron Energy – https://gadgetronix.net/victron-energy/