Victron Energy dealer Bosswerk GmbH & Co. KG or GreenAkku as they are usually known are based in Nettetal, about 30km West of Düsseldorf. They have developed the Tiny House you see in the photo above.
GreenAkku will be attending Caravan Salon Düsseldorf 2018 in FG Hall 11/11-03 later this week, between Aug 25th – Sep 2nd, where their Victron Energy powered Autarkes Tiny House will be on show.
Additionally Victron Energy's display will be in Hall 13/D82 and Victron Energy dealer Accusysteme Transwatt GmbH will be in Hall 13/E64.
If you are not familiar with the tiny house movement then I'd like to refer you to an earlier blog which explains all: At home with Victron Energy – The Tiny House revolution
If you are familiar with Tiny Houses then why not jump right in and check the spec of GreenAkku's fully loaded Autarkes Tiny House.
Self-sufficient Autarkes Tiny House – micro living without loss of comfort
Exterior construction & weights
Wooden clad exterior in Siberian larch, natural untreated. Insulated with 70mm PUR.
Interior ceilings and walls in beech plywood sliced veneer.
Floor in bamboo parquet.
Supporting beams made of Paulowinia wood which is 30% lighter than spruce-fir for the same strength.
This lightweight construction method ensures a payload reserve for the installation of furniture and technology, without exceeding the maximum permissible payload of 3.5t. The permissible gross weight of 5.4t ensures a safety reserve even with full tanks, by utilising 3 axles rated at 1,800kg each from Knott GmbH.
Exterior & interior dimensions
9.50m long x 2.55m wide x 4.00m high.
Total living space including 2 sleeping lofts is circa 30m².
Interior accommodation & facilities
Bathroom with bathtub, shower, macerator toilet, Japanese bidet.
Hot water boiler, fully automatic washing machine, heat-pump tumble-drier.
Kitchenette with 335L fridge-freezer, oven with microwave, induction hob with 3 hotplates totalling 5.6kWp, dishwasher.
Living room with 55″ Smart TV and mini woodstove.
Spare room with door closed at the rear is universally usable e.g. as a walk-in closet or children's room.
1 x sleeping loft at the front above the bathroom with a double bed and 43″ Smart TV.
1 x sleeping loft at the rear above the spare room with a single bed accessible via wooden stairs.

Water
External water connection as standard with optional additional self-sufficiency package consisting of:
500l fresh water tank, pressurised water system and rain collection system – where rainwater landing on the roof is passed via 2 pipes into the tank.
Black & grey water
250l blackwater holding tank.
250l greywater holding tank.
Heating & cooling
3.5kW air source heat pump.
Canadian mini woodstove 2kW.
4kW air to air heat pump air conditioning.
Solar Power
46 PV modules totalling 4,900Wp comprising:
30 x 110Wp on the roof.
16 x 100Wp on the upper sidewall.
Victron Energy equipment
1 x Victron MPPT Solar Charge Controller 250/100.
1 x Victron MPPT Solar Charge Controller 250/60.
3 x Victron Multigrid inverter/chargers. 24V/3000/70 for 7.2kW continuous power and 18kW peak power.
3 x Victron lithium storage batteries. 24V – 200Ah 5kWh each giving 15kWh in total.
1 x 1000A Victron Battery Management System (BMS).
1 x Victron Color Control GX. (A Multi Energy Management and Communication System).
1 x Victron BMV-712 Battery Monitor.
1 x Victron VE Transfer Switch 5kVA for shore/generator power.
16 x 230V power outlets.
2 x Protective safety switches.
1 x Honda emergency generator 2.2kW.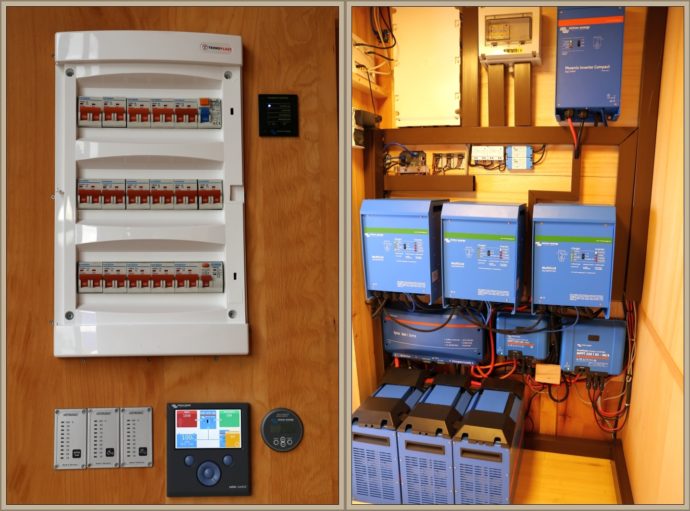 Communications
Huawei Mobile LTE WIFI Internet router with 2 external aerials.
Miscellaneous
4 mechanical jacks operated by a cranking handle with 1.5t fittings. These are integrated into the Tiny House allowing the house to be easily separated from the trailer.
Window glass made of WSG safety glass.
Conclusion
It's clear that if you  can manage to get along to Caravan Salon Düsseldorf 2018 there are multiple stands showing Victron Energy products and interesting implementations of those products, for exciting leisure activities – such as energy self sufficiency in a Tiny House. Worth a visit I'd say.
John Rushworth
Credits & Links
My thanks to Wolfgang Felzen of GreenAkku, also Uwe Dräger and Marianka Pranger of Victron Energy for the images and information used in this blog.
Caravan Salon Düsseldorf 2018 – http://www.messe-duesseldorf.de/caravan/
Bosswerk GmbH & Co. KG – http://www.greenakku.de/
Transwatt – https://www.transwatt.de/